An atheist charity has issued a series of scathing tweets directed at "insecure" students who create "safe spaces" at university and 'no platform' speakers who offend them.
The British Humanist Association (BHA) was addressing an incident which took place at Goldsmiths University in London, where the feminist and Islamic societies reportedly condemned an atheist speaker as an "Islamophobe".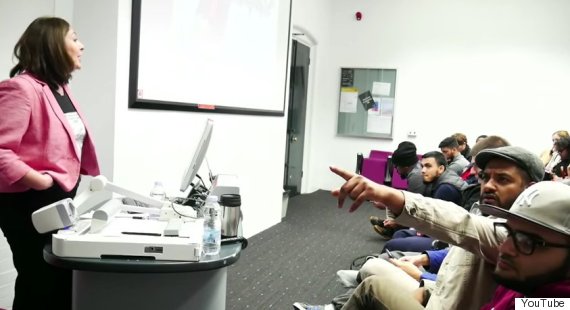 Maryam Namazie was heckled and accused of "intimidating" students by the man in the front row
The BHA has now tweeted its frustration at students shutting down debates and refusing to let external speakers have a platform if they express "controversial" views.
It's good to see @GoldsmithsUoL took a strong progressive stance on free speech & did now kowtow to the bullies threatning Maryam Namazie
Deeply disappointing to see the Goldsmiths Feminist and Islamic societies both condemn Namazie as an 'Islamophobe'. Completely ridiculous.
Namazie is a human rights and women's rights activists who actively defends the rights of Muslims while critiquing Islam and Islamism.
To argue that someone speaking out against the harms of any ideology should be banned from even having their ideas heard is Kafkaesque.
Too often we see insecure student groups try to assert control over spheres of discussion through cynical maneouvres asserting 'safe spaces'
But universities are not supposed to be safe from ideas. It is only by colliding truth with error that progress is made; good ideas win out.
Sexists must hear the words of feminists, as warmongers must from pacifist and extremists from secularists. All ideas should be challenged.
If you go to university, expect no views you hold to be 'safe'. Be open to changing everything you think you know, everything you believe.
Can some students really not tolerate others speaking in contradiction with their deeply held ideas w/o feeling an authoritarian impulse?
Famous feminist Germaine Greer was recently the centre of a row after she was scheduled to deliver a guest lecture at Cardiff University. A group of students tried to ban Greer from appearing at the university, saying she was dangerous due to her transphobic views.
The National Union of Students (NUS) has currently no platformed the BNP, the EDL and the Muslim Public Affairs Committee, among others.
See Also:
SUBSCRIBE TO & FOLLOW UK DAILY BRIEF