A woman with multiple sclerosis has shared a video of herself experiencing a "terrifying" 25-minute seizure.
Kate Langwine-Cooke, from Wales, uploaded the clip to the 'Invisible Illnesses' Facebook page, which she launched to raise awareness of invisible health conditions like MS.
In the video, which lasts 27 seconds, the youth worker and assistant football coach shakes violently on her sofa with no control over her body.
Writing in the caption, she said: "These 'attacks' are brutal and are completely draining - I won't let it beat me though."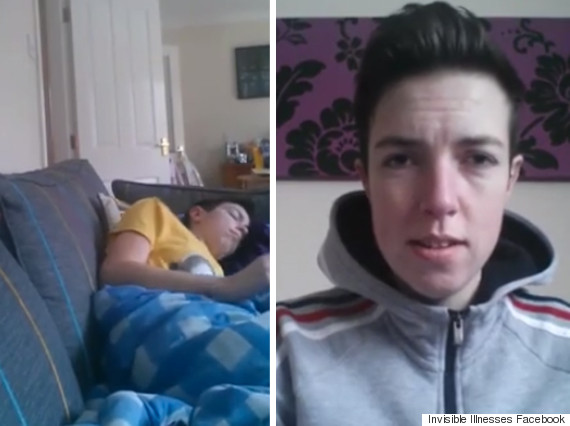 She said she filmed her seizure to show to her neurologist, but realised that it was a powerful way to show the "not so invisible side" to her illness.
Moments into the eye-opening clip, the camera falls to the floor but, according to Langwine-Cooke, her fit continued for almost half an hour.
Multiple sclerosis is a neurological condition which affects around 100,000 people in the UK.
Roughly three times as many women have MS as men, according to the Multiple Sclerosis Society.
The complex condition has an array of symptoms which can include vision problems, balance problems and dizziness, fatigue, bladder problems, stiffness and spasms.
It can also affect a person's memory and ability to think properly, and can impact emotions.
Speaking about her illness in a separate video, Langwine-Cooke said that the attack was quite a length of time for her body to be going through something so "stressful".
But said that it isn't the longest seizure she's experienced, with past spasms lasting anywhere between one and three hours.
She added: "It's terrifying not knowing if the next one could be the one that causes me to never walk again. Could the next one be the one that leaves me in a coma? Could the next one be the one that kills me?"
Multiple Sclerosis Symptoms
After his initial balance difficulties, Sommers began to notice tingling and numbness in his right side, which motivated him to see a neurologist. The neurologist ordered an MRI (magnetic resonance imaging), and found lesions in Sommers' brain that indicated multiple sclerosis was what was causing his symptoms.

MS symptoms are varied and numerous. In addition to those described above, common symptoms include fatigue, pain, bowel and urinary problems, sexual dysfunction, difficulty swallowing and speech problems, cognitive (thought process) issues, and depression — among others.

Heat intolerance is another telltale sign of multiple sclerosis. If you feel dizzy, faint, or unusually uncomfortable in warm temperatures or when engaging in body-warming activities like soaking in a hot tub, exercising, or sunbathing, it could be a sign of multiple sclerosis. Heat intolerance also tends to make other symptoms of multiple sclerosis more pronounced.

Balance and dizziness are also common initial signs of multiple sclerosis. Rick Sommers, a fit and athletic guy, was diagnosed with MS in 1994. "I was training for a marathon and my balance was off; I felt lightheaded," he remembers. "I went to a doctor who thought it was an inner ear infection." He adds wryly, "I was misdiagnosed." In fact, his balance issues were Sommers' first symptoms of MS.

Eye issues are often the first sign of multiple sclerosis. Before he received his MS diagnosis, for example, Jeffrey Gingold noticed that his vision was beginning to rapidly decline in one eye. Gingold was 36 at the time, making such dramatic vision loss extremely unusual. He scheduled an appointment with his regular eye doctor, and remembers the ophthalmologist saying, "You either have MS or you have a brain tumor." An MRI confirmed that it was multiple sclerosis.