Women in London are sharing locations to mark instances of sexual harassment, assault or rape around the capital in an attempt to reclaim the city and make it a safe place for women.
From catcalling to groping, the initiative, led by the Women's Equality Party, asks women to share a photograph of their hand with the location and hashtag #WECount.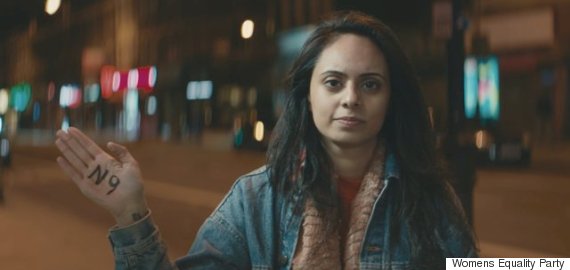 Pavan Amara, rape survivor, shares the location of the attack
Then women are asked to mark a live map with the date and time they experienced an incident of sexual violence or harassment, which will help build a comprehensive picture of the scale of the problem and serve as a visual reminder that rape and sexual violence is far too common.
On the map, the iconic Google drop pin is transformed into an exclamation mark and coupled the message 'It Happened Here'. The results will be used by the Women's Equality Party in its campaign to end violence against women.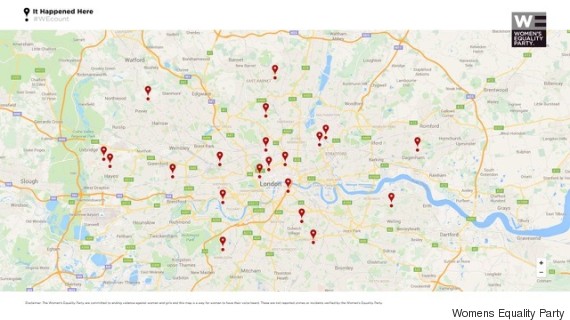 The campaign includes a short film (included above) that follows the story of rape survivor Pavan Amara, who used her experience to set up the My Body Back Project to support rape and sexual assault victims in London.
Approximately 85,000 women and 12,000 men are raped in England and Wales alone every year, according to Rape Crisis, that's roughly 11 rapes (of adults alone) every hour.
Last year some 4,000 rapes were reported in London and 70,000 incidents of domestic violence. Thousands more women experienced unwanted sexual behaviour every day.
Sophie Walker, leader of the Women's Equality Party and its London Mayoral candidate, said: "Every day, thousands of women in London experience unwanted sexual behaviour, from groping to catcalling to assault.
"In our film, Pavan Amara explains how she built the My Body Back project to help women who have been assaulted reclaim their lives. WE are joining our voices with Pavan's, and marking out a map of abuse across the capital. WE will show that every woman's story counts. #WEcount. And we will take back every one of these places in the capital and make them safe for women."
I experienced sexual harassment that made me feel London was not safe. Today I reclaim that place. Join me. #WEcount pic.twitter.com/NBMNj4x9nm
*deep breath* @WEP_UK #WEcount pic.twitter.com/zmUVIxtANR
And this is a place that should lead the fight #WEcount https://t.co/fCGHbhtddyhttps://t.co/MatAyJ2efQ pic.twitter.com/6SFRqBHdxa
I can't stress how valuable it is that @WEP_UK @MyBodyBackProj are pushing to combat street harassment #wecount pic.twitter.com/EnK4BSR2vx
Joining @WEP_UK to bring safety back to London - harassment on our streets but in shops & public places too #WEcount pic.twitter.com/tIgojf6H6C
A show of hands to reclaim London for women. #WEcount pic.twitter.com/Sq4eqf9vNv
HuffPost UK is running a month-long project in March called All Women Everywhere, providing a platform to reflect the diverse mix of female experience and voices in Britain today. Through features, video and blogs, we'll be exploring the issues facing women specific to their age, ethnicity, social status, sexuality and gender identity. If you'd like to blog on our platform around these topics, email ukblogteam@huffingtonpost.com with a summary of who you are and what you'd like to blog about
SUBSCRIBE AND FOLLOW
Get top stories and blog posts emailed to me each day. Newsletters may offer personalized content or advertisements.
Learn more