There's nothing more soul destroying that pulling your favourite jumper out of the washing machine and finding that it now fits Barbie.
But, luckily for you, in a lot of cases the damage can be reversed.
This life hack from Pennygem shows how you can un-shrink your jumper - and all you need is a tub of water, a towel and some baby shampoo.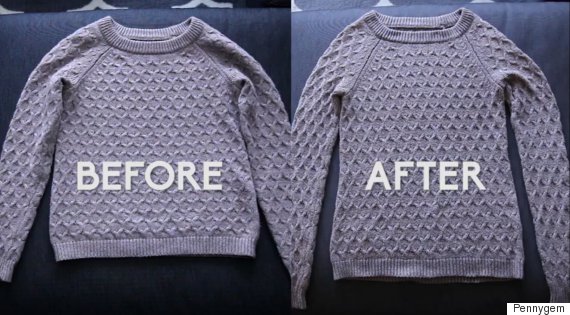 Here's how to get your favourite jumper back:
:: Add 2 tbsp of baby shampoo to a tub of cold water and mix it in with a wooden spoon.
:: Soak the item of clothing for 25 minutes and take out.
:: Roll the jumper in a towel to remove the excess water.
:: Open out the towel and begin to stretch the jumper to its desired size.
:: Hang up and leave to dry. Et voilà, your jumper is as good as new.
Just because holiday baking is over doesn't mean you should stop with the homemade goodies. The warmth from the oven will spread to the rest of your home.

This one takes a bit of forethought, but you can do it. Fill a hot water bottle with, well, hot water, and put it in your bed 20 minutes before you get in, preferably with your pajamas on top. Voila, an instant heated mattress.

.. by spraying cooking oil on it before you start to deal with the snow. It helps it slide right off, instead of weighing you down.

If you spray a mixture of three parts vinegar and one part water onto your windshield (and then wipe it off with a rag) at night, it can keep a lot of frost from forming overnight, according to InfoBarrel. Make it a habit!

Or sand, for that matter. Both materials work as traction underneath tires if you find yourself in a slippery situation with no way out.

Another great way to get out of a rough spot: put your car mats underneath your tire and hit the gas (but gently).

While some people put wipers up in the cold, another option is to place old tube socks around them at night, so they're virtually guaranteed not to stick to your windshield.

To buy your way out of a jam, sure .. but also, if you don't have a scraper on hand, that piece of plastic can work in a pinch.

Those little mirrors are easy to forget when you're, say, spraying vinegar onto the windows, so cover them with re-sealable baggies as much as possible to keep out the frost and ice.

As much as possible, keep your tea kettle boiling when it's really cold, and fill up bowls with hot water around the house to keep the air moisturized (just make sure they're out of reach of little kids).

There are official products like this, but if you have a bunch of old screws AND a pair of old sneakers around, you have yourself an easy way to get through icy streets.

For those who have ceiling fans, turn them on low and switch their direction (to clockwise, usually) so that warm air trapped up near the ceiling can find its way down to you.

If your local store has run out of salt (or if you prefer a non-salty walk), try this de-icing method via Handy Tips and Tricks: mix together a teaspoon of dishwashing liquid, a tablespoon of rubbing alcohol and eight cups of warm to hot water. Pour over walkway, see the ice disappear.

Keep a few microfibre towels on hand for the specific purpose of drying out your shoes. Keep them by the door, tuck them into your shoes when you come in, and don't worry about that 'ick' feeling of still wet soles when you leave.