Pizza, pasta, risotto - is there anything us Brits don't love about Italian food?
Whether we're whipping up a hearty meal at home or heading out for a special occasion, this Mediterranean favourite dishes is often our cuisine of choice.
But while there may be Italian chain restaurants aplenty, finding something a little more authentic can be difficult.
So here are some of the top Italian offerings from around London.
Missed one of your favourites? Let us know in the comments below. 
Polpo, Soho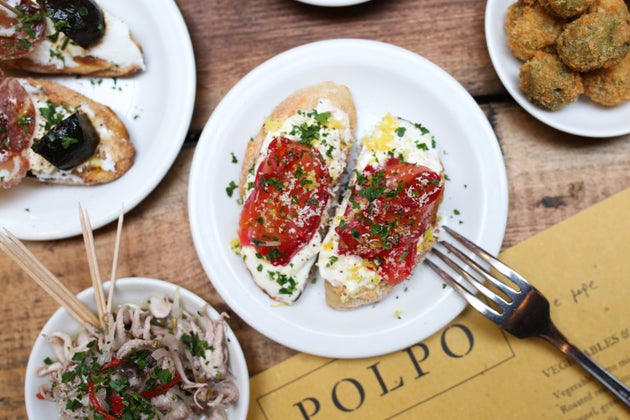 For those uninitiated, Polpo is a small chain of Venetian restaurants offering tasty small plates ideal for sharing. The Soho branch offers an informal atmosphere ideal for a post-work bites, with an affordable, varied menu that caters to all appetites. Kick off your evening with a cocktail before ordering - we'd recommend two dishes per person for dinner, or five between two people if you're extra hungry - then enjoy the rest of your night with a glass of red wine. 
Trying Polpo's staple Venetian meatballs is a must, while those with a sweet tooth will love the white peach, prosciutto and mozzarella bruschetta. If you don't mind a bit of heat, try the garlic and chilli prawns and keep things light with a side of the zucchini, parmesan and basil salad. For dessert, we'd highly recommend leaving room for a Affogato al caffè - a scoop of vanilla ice cream drowned in a shot of hot espresso.
41 Beak Street, London, W1F 9SB
Bocca Di Lupo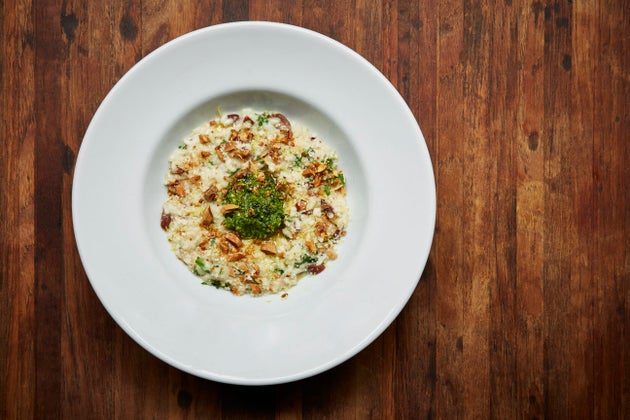 No list would be complete without Bocca Di Lupo, the authentic Italian restaurant whose reputation speaks for itself. It specialises in regional dishes from all over Italy and menus are seasonal, changing regularly - so even though this restaurant has been around for almost a decade it still feels remarkably fresh.
Particular favourites include the sea bream carpaccio with orange & rosemary to start and orecchiette with nduja, a spicy spreadable salami. But if neither are on the menu (it's seasonable, remember?), you can't go wrong with a deliciously moorish homemade pasta - and staff are on hand to advise you on dishes to try based on your tastes.
When you're done head over the road to the neighbouring gelateria, Gelupo, for dessert.
12 Archer St, Soho, London W1D 7BB
Bar Remo Ristorante & Pizzeria
Finding a table on short notice near Oxford Circus is difficult, but walking away with change from a twenty is nigh on impossible. That is, unless you know about Bar Remo. The hidden gem has been run by the Vignali family for more than 90 years and is the perfect place for a spontaneous mid-week catch up with friends.
The restaurant focuses on authentic pizza and pasta with a no frills menu that delivers good, honest food that won't break the bank. The linguine gamberoni - which includes tiger prawns, cherry tomatoes, baby spinach, olive oil in a garlic, pomodoro and white wine sauce - will leave you feeling satisfied for just £13 while the range of mouth-watering pizzas starts at just £8.50. Unlike at bigger chains, the friendly staff at Bar Remo are happy to have a chat while serving tables, so order a glass of wine and prepare to leave your hectic, London lifestyle at the door.
2 Princes Street, London W1B 2LB
Rotorino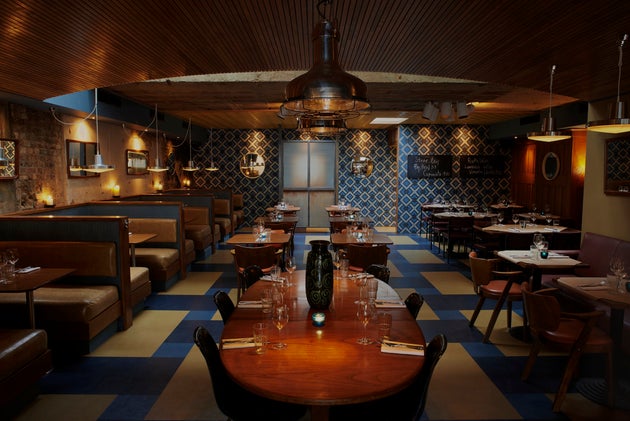 Arriving at stylish Rotorino, you have to remind yourself that you've just stepped in off the gritty Kingsland Road, Dalston, in the centre of hipster heartland. Dimly-lit, wood panelling, exposed brick and striking back wall adorned with blue 70s-style tiles, it is the trendy modern Italian Dalston has been waiting for.
The menu specialises in southern Italian with arancini mozzarella, try bucantini amatriciana - tomato, guanciale (talian cured meat from pork cheek or jowl, pecorino (a hard cheese) or spinach gnudi, balls of deliciousness seasoned with nutmeg and sage and oozing with butter. You can't go wrong with the whole seabream, served with a subtle tomato, almond, garlic sauce. Fried potatoes and juicy wood-roasted peppers provide a hearty accompaniment to this light main.
Smaller groups can prop up the bar or sit in a comfy booth, while there's a 6m long, 24-seat table in the bar, which is bookable for groups up to 24 persons.
434 Kingsland Rd, London E8 4AA
Bernardi's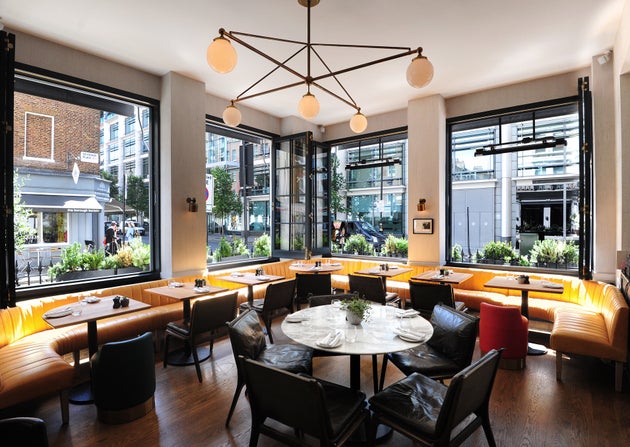 Eating at Bernardi's on a sunny day is like being transported to an Italian strade - with the windows thrown wide open and (if you visit during one of their Summer Sunday sessions) a DJ playing chilled beats as you watch the world go by. The menu offers a wealth of treats.
The selection of cicheti (bar snacks) has something for all palettes - for those who like their light bites to pack a savoury punch we recommend the moreishly salty Summer truffle arancini, but if you have more of a sweet tooth then the fig topped brushetta is sure to delight. Follow that up with the saffron bucatini with lobster, chilli and samphire - it's deliciously light with just the right level of warmth from the chilli.
Our top tip: Bernardi's original take on Pimms - made with Lambrusco Solco, bilberry liqueur, Martini Bianco, lemonade and summer fruits is not to be missed.
62 Seymour Street, London W1H 5BN
Franzina Trattoria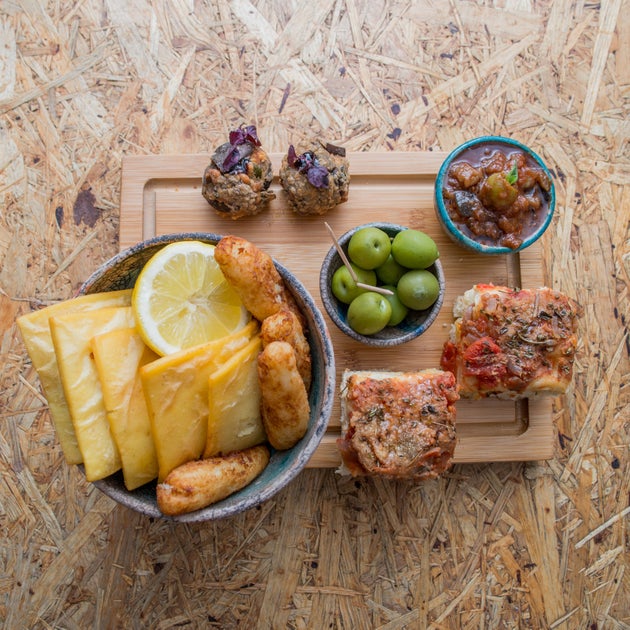 Located in one of Pop Brixton's signature shipping containers, Trattoria Franzina brings a taste of Sicily to south London.
Authentic and delicate on the palate, it offers small plates and sharing platters - at affordable prices, so you can try more.
Try Schiticchio to start - a sharing plate with a selection of breads, dips, juicy olives and polpetta di melanzania (aubergine balls with pine nuts and raisins); for mains try tagliatelle nero di seppia (black squid ink and calamari) and pesto trapanese, a unique spin on pesto using almond and tomato sauce, which originates from the Sicilian Province of Trapani.
Ingredients are mainly sourced from Brixton Market, with some being imported by the region itself. It is run by Pietro and Stefania, two passionate Sicilians from Palermo, and has a distinctly homegrown and authentic feel.  
Trattoria Franzina is only in residence for a few more months, so hurry. 
49 Brixton Station Rd, Brixton, London SW9 8PQ
Latium
Named after the southern Italian region of Lazio, Latium provides a quiet, sophisticated atmosphere that's perfect for date night (or dinner with your parents, if they're the sort to prefer a proper table cloth).
Guests are provided with a delicious selection of nibbles including homemade bread to enjoy while perusing the menu. If the extensive wine list leaves you feeling like a fish out of water, the restaurant's knowledgeable manager will be able to recommend a glass or bottle to match your chosen dish (and budget).
You can't go wrong with the fresh seared scallops starter - which comes with cod brandade, candied lemon, fresh peas, broad beans, red onion, crispy pancetta and black ink mayonnaise - followed by the comforting rabbit ragu with pecorino cheese or the braised meat ravioli for your main. If you're not in the mood for pasta you'll also find a range of meat and fish dishes served with potatoes and veg that are a little more expensive (from £18.50), but perfect for a treat.
21 Berners Street London W1T 3LP
SUBSCRIBE TO & FOLLOW UK LIFESTYLE