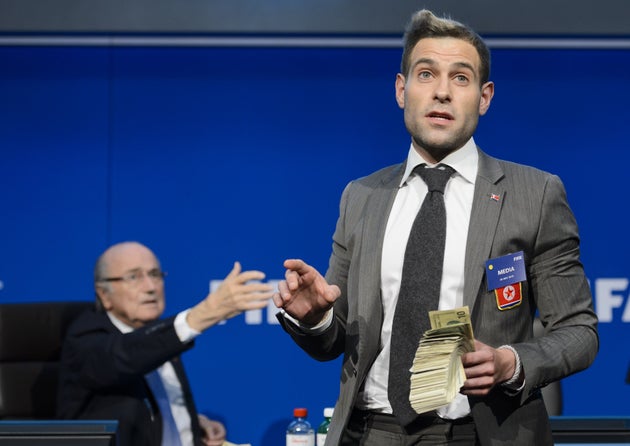 The man behind some of the most notorious celebrity pranks in recent times will appear in his own documentary tonight (7 February), as 'Britain's Greatest Hoaxer' airs on Channel 4. 
To give you a taster of what to expect, here's five times he made the headlines with his hoaxes...
Sepp Blatter
Simon was heard shouting, "Sepp, this is for North Korea in 2026" before being dragged off stage by security. 
'The X Factor'
Just as Calvin Harris had done before him, Simon invaded the 'X Factor' stage during a live show in 2014, joining boyband Stereo Kicks while they performed Michael Jackson's 'You Are Not Alone'. 
He managed to stage of that stage for quite a while, with singer Charlie Jones even appearing to welcome his intrusion, before security bundled him off. 
Simon later tweeted: "Stereo Kicks were top lads. Still think they'd be better off with 9. I'd vote for them but Cowell's got my phone."
Kanye West
As he was swiftly removed after managing to sneak backstage at the festival, Kanye attempted to continue with his rendition of 'Black Skinhead', but later halted it and restarted the performance. 
Simon later said he did it "for Taylor Swift", after Kanye famously crashed her speech at the VMAs in 2009. 
Donald Trump
Simon caused chaos at Donald Trump's Turnberry ribbon-cutting ceremony last year, when he attempted to hand out golf balls with swastikas on them. 
"These are the new balls available from the clubhouse as part of the new Trump Turnberry range. I forgot to hand them out before," he said.
While secret service initally seemed confused as to whether he was genuine, he was swiftly removed when Trump screamed for them to "get him out". 
Philip Green
Simon got one over on former BHS boss Philip Green after it was announced the retailer had gone into administration, following Philip's decision to sell it for £1 in 2015.
The prankster and a team of helpers renamed the billionaire's private yacht the 'BHS Destroyer', and they stuck a sign over the boat's real name in 2016. 
He later tweeted: "Good of Sir Philip Green to rename his £100 million yacht to something more appropriate. I was glad to help."
SUBSCRIBE TO & FOLLOW UK ENTERTAINMENT