Five police officers have died

Seven others were shot

Gunfire first broke out during a peaceful Black Lives Matter protest

Three suspects have been arrested and one died following a standoff with police
Gunmen killed five police officers and injured seven others during a Black Lives Matter protest in Dallas on Thursday night.
Three people have been arrested and one suspect died following a standoff with police.
Snipers opened fire on officers in the Texan city during the peaceful protest, which was being held following two recent fatal police shootings of black men. 
Thursday's shooting is reportedly the deadliest day for US law enforcement since the 9/11 attacks.
President Barack Obama said: "Let's be clear, there's no possible justification for these kinds of attacks, or any violence against law enforcement."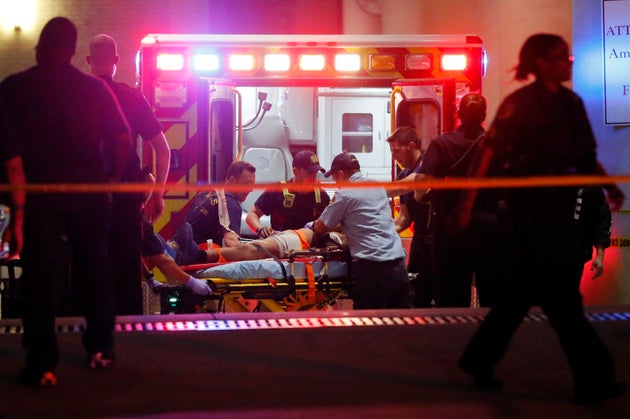 Unconfirmed reports said that the suspect died from a self inflicted gunshot wound.
The fourth suspect had claimed during the negotiations with officers that there were bombs planted "all over the place".
Dallas Police Chief David Brown said earlier today: "The suspect that we are negotiating with has told our negotiators that the end is coming and he is going to hurt and kill more of us, meaning law enforcement, and that there are bombs all over the place in this garage and in downtown," the BBC reports.
Police later announced that no explosives had been found following a sweep of the area.
Gunfire broke out about 8.45pm on Thursday as hundreds of people were gathered to protest fatal police shootings this week in Baton Rouge, Louisiana, and suburban St Paul, Minnesota.
Brown told reporters the snipers fired "ambush style" upon the officers. Mayor Mike Rawlings said one member of the public was wounded in the gunfire.
Article continues below pictures:
Officer Brent Thompson, 43, has been named as one of the officers who was fatally shot.
"As you can imagine, our hearts are broken. This is something that touches every part of our organisation. We have received countless expressions of support and sympathy from around the world through the evening. We are grateful for every message. Thank you.
"We are grateful to report the three other DART police officers shot during the protest are expected to recover from their injuries. No other DART employees working in Downtown during the protest or shooting were injured."
Dallas police officers were photographed standing outside a hospital saluting their colleagues who had been killed.
Black Lives Matter protests were held in several other cities across the country last night after a Minnesota officer on Wednesday fatally shot Philando Castile while he was in a car with a woman and a child.
A day earlier, Alton Sterling was shot in Louisiana after being pinned to the pavement by two white officers. That, too, was captured on a cellphone video.
Obama told a press conference on Friday morning: "Yesterday I spoke about our need to be concerned as all Americans about racial disparities in our criminal justice system.
"I also said yesterday that our police have an extraordinarily difficult job and the vast majority of them do their job in outstanding fashion."
Video footage from the Dallas scene showed protesters marching along a street in downtown, about half a mile from City Hall, when the shots erupted and the crowd scattered, seeking cover.
Brown said that it appeared the shooters "planned to injure and kill as many officers as they could."
The search for the shooters stretched throughout downtown, an area of hotels, restaurants, businesses and some residential apartments. The scene was chaotic, with helicopters hovering overhead and officers with automatic rifles on the street corners.
"Everyone just started running," Devante Odom, 21, told The Dallas Morning News. "We lost touch with two of our friends just trying to get out of there."
One woman was taken into custody in the same parking garage where the standoff was ongoing, Brown said. Two others were taken into custody during a traffic stop.
Brown said police did not have a motivation for the attacks or any information on the suspects.
He said they "triangulated" in the downtown area where the protesters were marching and had "some knowledge of the route" they would take.
He said authorities have not determined whether any protesters were involved with or were complicit in the attack.
Carlos Harris, who lives downtown told the newspaper that the shooters "were strategic. It was tap, tap pause. Tap, tap pause."
Demonstrator Brittaney Peete told The Associated Press that she didn't hear the gunshots, but she "saw people rushing back toward me saying there was an active shooter."
Peete said she saw a woman trip and nearly get trampled.
SUBSCRIBE TO & FOLLOW UK DAILY BRIEF