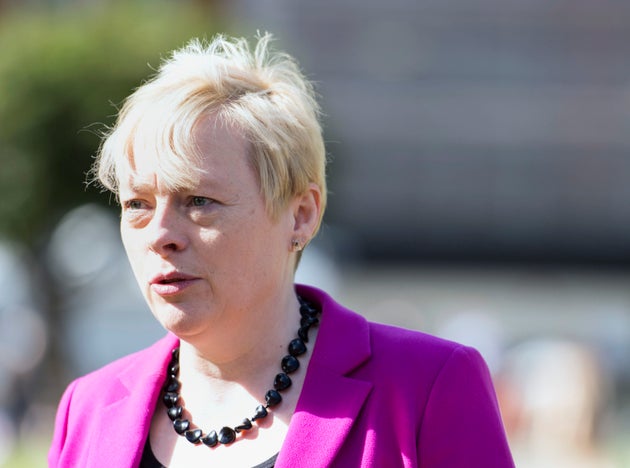 Hard-left activists infiltrated a meeting of Labour supporters and called for the deselection of "Blairite politicians" just a week before the party's Deputy Leader warned against "Trotsky entryists".
Yesterday, Tom Watson claimed Labour faced being destroyed unless the party tackled the "old hands twisting young arms" in the membership.
Labour leader Jeremy Corbyn hit back at the claims, accusing Watson of "patronising members and peddling baseless conspiracy theories".
But just last week The Socialist Party – known as Militant in the 1980s – was boasting of receiving a round of applause at a meeting of Labour supporters when it called for the deselection of MPs.
The meeting was held in Wallasey – the constituency of former leadership challenger Angela Eagle – on Tuesday August 2, and organised in protest against Labour HQ's decision to suspend the local branch from meeting in the area.
The suspension arose after Eagle claimed she had been subjected to homophobic abuse and another member was threatened with being punched in the head at the local party's AGM.
Despite being told by central office that all meetings should be stopped, some members gathered on August 2 to protest against the decision.
A post on Socialist Party website three days later read: "Wirral Socialist Party welcomed and attended the meeting, which should be the start of a mass fightback to deselect Angela Eagle MP and the other Blairites."
It went on: "A Socialist Party member calling for the deselection of all Blairite politicians, including cuts-making councillors, received strong applause."
The Socialist Party is the new name for Militant, the hard-left organisation which infiltrated Labour in the 1980s before being banned.
Militant's high-point came when they took control of Liverpool City Council in 1983, with the council's deputy leader Derek Hatton becoming the faction's figurehead.
After setting an illegal council budget as an attempt to secure more Government funding, the council sent redundancy notices to its own workers as an apparent negotiating tactic.
People took to streets to protest against the running of the council, and then-Labour leader Neil Kinnock delivered a passionate speech criticising "the grotesque chaos of a Labour council hiring taxis to scuttle round a city handing out redundancy notices to its own workers."
Last week's meeting was organised by a group known as Wirral TUC, which is run by Alec McFadden - a former member of George Galloway's Respect Party.
Paul Davies, one of the co-vice chairs of the suspended local party who addressed the meeting, tried to oust Labour's Birkenhead MP Frank Field in December 1989.
A friend of Eagle said: "This just proves what Angela's been saying all along: some of the same destructive forces that caused misery in Liverpool and such harm to the Labour Party three decades ago are back.
"These entryists have formed an unholy alliance with opponents of Angela's like Paul Davies, who was implicated in deselection attempts in the 90s, and Alec McFadden, who has run against Labour candidates for lots of different parties, including Galloway's RESPECT Party and the No2EU Party."
"Luckily for Angela, we know that she's a tough opponent because she's focused, determined, thorough and has a record of delivering for the people of Wallasey for 24 years.
"That's how she took the seat off the Tories in 1992 and increased her majority to become one of the biggest in the country; there can't be many people in the area she hasn't helped herself or helped someone they know through her casework or campaigning or even as a minister delivering investment to Merseyside.
"The Party needs to act against the kind of entryism and infiltration that we thought we had seen the back of in the 1990s."
In a statement to the HuffPost UK, a Socialist Party spokesman said Labour members were supportive of deselecting anti-Corbyn MPs.
The spokesman said: "Socialist Party members support Jeremy Corbyn's anti-austerity politics.
"By expanding these policies Labour can win wide support across the country as the Militant led Labour council in Liverpool did in the 1980's winning 3 elections, increasing Labour's vote and extracting £60 million in extra funding from a hostile Thatcher government.
"The right wing coup plotters in the PLP have made it clear they will never support Corbyn or his politics, despite their obvious popularity at mass rallies up and down the country.
"The call for mandatory re-selection of MP's, far from being a sinister invention of Socialist Party 'infiltrators', simply reflects the feelings of countless Labour member and supporters who feel betrayed by the actions of Angela Eagle and others.
"Only last month the conference of Britain's largest union, Unite, overwhelmingly endorsed this call."
SUBSCRIBE AND FOLLOW
Get top stories and blog posts emailed to me each day. Newsletters may offer personalized content or advertisements.
Learn more