An industrial designer has put his skills to extremely good use by inventing a decanter that keeps wine fresh for at least 12 days.
The entrepreneur was sick of wasting wine in his own household, so he decided to do something about it.
"We are a family of five and aware of rising costs of food and drink," he told HuffPost UK. "Like many families, we try to only buy what we will use or preserve what we can't.
"eto allows you to enjoy wine again and again, without sacrificing either its taste or our planet."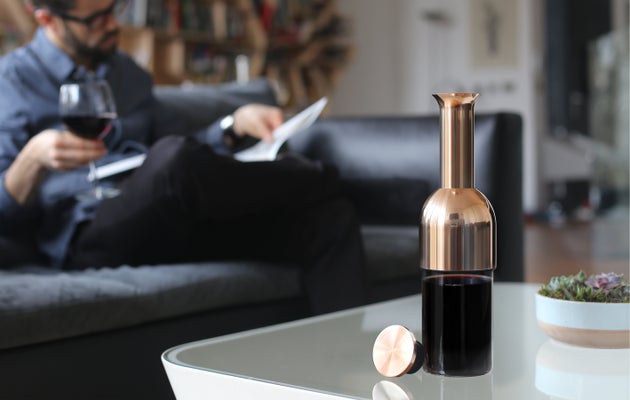 Wine starts to go bad as soon as you pull the cork from the bottle.
"Oxygen rushes in and sulphur dioxide, which is added to nearly all wines as a preservative, dissolves into the air," Cotton explained.
"Initially, exposure to oxygen is good as it brings out the flavour of the wine.
"But the clock is ticking. In as little as two days, oxidation can spoil a wine and, soon enough, this process will turn it to vinegar."
According to Decanter, most wines last for three to five days. "Conventional wines generally last a couple of days open maximum," said Christelle Guibert, Decanter's tasting director.
"After that they tend to deteriorate very quickly."
However Cotton's product could help wine last for 12 days (or even more) thanks to a unique valve concept that seals wine 'at exactly the right moment'.
How it works:

1. Decant your bottle of wine into eto. This opens up the wine and releases the subtle notes and tannins that enhance its flavour.

2. Pour a glass. The long funnel gently oxygenates the wine to release its flavours and the sharp lip ensures drip-free pouring.

3. Seal in the flavour. Push down on the neck and the seal automatically locks when it reaches the surface of the wine.

4. Store eto in a cool, dark place. It has been designed to fit in a fridge door.

5. Pour your next glass. Remove the lid and tilt the bottle - the valve opens automatically as you pour. 
All materials used are approved by the US Food and Drug Administration (FDA) and the German BfR, ensuring they have no effect on the wine's flavour. They are also free from BPA, a chemical used to make plastics.
Backers can pre-order eto - which is Welsh for the word 'again' - from £49 on Kickstarter. If the product reaches its financial goal, it will be available to buy for £79. 
Cotton's goal is to source £55,000 to pay for tooling, manufacture and shipping to UK shores for distribution. However if he doesn't reach his goal, the product won't be made.
Professor Bela Paiz, from Bangor University, said of the product: "The results were indisputable. eto far outperforms them all."
Tom Harrow, wine director of Honest Grapes, said he tried the product and, after seven days, there was no difference in taste between then and the day he opened it. 
SUBSCRIBE TO & FOLLOW UK LIFESTYLE