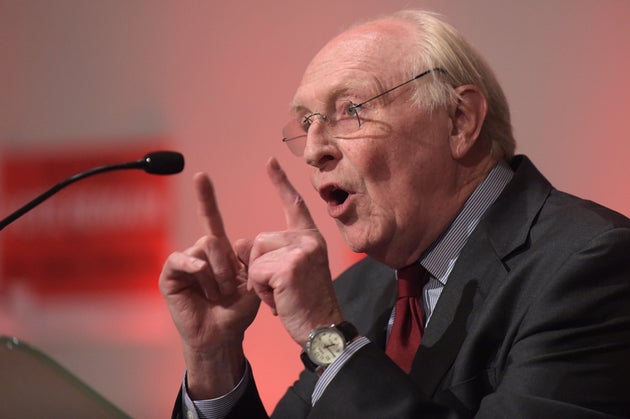 Dramatic audio has emerged of Lord Kinnock delivering a passionate speech this week's meeting of Labour MPs in parliament in which he calls for Jeremy Corbyn to quit as party leader.
Lord Kinnock, who led Labour from 1983 until 1992, says supporters of Corbyn needed to "wake up" and realise he would not be elected prime minister by the country.
In the seven minute speech to MPs, which is interrupted frequently by the banging of desks in support, Lord Kinnock urges them not to abandon Labour in the face of Corbyn's refusal to resign.
"There will be no split, there will be no retreat, damn it, this is our party, I've been in it for 60 years, I am not leaving it to anybody," he says.
The audio recording was obtained by Ben Ferguson - who presented the recent Vice News documentary 'Jeremy Corbyn: The Outsider'.
Labour has confirmed party membership has risen by 100,000 in just ten days - as first reported by The Huffington Post.
The "vast majority" of new Labour members who express a preference are backing Corbyn.
Party sources say that among those who filled the 'why I joined' box on the membership application form, at least 80% have said they did so to support Corbyn.
An overwhelming majority of Labour MPs passed a vote of no confidence in Corbyn.
However Corbyn has said he will not quit and a leadership challenge, possibly from Angela Eagle, is likely.
There will be no split, there will be no retreat, damn it, this is our party, I've been in it for 60 years, I am not leaving it to anybody

Lord Kinnock
In his speech to the Parliamentary Labour Party on Monday, Lord Kinnock said MPs did not consider themselves "more important".
But he said the party could not function if its MPs did not back its leader. "We are a democratic socialist party committed to parliamentary road to power, it is vital, essential, irreplaceable that the leader of this party has substantial, at least substantial, support from those who go to the country and seek election to become lawmakers," he said.
"We know what answer we're getting on the doorstep," Lord Kinnock said. "I go on the doorstep and I talk to people, and I spoke to one in Cardiff three weeks ago. When he complained abour Jeremy, I said 'his heart's in the right place, he wants to help people like you'. He was a working class guy - a fitter in what remains of the docks. And he said 'I know why he's saying it, because he thinks we're easy. We're not easy, we're not listening - especially since he's weird'.
"That is unfortunate, but everybody in this room knows ... that is what you're getting from people who yearn to vote Labour but are inhibited by the fact that Jeremy is still our leader."
SUBSCRIBE AND FOLLOW
Get top stories and blog posts emailed to me each day. Newsletters may offer personalized content or advertisements.
Learn more