A mum has shared a photo that is a physical representation of what her stillborn daughter would look like now, playing with her cousins. 
Libby Martin-Gazzard, 26, from Stourbridge, was in labour in December 2014 when she was told by doctors that her daughter, Beatrice, had no heartbeat.
Martin-Gazzard's dad, Tim Martin of Jane Ross Photography, recently took a photo of Beatrice's cousins - Isabelle, four, and Alfie, three - while playing on the beach. He edited it to include a faded image of what the family imagine Beatrice would look like now.
"Beatrice would be two years and nine months," Martin-Gazzard told HuffPost UK. "This photo is a physical representation of what I imagine whenever I see the children playing together. It's comforting to think that Beatrice is with us."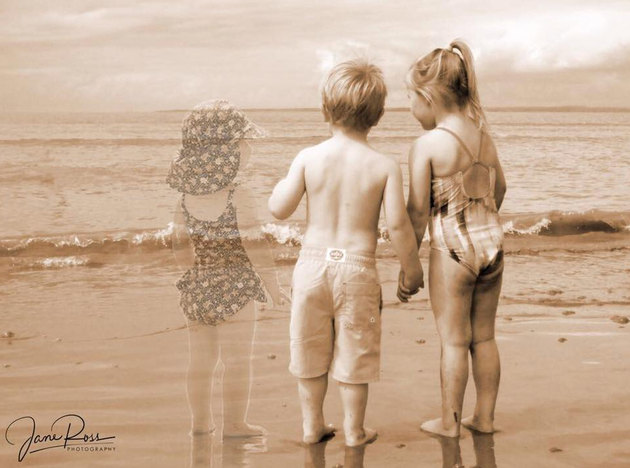 The mum continued: "I honestly feel like her spirit is here so to see that in black and white - something I always imagine but have never seen - is breathtaking.
"Whilst it packs a punch to the stomach, it makes my heart so full."
She shared the photo on Facebook with the moving caption: "We don't know what she would like look like or how she would behave.
"We don't know what she would sound like or what her favourite toy would be. We don't know anything. But we can imagine. And we always do."
She added: "I'd like to take this opportunity, again, to thank my dad and my family for always remembering my little girl."
"They don't tell you that it's almost certain that your baby has passed away and that there will be nothing anyone can do," she wrote. 
"They can't prepare you for this; they can't say it softly. There is no shying away from it. They don't tell you that it's okay to scream when they confirm your worst nightmare but they hold your hand as you make a sound that could only come from someone broken beyond repair."
Also on HuffPost
How To Help A Friend Through Miscarriage
SUBSCRIBE TO & FOLLOW UK PARENTS