The passenger, who has not been named, said he was a doctor who had to be with patients the next day but was pulled from his seat and dragged away with a bloodied lip. At one point he managed to run back on board the plane with his face covered in blood, saying "just kill me" and "I need to go home", according to witnesses.
According to date from the United States Department of Transportation, 552,000 passengers were denied boarding by major US carriers in 2015.
Of these, 46,000 were "involuntarily" denied boarding, but there are a number of things passengers are entitled to if they are not able to fly both in the UK and America.
In an extraordinary email to employees, CEO has defended the decision to remove a paying customer, saying its staff were "left with no choice", but United may have been able to avoid all of this by making passengers aware of the law.
So what can you get if you're bumped?
However there are certain things you are entitled to.
A refund - you can get your money back for the flight.
Or a reroute - you can be booked onto another flight.
If you volunteer...
There are no set rules as to what benefits you could reap under EU rules but they may include...
Money - It could pay to volunteer to be bumped.
The Civil Aviation Authority explains: "If you volunteer to be bumped, it's up to you and your airline to agree compensation. Often, airlines will make an announcement at the gate offering compensation, which might be cash or vouchers."
So if you back your bargaining skills, get negotiating.
However, even if you get involuntarily bumped, you could be due cash compensation anyway, so it's a gamble.
A seat upgrade - if you agree to travel on another flight, you may be able to agree to be bumped up a class or two. If you've always fancied a first class flight for your long-haul trip but can't afford it, this is your chance to get out of cattle class.
A flight voucher - you can make another trip with the airline of your choosing. This is likely to be for a specified value so you could put it towards another holiday or perhaps an internal flight once you reach your destination on a long-haul trip.
Meal vouchers - if you do fly at a different time, you may be able to negotiate a free or upgraded meal on board. You may also be able to use this in the departure lounge, so you can bypass Burger King and fill up on something a little more gourmet before take-off.
Airline perks - it may be possible to strike a bargain that allows access to perks such as access to an airline's members' lounge. This is dependent on what the airline has to offer but lounges often offer benefits such as free food and drink, a selection of reading material and even massages.
Accommodation - if you're not able to fly until the following day because you have volunteered yourself to be bumped, you may be able to get the airline to pay for a hotel room. If you're flexible on your timings, this could be a good chance to extend your holiday by a day.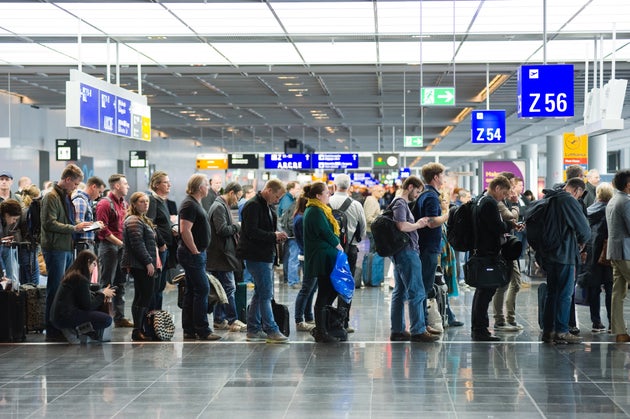 If you don't volunteer...
An airline has the right to deny the right to board you are entitled to the same things as you would be if your flight was cancelled.
A refund - you are entitled to ask for your money back. 
Or a reroute - you can ask to be booked on to the next available flight.
Compensation - aside from a few exemptions, you are likely to be entitled to compensation.
€250 (£200) for flights under 1500 kilometres (932 miles - short haul).

€400 (£340) for all longer flights within EU, and for all other flights between 1500 kilometres (932 miles) and 3500 kilometres (2175 miles - medium haul).

€600 (£510) for all other flights (long haul).
As mentioned above, this could be a better or worse deal than if you negotiate a cash payout to volunteer to be bumped, so it depends on your bargaining skills and the airline's generosity.
The only exemptions are if...
you are told of the cancellation at least two weeks before departure, or

you are told of the cancellation between one and two weeks before departure, and rerouting your flight will get you to your final destination no more than four hours late, 

rerouting will get you to your destination no more than two hours late.
The only difference between being bumped and if your flight is cancelled is that you can be paid compensation immediately if you are denied boarding.
Where applicable you are also entitled to...
-Suitable meals and refreshments
-Transport transfers to and from the hotel
-Two free telephone calls, faxes or emails
US federal regulations require airlines to pay cash to people they bump from flights against their wishes.
If bumping a passenger from a domestic flight delays that passenger by more than two hours, the airline has to pay the passenger 400 percent of the fare to the passenger's destination or first stopover, up to a maximum of $1,350.
Here's the relevant section of the US Code of Federal Regulations:
In this case, United offered passengers $800, but didn't get enough volunteers.
One reason might be that some of the passengers on the flight in question ― a Sunday evening nonstop from Chicago to Louisville, Kentucky ― were probably entitled to more than that.
A one-way ticket from Chicago to Louisville on United next Sunday would run you about $221 ― meaning that, if bumped and delayed more than two hours, you'd be entitled to $884.
Some passengers likely paid even more to be on the flight, and would be entitled to more compensation. And surely the cost to United of offering passengers more money ― even the full $1,350 ― would have been far less than the negative PR from this episode. The logical thing to do would've been to offer more. 
SUBSCRIBE TO & FOLLOW UK DAILY BRIEF