Seems there's a gold rush going on at the moment everywhere (even the Team GB trophy cabinet) with glistening, golden shades shining from shop rails, beauty displays and shoe stores. When it comes to metallics I'm usually a silver or bronze girl although I do love a rose gold, especially for eyeshadows and jewellery.
I used to think the classic yellow gold shade a bit dated but with the current crop of modern gold fashion - in clothing and shoes in particular, and in the fabulously retro Versace-style chain prints that are still popping up everywhere -I'm slowly being won over.
These are a few of my favourite gold pieces out now or coming to stores soon. I specially adore the simple spangle of the Maje sweat top and the east London swag of the Mandarin and General pieces. I bought the Tatty Devine wing earrings which are mirrored and give off a gorgeous light-reflecting shine whilst the ace Alexander McQueen razor cuff is definitely next on my Must Have list.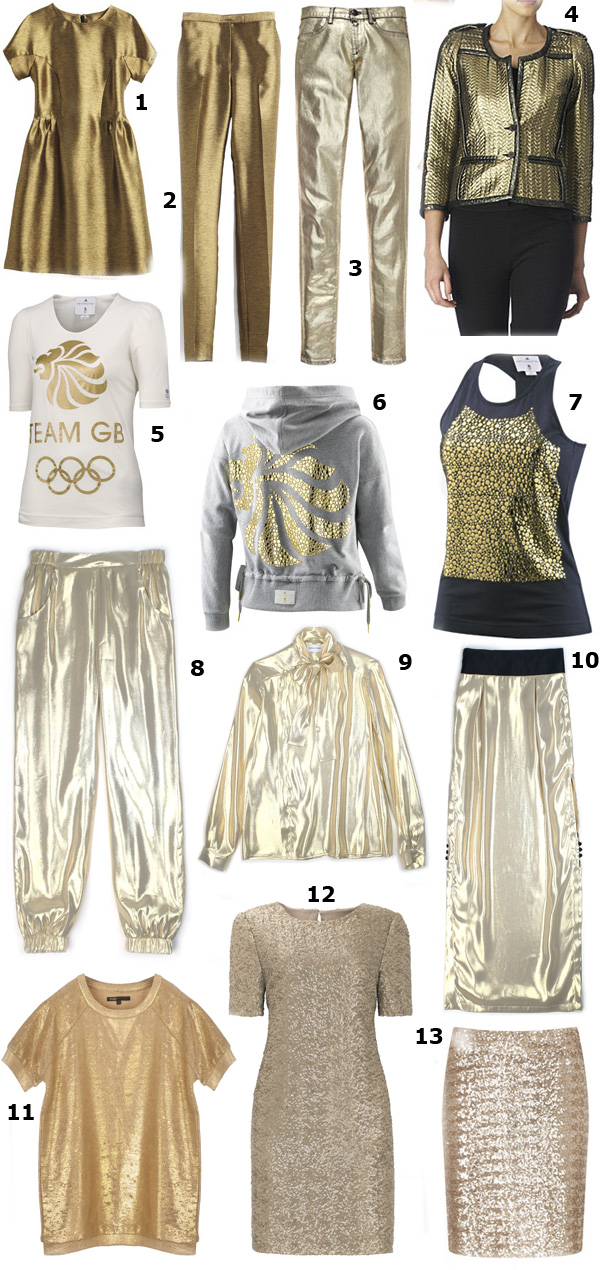 Gold Fashion:
1 Hobbs Caravaggio Dress, £199, and 2 Hobbs Precious trousers, £149, both coming soon at www.hobbs.co.uk
3 Foil coated gold skinny Juicy Couture Jeans - £175 (stockist info: 020 7629 8238)
4 Isabel Marant Blody metallic jacket, £485 www.selfridges.com
5 Team GB logo t-shirt, £28, 6 grey studded hoody, £64, & 7 studded tank, £40 - all adidas GOLD by Stella McCartney www.adidas.co.uk
8 Mandarin and General trousers, 9 shirt & 10 skirt - all coming soon to www.mandarinandgeneral.com
11 Maje gold 'Orleans' short sleeved sweat top, £120 (stockist info: 0207 730 9097)
12 M&S Autograph sequinned tunic, £65 www.marksandspencer.com
13 Matalan gold sequinned skirt, £25 www.matalan.co.uk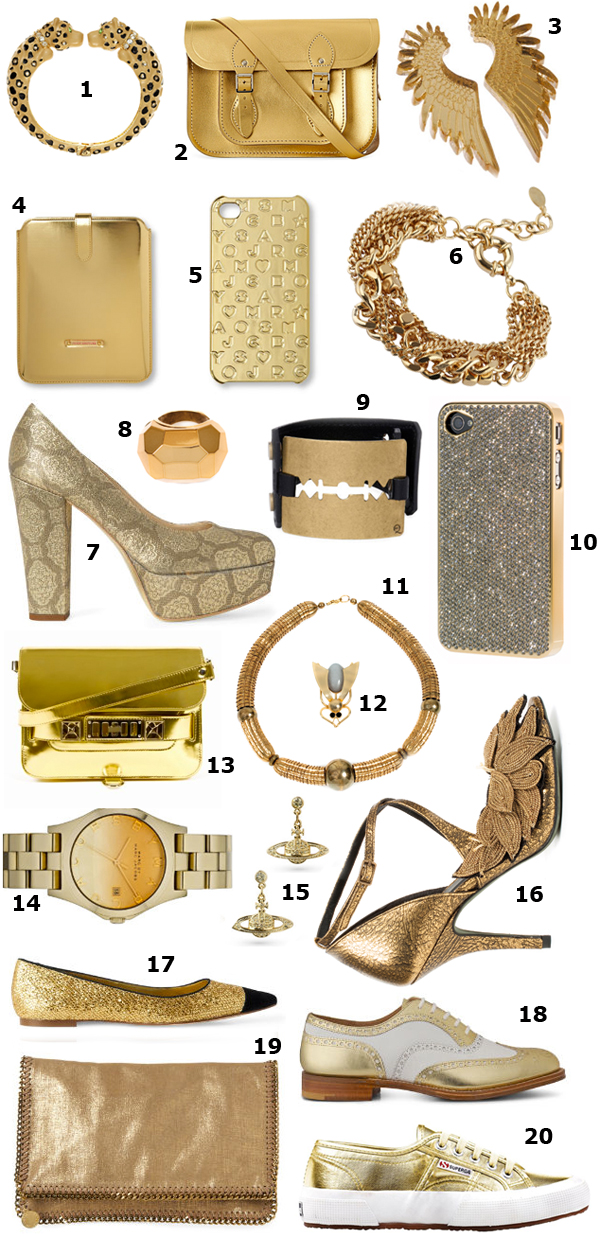 Gold Shoes, Bags, Jewellery & Accessories:
1 Leopard bracelet, £120 from Juicy Couture (stockist info: 020 7629 8238)
2 Limited Edition gold satchel by The Cambridge Satchel Company - check for stockists at www.cambridgesatchel.co.uk
3 Tatty Devine Pegasus earrings, £30 from Tatty Devine stores and Selfridges
4 Juicy Couture iPad case, £65 (also comes as a Blackberry cover, £50) www.selfridges.com
5 Marc by Marc Jacobs gold Stardust iPhone cover, £30 from Selfridges
6 Aldo Mignonelle bracelet, £10 from www.aldoshoes.com/uk
7 Stella McCartney metallic brocade platform shoes, £465 in store at Selfridges
8 Hoss Intropia ring (in stores) www.hossintropia.com
9 Alexander McQueen razor cuff, £75, www.selfridges.com
10 Swarovski CRYSTALLIZED iPhone case, £200 from www.swarovski-elements.com
11 Necklace and 12 insect brooch both Hoss Intropia www.hossintropia.com
13 Special gold edition of Proenza Schouler's It bag, the PS-1, exclusive to Opening Ceremony from their London pop-up store or via www.openingceremony.us
14 Marc by Marc Jacobs MBM3151 Gold-plated sunray-dial watch, £209 at Selfridges.com
15 Vivienne Westwood mini bas relief jonquil drop orb earrings, £75 at Selfridges.com
16 gold dancing shoes from Hoss Intropia stores www.hossintropia.com
17 Kulig ballet flats, £85, from Madonna's Truth or Dare shoe collection exclusively from Selfridges
18 Church's gold and white 'Victory' brogues, £370 www.selfridges.com
19 Stella McCartney Falabella double chain clutch in gold, £525 at Selfridges
20 Superga Classic Cotu sneakers, £50 www.superga.co.uk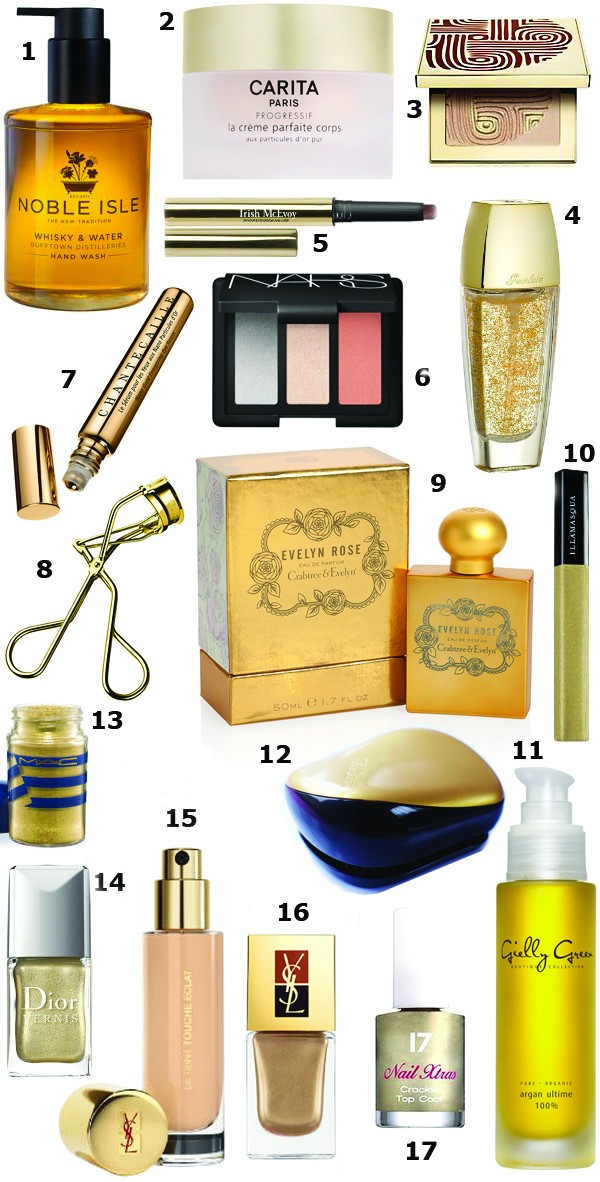 Gold Make Up & Beauty:
1 Noble Isle Whisky & Water hand wash, £18 from www.nobleisle.com
2 Carita Gold Perfect Body Cream, £195 www.carita.co.uk
3 Clarins Collector Face Palette illuminating face powder, £35 www.boots.com
4 Guerlain L'Or make up base, £42 from Selfridges.com
5 Trish McEvoy 24-hour eyeshadow and liner in Smokey Quartz, £24 at Selfridges
6 Nars limited edition eyeshadow trio in Ramutelle, £33 www.narscosmetics.co.uk
7 Chantecaille Nano Gold Energising Eye Serum www.harrods.com
8 Shu Uemura gold eyelash curlers, £20, exclusive to Selfridges
9 Crabtree & Evelyn's Evelyn Rose eau de parfum, £45 www.crabtree-evelyn.co.uk
10 Illamasqua 'Naked Strangers' intense lipgloss, £13 www.selfridges.com
11 Gielly Green 100% organic Argan Ultime 'Liquid Gold' skin oil, £28.90 from www.giellygreen.com
12 Tangle Teezer compact styler travel hairbrush in 'Goddess' gold, £12.25 www.tangleteezer.com
13 MAC Hey Sailor! Pigment in Old Gold, £17, at www.selfridges.com
14 Dior Golden Jungle Collection Vernis Duo, £24, (gold base pictured, also comes with khaki topcoat) www.selfridges.com
15 YSL Le Teint Touche Éclat foundation, £28 - 20 years after the cult Touche Eclat highlighter pen was launched, we finally have the foundation. Available from Selfridges.com and various other stockists.
16 YSL Manucure Couture Les Fauves nail colour set, £24 (gold polish pictured, also comes with a black crackle top coat) exclusive to Selfridges
17 17 Nail Xtras gold nail crackle top coat, £3.99 www.boots.com