In the fashion stakes, silver definitely scores higher than gold for me but maybe I'll be swayed as I prepare for next week's post (last week was all about bronze, this week is brought to you by the colour silver - can you guess what next week will be...?). In the meantime, check out my silver picks below.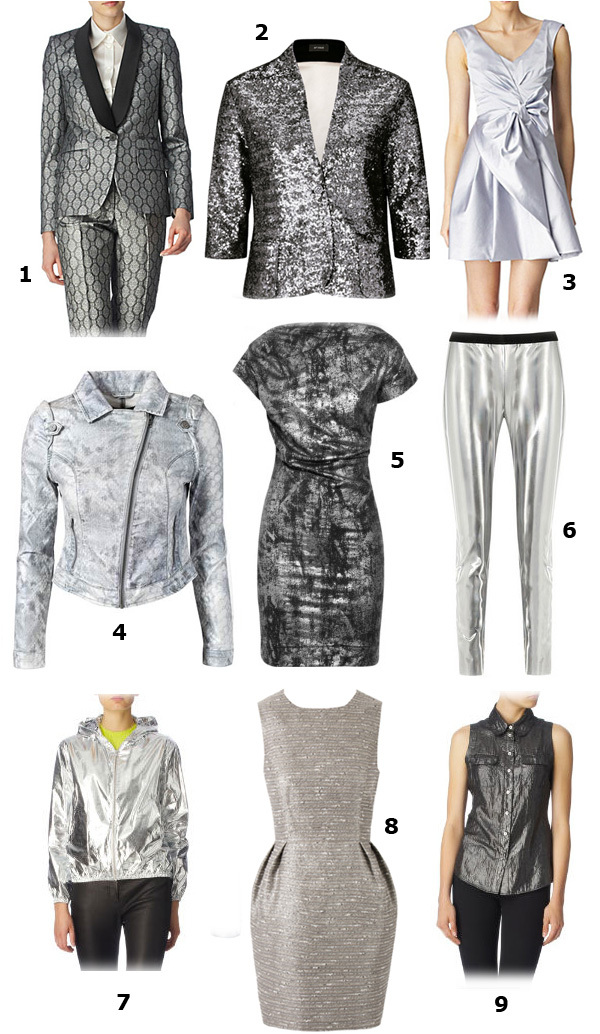 Silver Fashion:
1 Stella McCartney brocade jacket, £1,450 at Selfridges
2 Silver sequinned jacket, £40 from Matalan stores
3 Karen Millen folded silver satin dress, £160 at www.selfridges.com
4 Jacket, £139.95 from www.nelly.com
5 Vivienne Westwood Anglomania Boudicca metallic stretch-jersey dress, £205 from Selfridges
6 Chalayan Holographic coated leggings, £530 from www.net-a-porter.com
7 Acne Clash Silver jacket, £205 www.selfridges.com
8 Dunnes Silver Boucle dress, £27, in stores late August www.dunnesstores.ie
9 Karen Millen sleeveless metallic shirt, £85 from Selfridges and other stockists.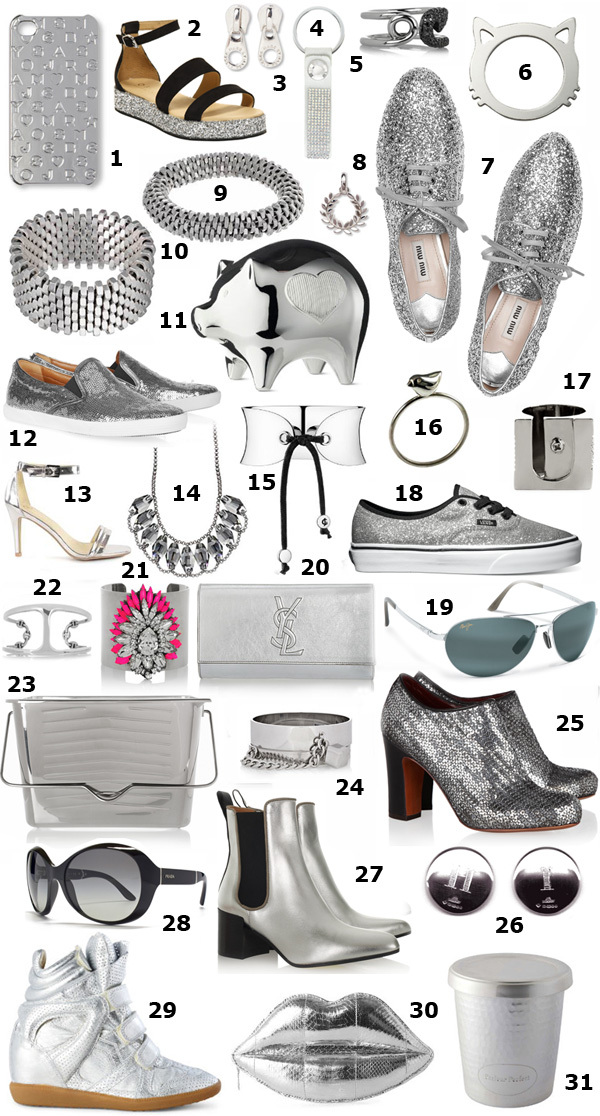 Silver Shoes, Trainers & Accessories:
1 Marc by Marc Jacobs silver Stardust iPhone cover, £30 www.selfridges.com
2 Glitter soled sandals, £58 from Office stores www.office.co.uk
3 Marc by Marc Jacobs classic Zip It stud earrings, £50 www.selfridges.com
4 Swarovski CRYSTALLIZED keychain, £35 available from www.swarovski-elements.com
5 Ileana Makri Safety Pin 18-karat white gold diamond ring, £1,735 www.net-a-porter.com
6 Fine by Tatty Devine cat ring, £120 www.selfridges.com
7 Miu Miu Glitter-finished leather brogues, £420 www.net-a-porter.com
8 Links of London 2012 Collection silver 2012 wreath charm, £45 www.selfridges.com
9 Alice Menter Olive bracelet, £225 and 10 Alice Menter chunky silver cuff, £165, both www.alicementer.co.uk
11 Vera Wang @ Wedgwood silverplate baby piggy bank, £37.50 www.selfridges.com
12 Jimmy Choo Demi leather-trimmed sequined sneakers,£275 www.net-a-porter.com
13 Sandals, £34.95 www.nelly.com
14 Chained Scallop Necklace by Eastern Mystic, £188 www.easternmystic.com
15 George Jensen Tie Cuff, £395 exclusively from Selfridges
16 Sparrow Ring by Jana Reinhardt, £59 www.janareinhardt.com
17 Big Sharpy Pencil Sharpener Ring by Me & Zena x Me & Zena, £24 from www.culturelabel.com
18 Silver glitter Vans Authentics from £45, www.vans.com
19 Silver Maui Jim Pilot sunglasses, £214 www.mauijim.co.uk
20 Yves Saint LaurentBelle Du Jour metallic textured-leather clutch, £495 www.net-a-porter.com
21 Shourouk Yildiz sterling silver crystal cuff, £300 from Net-A-Porter.com
22 Hoorsenbuhs by Robert Keith Phantom sterling silver cuff, £1,240 also Net-A-Porter
23 Maison Martin Margiela by L'Atelier D'Exercices Mirrored stainless steel champagne bucket, £280 from Net-A-Porter.com
24 Marc by Marc Jacobs Collars And Cuffs silver-tone bracelets, £250, and 25 Marc by Marc Jacobs Sequined leather ankle boots, £390 both from www.net-a-porter.com
26 Bunney Hand-Engraved Alphabet Series Sterling Silver badges, £195 each from Dover Street Market bunney.co.uk
27 Acne Free metallic-leather ankle boots, £460 www.net-a-porter.com
28 Prada Folding Oversize Ladies Glasses Black Crystal Grey Gradient Lens, £225 from www.redhotsunglasses.co.uk
29 The most lusted after Isabel Marant Silver Bird wedged hi-top trainers, £460 www.selfridges.com
30 Lulu Guinness metallic padded silver lips clutch, £295 Selfridges.com - I want this so much!
31 Culinary Concepts large silver-plated ice cream tub, £45 at Selfridges.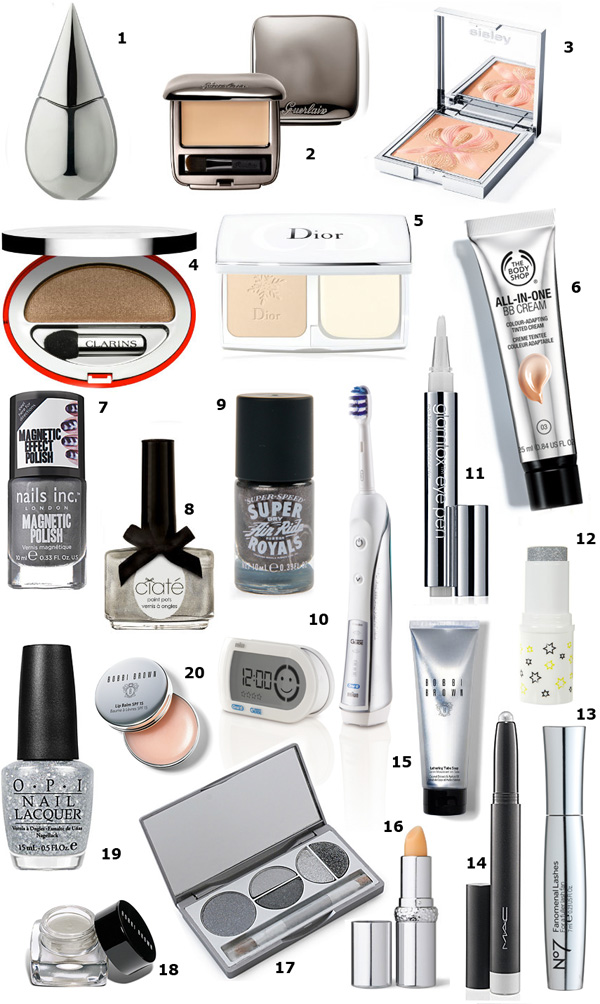 Silver Health & Beauty:
1 La Prairie Silver Rain eau de parfum 50ml £95 at Selfridges
2Guerlain Ombre Eclat eye primer, £21.50 (how cute?? love this) www.selfridges.com
3 Sisley Palette Orchidée highlighting blush, £60 at Selfridges
4 Clarins mono eyeshadow in Beige Shimmer, £15 www.selfridges.com
5 Dior Diorsnow White Reveal Pure Transparency SPF 30 PA+++ lightweight powder foundation, £37 www.selfridges.com
6The Body Shop All-In-One BB Cream (a tinted moisturizer with 24hr hydration), £12 - I tried this intuitive skincare/foundation hybrid yesterday and can highly recommend. Available for pale to black skin, go have a try when this comes out in Body Shop stores and at www.thebodyshop.com in August
7 Nails Inc. magnetic nail polish in 'Trafalgar Square', £16.95 www.nelly.com
8 Ciate silver shimmer nail varnish in 'Fit For A Queen', £9 www.selfridges.com
9 Superdry silver 'Super Royals' nail polish, £6 www.superdry.com
10 Oral-B TriZone 5000 is £199.99 available from various retailers including Boots and Amazon. www.oral-b.co.uk
11 Rodial Glamtox Eyelight Pen, £36 www.selfridges.com
12 Topshop Makeup silver glitter chubby stick, £6.00 www.topshop.com
13 No.7 Fanomenal mascara, £12.95 www.boots.com
14 MAC shadestick, £13.50 www.selfridges.com
15 Bobbi Brown Lathering tube soap, £19 at Selfridges
16 La Prairie Cellular Luxe Lip Treatment SPF 15, £33 www.selfridges.com
17 DuWop Eye Palette in Grey, £32.95 www.nelly.com
18 Bobbi Brown long-wear cream eyeshadow, £18 Selfridges.com
19 OPI 'Pirouette My Whistle' nail lacquer, £15.50 www.nelly.com
20 Bobbi Brown lip balm with SPF15, £15 www.selfridges.com
SUBSCRIBE AND FOLLOW
Get top stories and blog posts emailed to me each day. Newsletters may offer personalized content or advertisements.
Learn more