The warmest of all the metallics, bronze may represent third place in competitive circles but personally I love a bit of bronze-y, coppery loveliness. I decorated our front room around a stunning Tom Dixon floor lamp I got for Christmas and have been keeping an eye out for more treacly hued metallic paraphernalia ever since.
As a redhead (for now) bronze is also a really flattering shade for me and one I love wearing both as clothing, accessories and - carefully, no-one's talking matchy-matchy eyes/lips/cheeks 90s MAC Spice style here - cosmetics. Here's my pick of a few great bronze-toned pieces from fashion and beauty through to some gorgeous glassware.
Third place, schmird place. Bronze is beautiful.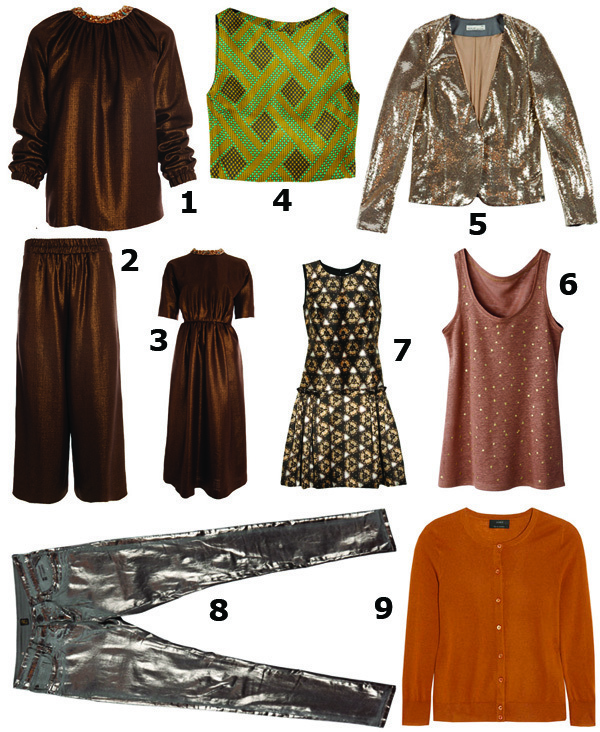 Bronze Fashion:
1, 2 & 3 Bronze pieces from the brilliant Mother of Pearl AW12 collection (more on that coming soon...), see motherofpearl.co.uk for stockists.
4 Jonathan Saunders 'Benedict' cropped printed silk-gazar top, £540 from www.net-a-porter.com
5 Replay sequinned jacket, £285, available in store, stockist info: www.replay.it
6 La Redoute caramel vest top with star detail, £29, www.laredoute.co.uk
7 Prabal Gurung printed wool and silk-blend dress, £2,050 from www.net-a-porter.com
8 Metallic trousers, £180, by Replay www.replay.it
9 J. Crew fine-knit cashmere cardigan, £180 from www.net-a-porter.com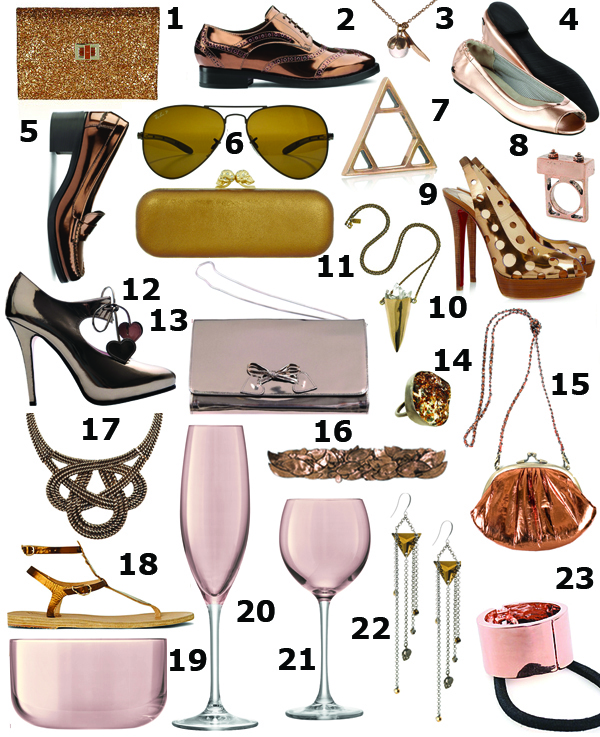 Bronze Shoes & Accessories:
1 Anya Hindmarch Valorie glitter-finish leather clutch, £350 from www.net-a-porter.com
2 & 5 Bronze shoe styles from the forthcoming Patrick Cox for Geox collection, both £190 and available from September www.geox.com
3 Buttercup Rose Gold necklace, £290 from www.debouverie.co.uk
4 Lacoste Candale peep toe shoes, £55, www.lacoste.com
6 Ray-Ban Tech Aviator Sunglasses in Bronze Crystal Brown, £155 from www.redhotsunglasses.co.uk
7 Pamela Love Rose-tone bronze triangle ring, £120, and 10 bronze and quartz necklace, £415 both from www.net-a-porter.com
8 Nelly Accessories Screw ring, £7.95 from www.nelly.com
9 Christian Louboutin Ginza 140 cutout leather slingbacks,£535 from www.net-a-porter.com
11 Alexander McQueen washed-leather and Swarovski crystal clutch, £945 from Net-A-Porter.com
12 Jaqueline Mirror Bronze high heels with heart cut-out detail, E.230, and 13 Thelma Clutch frozen bronze, E.310, both by Minna Parikka from www.minnaparikkashop.com
14 Tallulah Cocktail Ring, £159 by Sushilla www.sushilla.co.uk
15 Hoss Intropia bag and 16, belt, both www.hossintropia.com
17 Aldo Frigold necklace, £15, from www.aldoshoes.com
18 Ancient Greek Sandals, Aphrodite sandals, £140 from www.selfridges.com
19 Dish, 20 Champagne Flute & 21 Wine Glass, all by LSA, all £35 from www.lsa-international.com
22 Deco Skull Earrings by Eastern Mystic, £98 from www.easternmystic.com
23 Nelly Trend pony tail hairband, £9.95 from www.nelly.com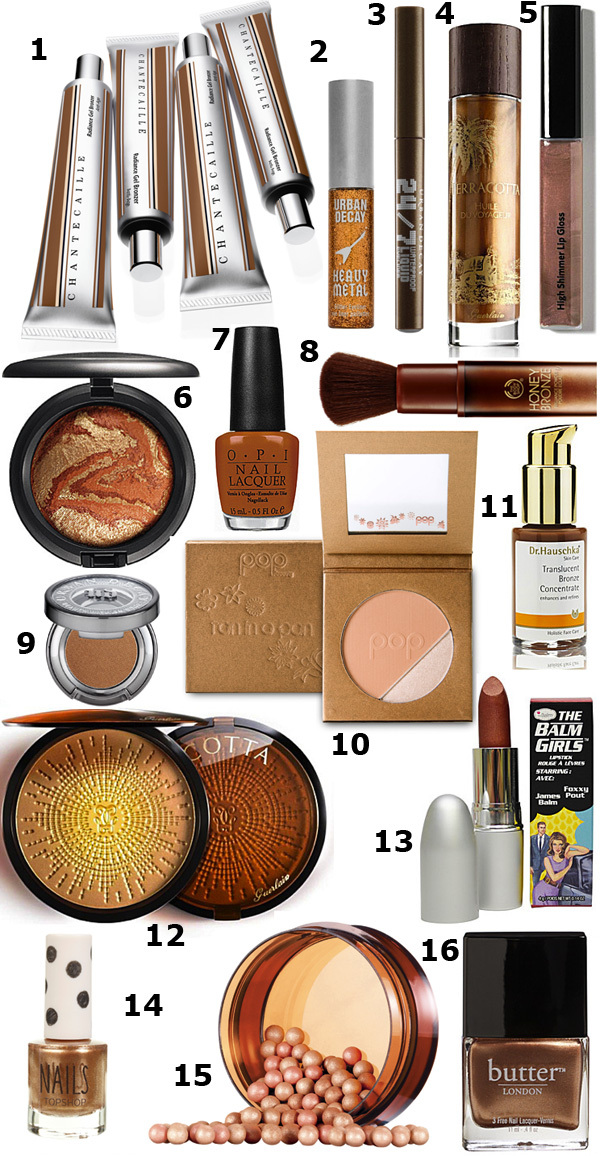 Bronze Beauty:
1 Chantecaille Radiance Gel Bronzer, £54 from Harrods.com
2 Heavy Metal Glitter Liner in Baked, £13, 3. 24/7 Waterproof Liquid Eyeliner in Smog £14 and 9, Eyeshadow in Baked, £14 - all Urban Decay available from www.debenhams.com
4 Guerlain Terracotta Body Huile du Voyageur, £36, from www.selfridges.com
5 Bobbi Brown Desert Twilight Collection High Shimmer Lip Gloss in Bronzed Heather, £17 from Selfridges
6 MAC Mineralize Skinfinish in Bronze Kiss, £21 www.selfridges.com
7 OPI Chop-Sticking To My Story, £15.95 from www.nelly.com
8 Body Shop Honey Bronze Brilliance Powder Bronze Shimmer, £16 www.thebodyshop.co.uk
10 Pop Tan in a Pan, £15.50, from popbeauty.co.uk
11 Dr. Hauschka Transparent Bronze, £27.95 from www.nelly.com
12 Guerlain Terracotta Giant Bronzing Powder, £44 from www.selfridges.com
13 The Balm Girls lipstick in Foxxy Pout, £18.95 from www.nelly.com
14 Topshop Makeup Nails in Gilted, £6 www.topshop.com
15 Avon Glow Bronzing Pearls, £10, from avonshop.co.uk
16 Butter London nail lacquer in 'The Old Bill', £16.95 from www.nelly.com