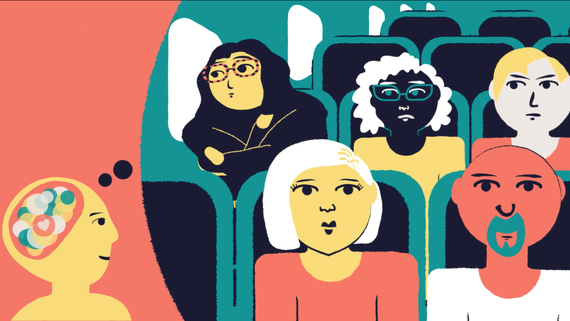 You live some distance from your family and you need to get home for a wedding, birthday party or funeral. The only way you can travel that distance in the time you have, is to fly, but the very thought of flying fills you with dread. You can't afford to book two seats, but you know you can't fit comfortably in one - you used to be able to, but seats seem smaller these days. You know your hips will be bruised for days afterwards from the armrests pressing into them. You know you are going to have to dehydrate yourself because it is unlikely that the route you are flying will have planes with accessible toilets on board. You hope that there will be cabin crew who are considerate and won't make a fuss when you ask for a seatbelt extender. You hope to do some work on the plane, but you know you won't be able to use the seat table. And you try to quieten the memory of the abusive passenger you sat next to last time you flew.
You are proud of your body and the way it moves. In your daily life you are used to standing up for yourself and ensuring that people's different bodily needs are accommodated. But there is something about the space of the plane: The dread that you will be asked to take another flight because there isn't space for your body on this one, the look on other passenger's faces as you walk down the aisle that makes it clear that you are not welcome here. But you love to travel, to visit new places and you need to travel to see family and friends. And why should you have fewer rights than anyone else to have your needs accommodated? You know you aren't alone, you consult online guides and forums and choose your airline and seat carefully and hope that this time your rights will be respected.
Ideas of fairness are often framed around everyone getting and taking up the same amount of space - so fat passengers are seen to take up more than their fair share. But what if instead, we thought about fat passengers as people with rights? Not if or when they lose weight, but as fat people? What if we viewed fairness to be about each passenger getting the accommodations their body needs?
In this understanding, fat passengers are not taking up more than their fair share, but not getting their fair share in the first place. Whilst there is little that we as passengers can do to make the seats bigger or make toilets accessible, what we can do is change the social atmosphere on the plane from a fatphobic one to an empathetic one that sees all passengers as having rights to the space their body needs. And rather than being angry at other passengers when the space they are provided with doesn't fit their bodies, we can instead turn our anger to advocate for more accessible planes.
The first step to doing this is to raise awareness of the experiences of flying for a diverse range of people. That's why we're working together with DaDaFest (Disability and Deaf Arts Festival) to produce an animation (by Stacy Bias) about fat passengers' experiences and deliver a talk about the experiences of fat and disabled airline passengers. If this is something you are curious about, we'd love you to come along and take part.
SUBSCRIBE TO & FOLLOW UK DAILY BRIEF