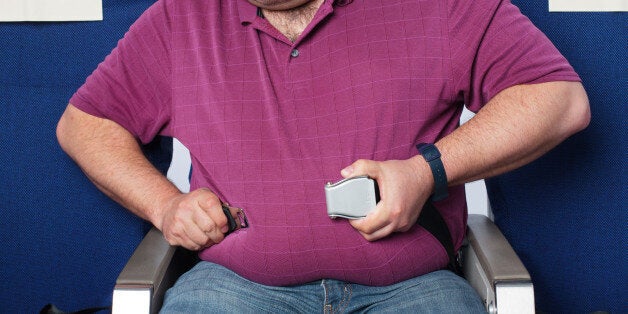 An Australian man has become a global internet sensation after penning a complaint to an airline because he was seated next to a fat passenger.
Disgruntled Rich Wisken blogged about how he had been forced to sit next to a passenger that smelt "like the decaying anus of a deceased homeless man" who "appeared to be an infant hippopotamus".
"As I boarded the plane, I mentally high-fived myself for paying the additional $25 [£13.50] for an emergency seat," he wrote.
"As I got closer, I was relieved to see that it wasn't a dangerous semi-aquatic African mammal, but a morbidly obese human being. However, this relief was short-lived when I realised that my seat was located somewhere underneath him."
Wisken then goes on to describe in great detail the smell emanating from his fellow flyer.
"His scent possessed hints of blue cheese and Mumbai slum, with nuances of sweaty flesh and human faeces sprayed with cologne - Eau No."
Wisken says he tried to request another seat, but his calls went unanswered.
"I made my way back to Jabba the Hutt and spent the remainder of the flight smothered in side-boob and cellulite, taking shallow breaths to avoid noxious gas poisoning," he wrote.
He is asking Jetstar, a budget Australian airline, to compensate him for "physical pain and mental suffering" on the four-hour flight.
"If I don't recover completely, I'll have to say goodbye to my lifelong dream of becoming Air Guitar World Champion. If that occurs, you will pay," he wrote to the company.
Following his ordeal, Wisken suffered another setback, with his next flight being cancelled, twice, and then the third being delayed.
Jetstar offered him $100 (£53) in compensation, which did little to restore his faith in the airline, and also refunded the $25 he paid for the emergency seat.
After having his colourful rant featured in national and international press, and on local TV networks, Wisken has seen his blog go viral.
Many have taken to Twitter to express their admiration for his prose:
But not everyone was impressed: