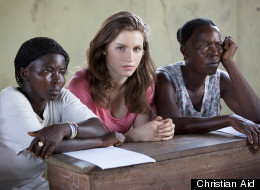 There's nothing more surreal than bullet-holes in a village setting.
In many ways, with its beaches and lush, green landscapes, Sierra Leone should be an ideal holiday destination. Unfortunately, the brutal civil war of 1991, which only ended 10 years ago, has taken its toll.
As I passed through the village of Tihun, four hours of bumpy roads south-west of the capital Freetown, signs of the war were a reminder that even remote villages did not escape the brutality. Houses were covered with bullet-holes, and there was a sign commemorating 2,000 lives, all lost in just one community. It left me with a weird feeling in the pit of my stomach.
It's unimaginable for us back in the UK to think of that kind of loss. In one of the world's poorest countries, war only makes people's situation worse.
For example, the problem of malnutrition grew as food was scarce, and hospitals were closed. Parents had nowhere to take their children when they were sick. Even in 2012, one in five Sierra Leonean children does not live to see their fifth birthday.
Farming equipment had been left to rust, tools had been abandoned and there was a lack of investment in new machinery. The crops that farmers grew were barely enough to feed their families. And this was in Bonthe district, which alone contained enough fertile land to feed the whole country. When you consider that half of Sierra Leone's population of 5.9 million survive on subsistence farming, you realise how important it is.
Sierra Leone is a country with so much potential. Because people are now being provided by Christian Aid with the tools to lift themselves out of poverty, that potential is being given a chance and people can fulfil their dreams.
I went to the Agricultural Work Centre, which with the assistance of Christian Aid partner organisation MCSL was providing 14 communities with direct access to new machines like nut oil producers and cassava graters. This machinery saves the women, who do around 70% of the work, hours of hard labour and means they can earn more money at the market for their processed goods.
The theme of Christian Aid Week this year is about giving communities the tools to lift themselves out of poverty. Ganyeh Seilu, a mother of six, has benefitted hugely from the centre. Speaking to her made me quite emotional.
Her house was burnt down during the war, her husband was killed and she lost five children to malnutrition. She was such a gentle human being. Imagine losing children because you can't feed them. She wasn't angry, she wasn't bitter, she wasn't complaining and she wasn't full of rage.
She has been helped by MCSL with tools and seeds to start a cassava farm, which now produces enough crops for her to sell. This extra income means she can pay the school fees, and buy uniforms, for her remaining six children. Every woman should aspire to be like her.
I got to see how small change can change lives in such a big way. We think of charity as being large scale projects, but sometimes it can effect huge changes with what we'd think of as small adjustments.
The Gbap community had been encouraged by MCSL to form a committee, which then pressured the local government into building a school. The headmaster described the previous school to me as 'a death trap'. Now 98% of the community are going to school, and girls are being encouraged to study when they weren't before.
I met an inspirational 12 year-old called Patricia. Her mother hadn't gone to school, and neither had her grandmother. But Patricia was already talking to me about how she wanted to be president.
The kids here seem to appreciate so much and they absorb everything. Patricia and other kids her age should be given the opportunity to fulfil their dreams. Why not?
Every single person I spoke to thought that things in Sierra Leone were getting better. And it's in such simple ways, too.
In the job I do, I'm in such a fortunate position. I have grown up around charity work but this trip was a fantastic opportunity to see where the money goes. It has really inspired me to do more.
Seeing how much people have bounced back with a bit of help is really encouraging, it makes you realise how much more can be achieved with a little more help from all of us.
"I have grown up around charity work with my mum," says Tali. "But the invitation to Sierra Leone was not only an opportunity for an adventure, but also for some perspective on how things are for people here. It's very different from the life I lead as a model." Christian Aid/ Lee Thompson

Tali visited poverty-stricken communities in the fertile Bonthe region of southern Sierra Leone. A once-thriving agricultural hub before the country's eleven-year bloody civil war, Bonthe has 52,000 acres of fertile land; enough to feed the entire country. Expensive mechanised farming equipment was however simply left to rust during the war, leaving crops in short supply and the spectre of malnutrition a serious problem. "It's so lush and green and beautiful. People's stories were heartbreaking but every single person we spoke to felt that Sierra Leone was improving. And in such simple ways too," says Tali. Christian Aid/ Lee Thompson

One woman who has first-hand experience of the devastating impact of war is Ganyeh Seilu. "She lost five children to malnutrition, which was totally shocking to me," Tali explains. "She barely survived on the food she grew, and was unable to access the healthcare the children needed." Now Christian Aid's local partner, the Methodist Church of Sierra Leone (MCSL), is helping women like Ganyeh to gain access to faming tools and seeds at a brand new Agricultural Business Centre. The Centre helps vulnerable women in 14 communities to grow their crops in greater volumes and sell them for higher prices at the local market. Christian Aid/ Lee Thompson

Women like Mariama Jabbie, who was given hoes to tend her land and seeds to grow rice from MCSL, have been able to change their daily lives for the better. "Mariama told me that 'hunger used to be our greatest enemy' because it meant that two of her children could not concentrate at school when they had not eaten. But now, because she is able to harvest more crops, she can produce more food to feed her family and sell at market. "All four of her children are now going to school and getting much more to eat," Tali reflects. Christian Aid/ Lee Thompson

Tali also saw how a new school building was constructed as a result of local government lobbying by the Village Development Committee (VDC) set up by MCSL. "The school now has a 98% attendance rate of children in the community and many more girls are being encouraged to study," explains Tali. Christian Aid/ Lee Thompson

At the old school building, headmaster Michael Tucker tells Tali about the difference the new school has made: "Two years ago, the building was a death trap. The benches were falling apart, the ground was sand, and when it rained, the water would come straight through the roof so that school had to be cancelled for that day and the next. The new school has changed everything." Christian Aid/ Lee Thompson

Pupil Patricia Sawie (pictured) is now able to attend school regularly. "My mother was a farmer and never went to school. I would like to be a teacher, then a head of state, a President. I'm lucky," she smiles. Her headmaster Mr. Tucker adds: "One day I expect a woman to be doing my job, and that day is coming soon." Christian Aid/ Lee Thompson

Traditionally excluded from decision-making in Sierra Leone, women and young people are now encouraged by the VDCs to attend education and adult literacy programmes. "More than 60% of adults in Sierra Leone are illiterate so these programmes really do give people a chance to fulfil their dreams," says Tali. Christian Aid/ Lee Thompson

Fishing is a major source of income in Sierra Leone. Tali visited the tiny coastal village of Mo-Albert, supported by MCSL. "I met John Beier, who had been fishing for 35 years. He showed me how you should always have hope. It is never too late to change your life," says Tali. "MCSL and Christian Aid offered the fishermen of Mo-Albert a loan to buy new boats, nets and smoke-free ovens. The villagers then pay back the loan each month from the profits of their improved catch." Christian Aid/ Lee Thompson

John Beier, 55, spent years relying on old nets and dugout canoes to fish. "Before this project started we had many difficulties fishing because we were doing it on an individual basis. We used dug-out canoes which meant that the catch was very small," recalls John. Now John and his 20-year-old son are able to go out fishing with a new boat and nets, as part of a newly-formed village co-operative. This has improved the Beiers' catch by "tens of dozens" and also significantly increased their income. "I think my son will catch more fish by the time he's 30 than I will have done in my entire lifetime," John tells Tali. Christian Aid/ Lee Thompson
Christian Aid Week 2012 runs from 13-19 May. Donate online at caweek.org, call 08080 006 006, or text "GIVE" to 78866 to give £5.
The first £5m donated to Christian Aid Week 2012 will be matched by the Government pound for pound, so that the charity can help more people in poor communities around the world work their way out of poverty.