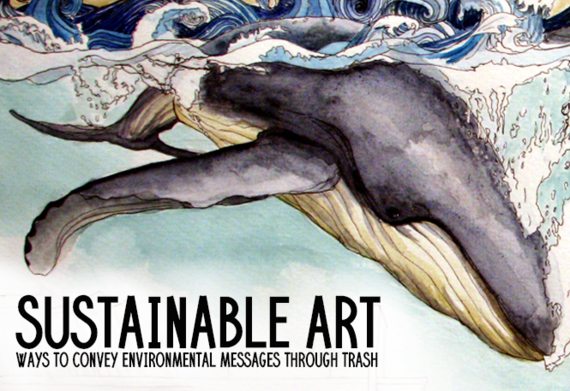 We talk about sustainability and climate change, about how to fight it, how to live green and how to raise awareness. Often, we wonder what it will take for people to understand the serious situation our planet is in. Do we need more numbers? Why isn't it enough to say entire islands will disappear soon? Sometimes, we need to see it with our own eyes.
These are examples of artists who have found a way to convey very powerful messages: This is what we have done to our planet. The threat is real. We need to act now.
The sculpture of two lifesize humpback whales commemorates the city's European Green Capital status. While the whales are made from locally sourced, sustainable Somerset willow, the oceans are made up of 70,000 plastic bottles, collected from only two races, the Bath Half Marathon and the Bristol 10k.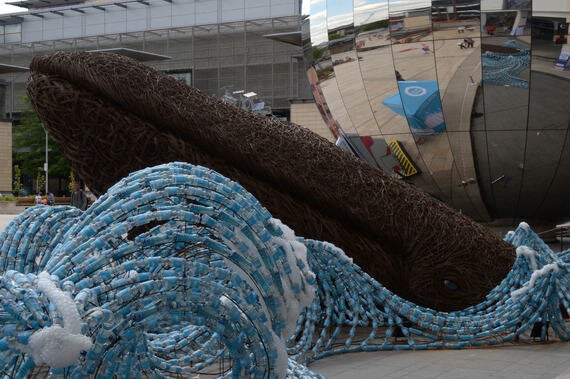 The one wrapper you left on the beach may not seem like it will have any ramifications, but what if everyone thought that? Where do you draw the line: A water bottle? A plastic bag which flew out of your hand? Rubbish on beaches and in our oceans all around the world amounts to over 8 million tonnes a year. Some are containers lost at sea, but most is left by humans. The extent of the problem only becomes visible when all the waste is gathered and turned into impressive, giant sculptures.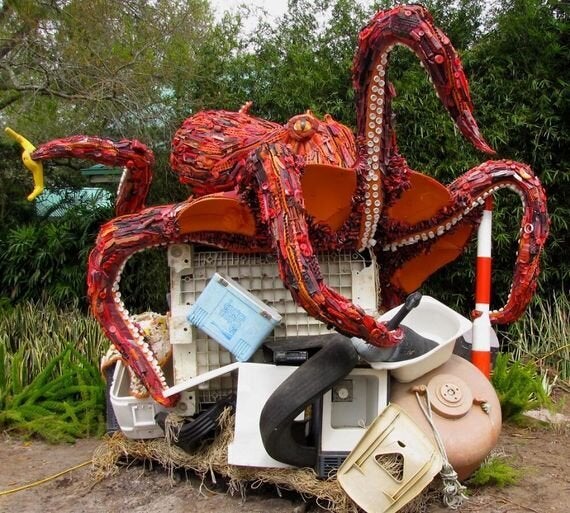 Politicians Discussing Global Warming
Is Global Warming real? For a long time, politicians seemed to be debating that exact question, instead of acting upon it. Artist Isaac Cordal reacted by making the tiniest sculptures which got attention all around the world.
Politicians Discussing Global Warming, set in a puddle in the streets of Berlin, says more than any article or climate summit could ever say.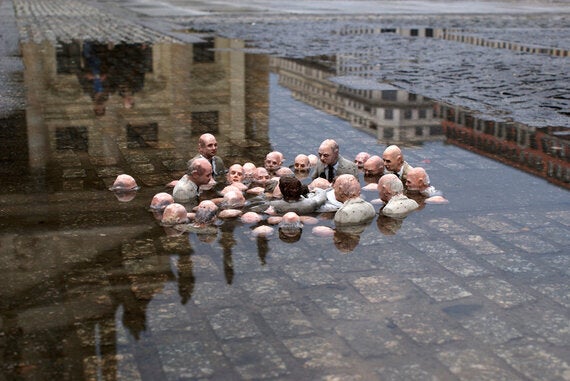 It's easy to ignore an island in the South Pacific, but what about seeing your own city slowly disappear under water? High Water Line project shows the immediate effect of climate change on our environment. In four cities - New York, Miami, Philadelphia and Bristol - they drew a chalk line through town mapping out where the water will reach with rising sea levels. Gone are Miami South Beach, the New York Aquarium, Battery Park and even the One World Trade Centre.
Graffitis are everywhere, pointing out everything which is wrong in our society: globalisation, the loss of small independent business, animals in zoos... And so many deal with climate change: melting ice caps, global warming, deforestation, urbanisation.
Banksy, as the most famous street artist, added this to the collection of powerful art piece five years ago, painting it on a wall in Detroit.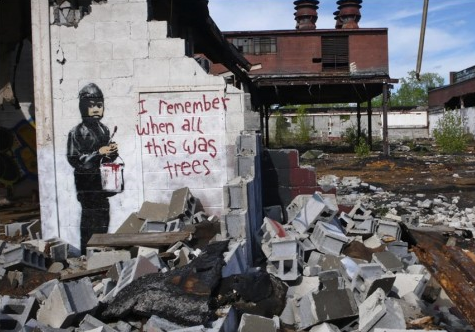 See more from our volunteers #Frontiervolunteer
Related