Thailand's islands are some of the most visited on the planet; there is only one reason for this - its coastline is the definition of paradise. Wherever you look Thailand is bathed in stunning panoramic views. Wherever you go there are palm trees, sand and beautiful clear blue waters. Here is a list of Thailand's best sun-drenched islands that you can hop on and off as you please.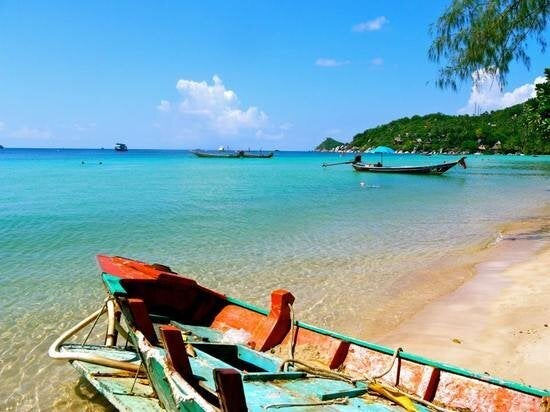 One of the most famous party destinations in the whole of Asia has to be Koh Phangan. Based off the eastern coast of Thailand, this island is the ultimate backpacker's destination, made famous for the epic euphoria of the Full Moon Party, which is held on the Haad Rin Beach. This party first began as a small gathering many years ago, but it has now grown to where around 10-30,000 people party every month. Also, Koh Phangan no longer just celebrates the full moon; half and quarter moons are now reasons to get out the sand buckets and fill them with mixures.
The islands off Thailand's west coast are beautiful. Krabi's selections of small islands are like a selection box of Thornton's chocolates. Krabi is a 12 hour train ride south of Bangkok, situated on the mainland, Krabi is a small town funded by the stream of tourists who visit its islands annually.
Kai Island (Chicken Island)
Chicken Island gets its name from its shape - the rock formations make the island look like a chicken. Kai has a very small land mass, which is accessible by a 30 minute longtail boat from Krabi. On one side there are crystal clear waters with diamond white beaches, but on the other, a sheer cliff face covered in vegetation.
Tourist ridden Phi Phi is an incredibly stunning island; made famous by Dicaprio in The Beach and infamous Brit, James Bond. There's no wonder holiday-makers want to get a piece of the pie, if you've seen The Beach then you will know why this hidden gem is now one of Thailand's greatest tourist attractions. Phi Phi lies in the Adman Sea quite far from the mainland but is easily accessible by boat from Krabi.
Poda is beautiful, but is one of Krabi's main tourist destinations, it can get crowded considering its 1 km diameter. It's perfect for jumping off high cliffs into the Jellyfish populated seas below whilst topping up the tan, but be aware that your experience may be shared with fellow happy snappers. Also, there are some interesting ornaments found in the caves on Poda. You will know I mean when you see them.
If you are in search of white beaches, clear blue waters, and a calm desolate atmosphere, Pakbia is the island for you. Trees cover the back areas of the beach with more density a few meters onto the island. Pakbia is so small that at high tide it's split into two islands, and then is known as Pak Bia Island.
Author Ed Hawes works for Frontier, an international non-profit volunteering NGO with over 300 dedicated conservation, development and adventure projects worldwide. See more from projects and volunteer on Frontier's blog and the Frontier Official Facebook page.