Will Runwitch volunteered on the Madagascar Marine Conservation & Diving project. He talks about his previous diving experience and his excitement at the chance of diving in the African waters.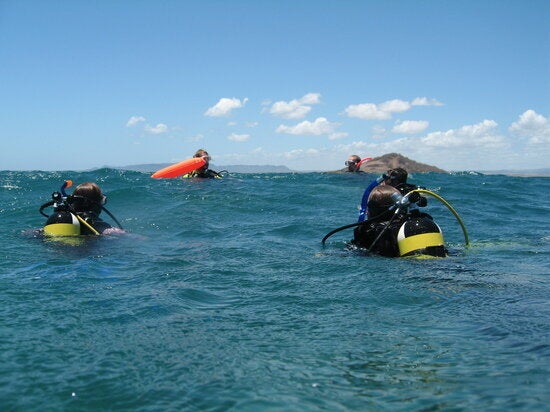 Diving in Africa is an experience unlike any other. I came into this project with previous dive experience but had not actually done it in about four years. I was an open water diver keen to up my status to advanced open water. My past dives were all in the Caribbean which was nice, yet none of them match up to the coral full, fish filled waters around Nosey Be. Though the diving itself is beautiful, being with other divers some heavily experienced others new topples everything when you can see the passion everyone has for diving.
I have loved the opportunity to take a closer look at everything we see underwater. I mean this in two ways. First, my buoyancy, control underwater, and skills as diver have significantly improved due to the wonderful training and consistent practice we get here. This practice has allowed me to literally come within an inch or two of many underwater species to observe and appreciate. The second meaning has to do with the scientific research being conducted on the dives themselves. I have spent time learning and am now capable of identifying many things from formation types of coral, to territorial fish species, to the wide range of invertebrates that we have in the waters here. I have grown very fond of the sea life and taken a much greater interest in the benefits of protecting our reefs than I ever deemed imaginable.
All of the dive sites help make this experience all seem so unreal. One of my favourite sites, Nosy Left, has been amazing each time I have been. The water has been crystal clear and a beautiful turquoise colour and you are surrounded by fish even before descending all the way. At least for me, seeing all of the fish swimming circles around me makes me ecstatic for what is to come. Another site, Tani Kelly, was probably the best dive I have ever done. I was able to complete my deep dive for the Advanced Open Water course while seeing turtles and rays and all sorts of incredible fish. You would think it could not get better until you have people you have grown close to also pointing out creatures you may never have known existed. The colours are so vivid, the oranges and blues and yellows, you feel like you are in paradise.
Everyone should come here to dive with or without previous experience. There are crazy cool anemone fish, octopi, turtles, eels, etc. and my new favourite fish, Morish Idles. There is not much missing from an experience like this. Not only have I learned a lot while having the time of my life, but I have improved my level as a diver which is a great feeling. I strongly encourage everyone to come and do the same. As I said it had been awhile since I previously dove but it did not take long before I was in a groove and very comfortable with the people I dove with. All of this happened for me in a mere two weeks leaving me with only one regret, not staying longer. If I could I would spend as long as possible with the marine program increasing my love for sea life and diving even more. Of course I will continue to dive and hope to continue everything I left off in Nosey Be, but nothing will ever compare to those two magnificent weeks.
Author Will Runwitch's adventure, the Madagascar Marine Conservation & Diving project, was organised by Frontier, an international non-profit volunteering NGO that runs 320 conservation, community, and adventure projects in 57 countries across the globe. You can read more volunteer stories on Frontier's blog and get the latest project and volunteering news from the Frontier Official Facebook page.