I chose the Frontier Tanzania Marine Conservation and Diving project as I am already a PADI Divemaster and very passionate about diving. I really wanted to take part in a project which incorporated this and also let me expand my knowledge of the marine world. It was a tough choice between the other possible marine projects available but I finally chose Tanzania as I had never visited Africa before and it would be a new experience. I had heard great things about the diving around Mafia Island from other people that had previously been.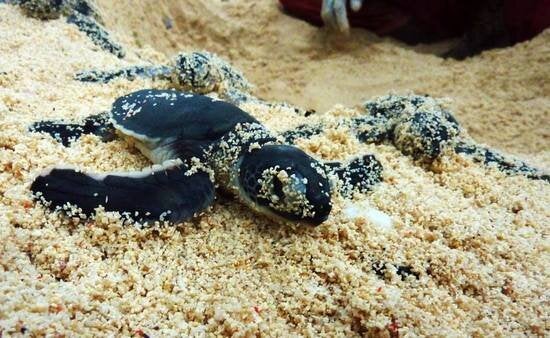 Some of the wildlife I saw I'd come across before, but it was really exciting and I also encountered a lot of new exotic creatures. The waters around Mafia Island are home to a diverse range of marine life from tiny Nudibranchs to Whale Sharks which are the biggest fish in the ocean. I love underwater photography so I never really stopped taking photos. My favourite were the bright and bold patterned Nudibranchs that can be found living on the reef. They were so beautiful.
I got to see a lot of things that I hadn't seen before so I spent a lot of time in the evening identifying which ones I had seen. I wasn't fortunate enough to be visiting in Whale Shark season but still got to see some of the other larger life around the island such as the Giant Reef Rays, Green and Hawksbill turtles and the largest Giant Grouper I have ever seen!
Even though I was taking part on the marine project I still got to see a lot of exciting terrestrial creatures in everyday life around camp. You could regularly spot Monitor Lizards, Bush babies and my favourite spot was a chameleon in our lime tree next to the kitchen.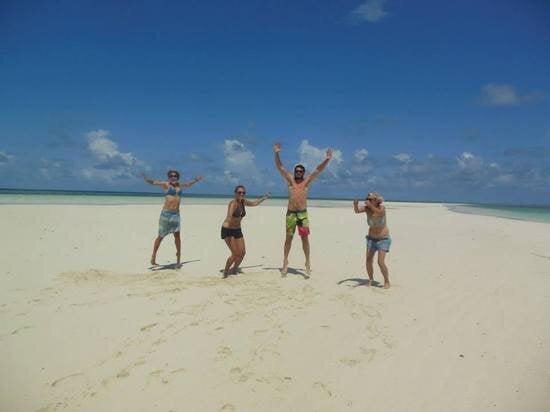 Although I have travelled a lot around Asia and Australasia this was my first time to Africa so I was very excited to experience a new country and culture. The Frontier camp is based in a small village with basic living conditions. The local people all speak Swahili with a lot also being able to speak some English. As you walk through the village everyone would be very friendly and say hello and ask you how you were in Swahili. We were taught some basic responses so we could converse.
In comparison to other countries I have visited the area and village were a lot more rural. Electricity and fresh water were not available all the time. This was a new experience for me as most of my travelling has been in Thailand or Australia where you could always get these, but the local people were really friendly. As some other countries with a high Muslim population, it was not acceptable to walk around in skimpy clothes such as bikinis or shorts; you need to cover up to below the knee and also cover your shoulders. This meant that although at camp it was okay to wear shorts or a bikini top, if you were going into the village you needed to wear long trousers or skirts and a t-shirt.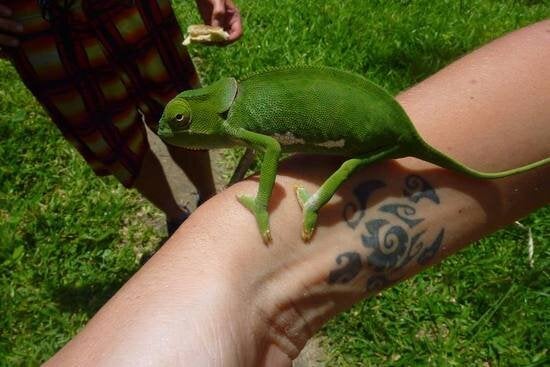 Mafia Island is a beautiful island and the Frontier camp is based in the village of Utende. The camp itself was on the outskirts of the village and also only a few minutes walk from the beach so a perfect location. The accommodation is very basic, so it felt very much like going camping for a long period of time. The volunteers sleep in a communal sleeping banda on raised sleeping platforms under mosquito nets; I shared this with four other volunteers. Sleeping in this accommodation took me a few nights to get used to as the bandas are very open and sometimes you can be kept up by the weather and animal noises, I never realized before how loud bush babies are!
The toilet was a long drop, which I had used before a lot in Asia so wasn't too difficult to get used to. Showering took a little longer to get the hang of as this consisted of filling a bucket of water and scooping it out with a bowl and pouring it over your head. General showering was easy enough but when you have long hair attempting to shampoo and condition it by pouring a bowl of water over your head took quite a while!
All the cooking took place over a fire, if you were on camp duty it was your responsibility to get it going in the morning, this was not easy and involved a lot of wafting to keep it going!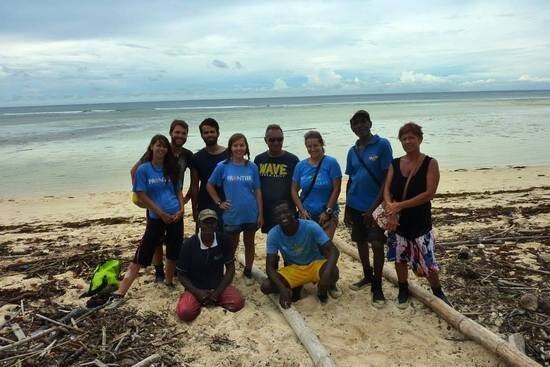 Other than the village and camp, the rest of my time was spent on the boat in the bay and on the dive sites. The dive sites were coral reefs across the different marine park zones which were amazing to dive. We had to survey sites across the different zones and the same site at different depths. Most of these sites were teaming with life and you could be surrounded by beautiful coral and colourful fish; unfortunately some sites also had a lot of dead coral rubble and weren't as full of life which was sad to see. As well as the reef surveys, we also conducted surveys on the shallow sea grass areas and the mangroves near the beach as both are home to very important eco systems.
I was the only volunteer to arrive in March but all the volunteers that were already on the project and staff members were very friendly and immediately made me feel really welcome. Everybody there is really enthusiastic about the work that's undertaken and the diving - so much so that even on a lot of our days off we would fun dive.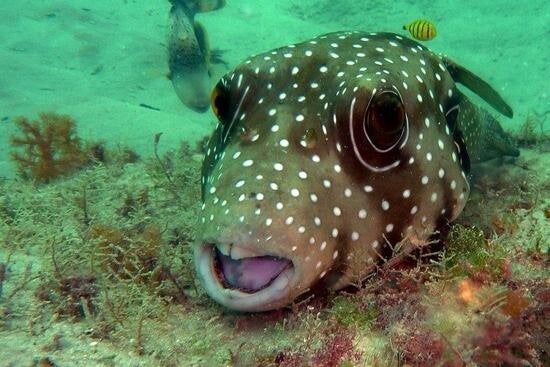 A typical day would always start early; if you were on Camp Duty it would be at 6.30am and you would need to start the fire, clean up from the night before and collect the water before the others get up and the day begins. From then on the schedule changed daily; most days we would dive and this would be dependent on the tides so timings would vary. We mostly went out on the boat and conducted surveys but occasionally we would have shore dives to the dive site Nudi City. This dive site was in the 'general use' zone and difficult to reach due to currents, but when you did it was always a very enjoyable dive.
There were so many underwater creatures including nudibranchs, pufferfish, rays and loads of fish. After the dives we would head back to camp, wash our gear and write up the data which would be analyzed later on in the end of phase science report. In my time on Mafia we also had the chance to do a night dive which a lot of people were excited about as they hadn't night dived much before. I find night dives completely different to normal day dives as they are a little spooky in the black but amazing as you get to see lots of creatures that only come out at night. The one I did on Mafia was excellent; we got to see Cowrie shells with their feet out, which is something I had never before seen and also my favourite thing in the world, phosphorescent plankton! Every time you kicked or moved the plankton reacts and lights up like stars. This is stunning and meant I spent a lot of the dive with my torch off in the black so I could see this as I was swimming.
When we weren't diving there was always plenty to do such as having fish and science lectures and tests so that we could take part in the surveys, writing blogs and improving camp. On one empty afternoon I dug a new hole for a food waste pit which was surprisingly therapeutic and great exercise! If you were on camp duty you had to collect water throughout the day as well as make and cook the bread for the next morning's breakfast.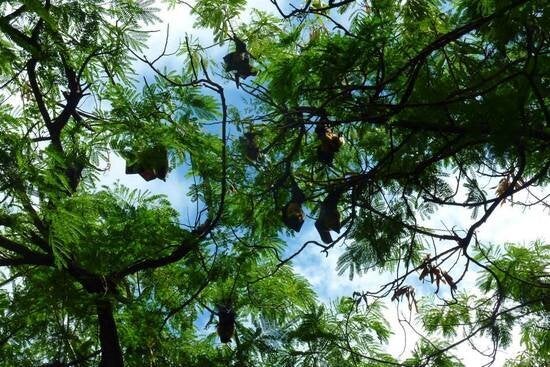 As well as the homemade bread that we had for breakfast, the rest of the camp food consisted of rice and beans for lunch and then rice and a vegetable for dinner. Some advice to all future volunteers would be to take as many seasonings, hot chocolate powders or any other bits to liven up the food with you, it makes a huge difference!
We always had dinner early as it would get dark at about 7pm when the local bats that lived in a nearby tree would wake up and fly over camp. From then on we only had torch light so activities were limited and due to the early mornings and busy days most nights people would go to bed early. Some nights we would visit the nearby bar and get a beer or get a tasty local dish called chips ma-yai which is basically like an omelette filled with chips.
There were lots of highlights to my trip. I enjoyed all of the diving and learning to conduct surveys but by far my highlight was the Turtle hatching that I had the luck to be part of. Turtles have always been my favourite marine creature and I love to see them and photograph them while diving, so to get the chance to witness a turtle hatching with about 100 baby turtles emerging from the sand and making their way across the beach was an amazing experience I will remember forever.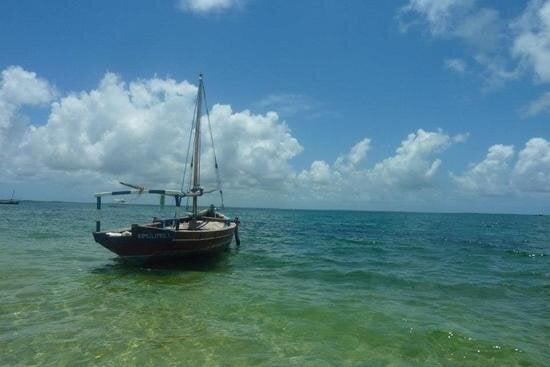 I didn't take part in the possible BTECs or the Dive training as I was already qualified as a Divemaster but I did get to learn the survey skills and a lot more about the marine life including the species of fish, coral and invertebrates that are found in the area. I found this really interesting as I had previously seen most of the marine life whilst diving in the past and found even on the few fun dives I took part in that knowing more about the reef and being able to name the species greatly enhanced the experience. This will greatly benefit me if I work as a Divemaster again in the future and even if not the new knowledge will still make any fun dives I do mu ch more enjoyable.
I thought the whole Tanzanian experience was greatly rewarding, and not only did I get to see some amazing sites but I also learnt skills I will be able to use in the future. Plus I fulfilled one of my dreams which was to see baby turtles! I'd love to go back again!
The advice I would give to any future volunteers would be to go into the project with an open mind and to give everything a go and a chance. Living on the project isn't easy due to the basic conditions so this does take a bit of getting used to but once you have it's great fun! I would definitely recommend a volunteering project like this to anyone on a gap year, it's a great eye opening experience and definitely makes you appreciate the comfort we live in at home!
Author Catherine Jones volunteered on Frontier's Tanzania Marine Conservation & Diving project. Frontier is an international, nonprofit volunteering NGO with over 300 dedicated conservation, community development and adventure projects worldwide.
Related