I travelled the world when I was in my 20s, 40 years ago in my hippy days. I've seen so much poverty and so many kids starving that I wanted to take my granddaughter to open her eyes to how happy children are with nothing. I wanted to travel again to help children in a poorer country; my weakness has always been children and animals. I chose Kenya after meeting a friend from there in London - I never forgot his friendly smile though he had nothing.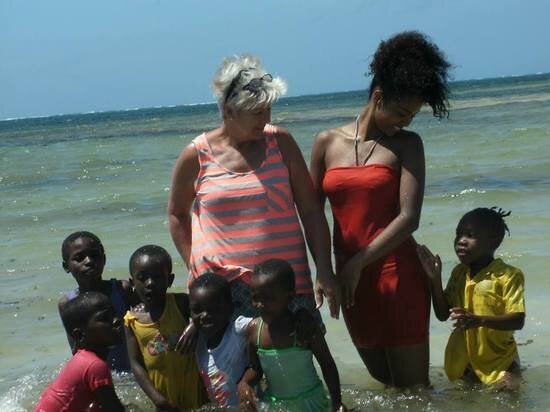 I choose to volunteer as I love to see different ways of life which you can't do at a holiday resort. I wanted to take my granddaughter to give her life experience and for her to see how hard life can be in poorer countries. I think she understands more now how lucky she is not to want for anything, even food. Every little helps when it comes to volunteering, and volunteers going on a project give hope and happiness to kids who have nothing.
We helped teach English in the school from 8am to 12.30pm. I taught the five year olds whilst my granddaughter taught the older children around 12 years old. My teacher and I got on like a house on fire and we showed the teachers new methods using flashcards that we took with us, and which the kids loved. Every day we played with the children who were so grateful for the toys we took with us as donations. Their little faces were amazing to see and it made us deeply happy to bring them such joy. My favourite memory was when we treated them and took them to the beach; we all had so much fun. Even if you don't feel confident in teaching, just being there with love and time for them is everything to the children.
We got on great with the staff at the orphanage; they are thankful to westerners who go and contribute their time and help the people there. Even after you leave you know you have helped build a future for someone. For someone thinking of volunteering I would say go for it! Don't be afraid of the unknown, travelling with an organisation like Frontier meant we were looked after from the moment we got off the place. Volunteering will change your life forever no matter how old you are: it will be a trip you'll never forget and the people you meet will never forget you and your kindness either.
Author Cheryl Parkes volunteered on Frontier's Kenya Orphanage in Malindi project.Frontier, an international, nonprofit volunteering NGO with over 300 dedicated conservation, community development and adventure projects worldwide. To find out more about projects please visit Frontier's blog, Facebook, Twitter, YouTube and Pinterest, or see photos shared by volunteers in the field by searching #frontiervolunteer on Instagram.