It's been 14 years now since the sudden death of Michael Hutchence, the charismatic frontman of Australian rockers INXS. Like Kurt Cobain, Marc Bolan, John Lennon and others, his premature departure from the music scene left millions of fans reeling. And, like them, the strength of his image and sound ensures an enduring creative legacy.
The next couple of weeks sees a surge of fresh attention on Hutchence and his bandmates. The 24th October sees the release of the Very Best album, including such staple party-starters Need You Tonight, Original Sin, What You Need, Beautiful Girl, Kick and Suicide Blonde.
Meanwhile, the life and times of the band are being celebrated with an exclusive exhibition of rare and unseen images taken by photographer Chris Cuffaro.
Cuffaro has been taking photographs of musicians at work, from grunge bands in car parks to stadium rock gods, for 30 years and has thousands of photographs to prove "he was there". But, even for him, Hutchence was special. Here, he explains why:
What were the circumstances in which you first met Michael Hutchence?

I was a huge INXS fan. It was 1988. I was touring with George Michael at the time, and they needed some live photos, so the INXS team asked if I would go to Ottawa and meet the band. I hung out there for about 2/3 days, and I'd just been to Australia (the home of INXS), so were able to bond straight away. We laughed and laughed before we started shooting. I was immersed in the music world, so we had lots of mutual friends.

What was he like to photograph?

The second time I photographed him, which happened in 1993 (the shots included in this exhibition), I decided I would just let him do whatever he liked and he turned it on. He was so relaxed, he just let the inner showman come forward, and it was amazing to watch - he'd been so unassuming only seconds before - and then, there it was, in front of me, what millions of girls were screaming for night after night in concert halls.

What set him apart from the crowd?

He was incredibly nice and gentle, just a very cool guy. He was always reading. Even during a photoshoot or something, he always had a book stashed away. He had an appetite for learning. I'd been warned that he was kind of quiet, but we talked a lot.

How did you hear that he had died?

I had a girlfriend at the time, for whom Michael was her hero, and she had just met him in New York through me. So she was overwhelmed with delight, still talking about it when she came back to LA, and then we were sitting down, and the news came on the TV. I'll never forget it. I was in shock.

Why do you think his legacy is so enduring, and special?

He just had that quality that changed a room when he walked in, that quality that people strive for. A few people I've met have it, but his was probably the strongest dose - a magical cocktail.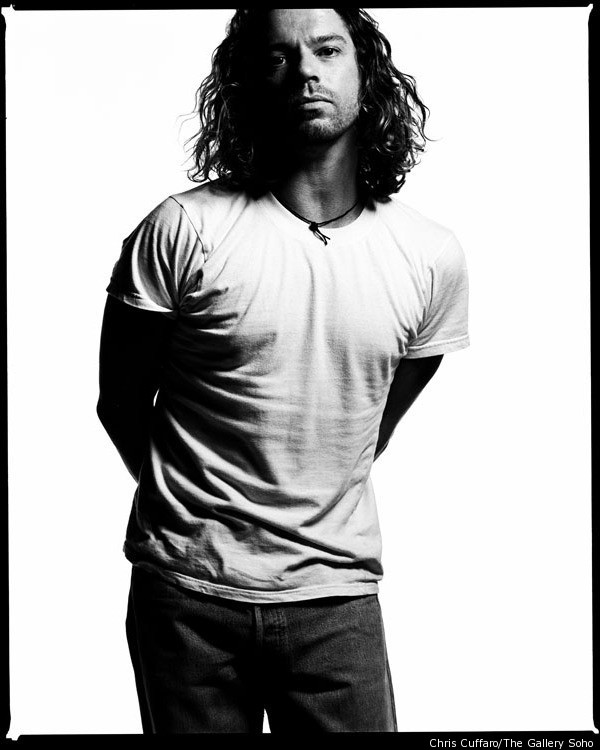 MICHAEL HUTCHENCE & INXS – RARE & UNSEEN by Chris Cuffaro
The Gallery Soho, 125 Charing Cross Road, London, WC2H 0EW
07841 374 735 Free Entry
Dates: Thurs 20th Oct 10am - 8pm, Fri 21st Oct 10am - 8pm and Sat 22nd Oct 10am - 7pm