The full list of locations for the Olympic torch relay route has been announced.
Organisers claim that more than 1,000 villages and towns will be visited and that 95% of the public live within 10 miles of a stop on the route - ensuring that almost everyone will get the chance to see the shiny gold torch in all its glory.
For the full details on the torch relay, read our report here.
To find out if your town is included on the route, check the London 2012 official website or consult our handy list, below.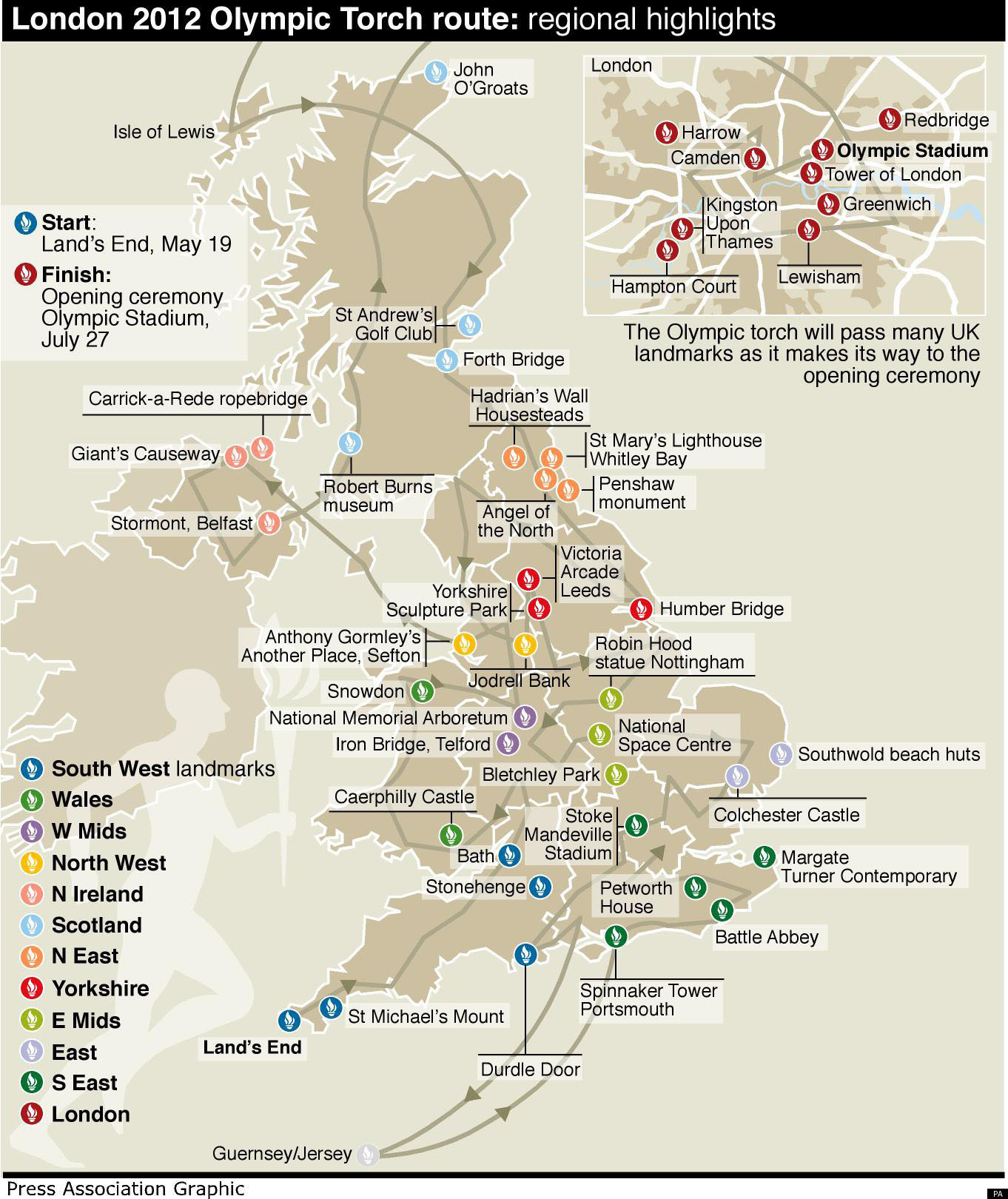 Saturday 19 May 2012 Land's End South West
Saturday 19 May 2012 Sennen South West
Saturday 19 May 2012 Newlyn South West
Saturday 19 May 2012 Penzance South West
Saturday 19 May 2012 Marazion South West
Saturday 19 May 2012 Rosudgeon South West
Saturday 19 May 2012 Ashton South West
Saturday 19 May 2012 Breage South West
Saturday 19 May 2012 Helston South West
Saturday 19 May 2012 Falmouth South West
Saturday 19 May 2012 Truro South West
Saturday 19 May 2012 Newquay South West
Saturday 19 May 2012 St Stephen South West
Saturday 19 May 2012 St Austell South West
Saturday 19 May 2012 Stenalees South West
Saturday 19 May 2012 Bugle South West
Saturday 19 May 2012 Lanivet South West
Saturday 19 May 2012 Bodmin South West
Saturday 19 May 2012 Liskeard South West
Saturday 19 May 2012 Saltash South West
Saturday 19 May 2012 Plymouth South West
Sunday 20 May 2012 Plymouth South West
Sunday 20 May 2012 Brixton South West
Sunday 20 May 2012 Yealmpton South West
Sunday 20 May 2012 Modbury South West
Sunday 20 May 2012 Kingsbridge South West
Sunday 20 May 2012 West Charleton South West
Sunday 20 May 2012 Chillington South West
Sunday 20 May 2012 Torcross South West
Sunday 20 May 2012 Stoke Fleming South West
Sunday 20 May 2012 Dartmouth South West
Sunday 20 May 2012 Totnes South West
Sunday 20 May 2012 Paignton South West
Sunday 20 May 2012 Torquay South West
Sunday 20 May 2012 Teignmouth South West
Sunday 20 May 2012 Exeter South West
Monday 21 May 2012 Exeter South West
Monday 21 May 2012 Okehampton South West
Monday 21 May 2012 Folly Gate South West
Monday 21 May 2012 Hatherleigh South West
Monday 21 May 2012 Merton South West
Monday 21 May 2012 Great Torrington South West
Monday 21 May 2012 Bideford South West
Monday 21 May 2012 Sticklepath South West
Monday 21 May 2012 Barnstaple South West
Monday 21 May 2012 Wrafton South West
Monday 21 May 2012 Braunton South West
Monday 21 May 2012 Knowle South West
Monday 21 May 2012 Ilfracombe South West
Monday 21 May 2012 Combe Martin South West
Monday 21 May 2012 Lynton South West
Monday 21 May 2012 Lynmouth South West
Monday 21 May 2012 Porlock South West
Monday 21 May 2012 Minehead South West
Monday 21 May 2012 Dunster South West
Monday 21 May 2012 Carhampton South West
Monday 21 May 2012 Washford South West
Monday 21 May 2012 Williton South West
Monday 21 May 2012 Taunton South West
Tuesday 22 May 2012 Taunton South West
Tuesday 22 May 2012 Ilminster South West
Tuesday 22 May 2012 Yeovil South West
Tuesday 22 May 2012 Ilchester South West
Tuesday 22 May 2012 Somerton South West
Tuesday 22 May 2012 Street South West
Tuesday 22 May 2012 Glastonbury South West
Tuesday 22 May 2012 Coxley South West
Tuesday 22 May 2012 Wells South West
Tuesday 22 May 2012 Croscombe South West
Tuesday 22 May 2012 Shepton Mallet South West
Tuesday 22 May 2012 Frome South West
Tuesday 22 May 2012 Southwick South West
Tuesday 22 May 2012 Trowbridge South West
Tuesday 22 May 2012 Bradford on Avon South West
Tuesday 22 May 2012 Bath South West
Tuesday 22 May 2012 Bitton South West
Tuesday 22 May 2012 Longwell Green South West
Tuesday 22 May 2012 Hanham South West
Tuesday 22 May 2012 Bristol South West
Wednesday 23 May 2012 Bristol South West
Wednesday 23 May 2012 Flax Bourton South West
Wednesday 23 May 2012 Backwell Farleigh South West
Wednesday 23 May 2012 Backwell West Town South West
Wednesday 23 May 2012 Nailsea South West
Wednesday 23 May 2012 Failand South West
Wednesday 23 May 2012 Leigh Woods South West
Wednesday 23 May 2012 Bristol South West
Wednesday 23 May 2012 Chippenham South West
Wednesday 23 May 2012 Calne South West
Wednesday 23 May 2012 Malborough South West
Wednesday 23 May 2012 Chiseldon South West
Wednesday 23 May 2012 Wroughton South West
Wednesday 23 May 2012 Royal Wootton Bassett South West
Wednesday 23 May 2012 Swindon South West
Wednesday 23 May 2012 Cirencester South West
Wednesday 23 May 2012 Stroud South West
Wednesday 23 May 2012 Painswick South West
Wednesday 23 May 2012 Brockworth South West
Wednesday 23 May 2012 Shurdington South West
Wednesday 23 May 2012 Cheltenham South West
Thursday 24 May 2012 Gloucester South West
Thursday 24 May 2012 Maisemore South West
Thursday 24 May 2012 Hartpury South West
Thursday 24 May 2012 Corse and Staunton South West
Thursday 24 May 2012 Ledbury West Midlands
Thursday 24 May 2012 Bartestree West Midlands
Thursday 24 May 2012 Lugwardine West Midlands
Thursday 24 May 2012 Hereford West Midlands
Thursday 24 May 2012 Leominster West Midlands
Thursday 24 May 2012 Ludlow West Midlands
Thursday 24 May 2012 Clee Hill West Midlands
Thursday 24 May 2012 Cleobury Mortimer West Midlands
Thursday 24 May 2012 Far Forest West Midlands
Thursday 24 May 2012 Callow Hill West Midlands
Thursday 24 May 2012 Bewdley West Midlands
Thursday 24 May 2012 Kidderminster West Midlands
Thursday 24 May 2012 Droitwich Spa West Midlands
Thursday 24 May 2012 Fernhill Heath West Midlands
Thursday 24 May 2012 Worcester West Midlands
Friday 25 May 2012 Worcester West Midlands
Friday 25 May 2012 Powick West Midlands
Friday 25 May 2012 Malvern West Midlands
Friday 25 May 2012 Malvern Wells West Midlands
Friday 25 May 2012 Ross on Wye West Midlands
Friday 25 May 2012 Monmouth Wales
Friday 25 May 2012 Raglan Wales
Friday 25 May 2012 Abergavenny Wales
Friday 25 May 2012 Brynmawr Wales
Friday 25 May 2012 Blaenavon Wales
Friday 25 May 2012 Abersychan Wales
Friday 25 May 2012 Pontypool Wales
Friday 25 May 2012 Newport Wales
Friday 25 May 2012 Cardiff Wales
Saturday 26 May 2012 Cardiff Wales
Saturday 26 May 2012 Dinas Powys Wales
Saturday 26 May 2012 Barry Wales
Saturday 26 May 2012 Caerphilly Wales
Saturday 26 May 2012 Pontypridd Wales
Saturday 26 May 2012 Merthyr Tydfil Wales
Saturday 26 May 2012 Treherbert Wales
Saturday 26 May 2012 Ynyswen Wales
Saturday 26 May 2012 Treorchy Wales
Saturday 26 May 2012 Nant-y-moel Wales
Saturday 26 May 2012 Ogmore Vale Wales
Saturday 26 May 2012 Bryncethin Wales
Saturday 26 May 2012 Bridgend Wales
Saturday 26 May 2012 Laleston Wales
Saturday 26 May 2012 Pyle Wales
Saturday 26 May 2012 Margam Wales
Saturday 26 May 2012 Taibach Wales
Saturday 26 May 2012 Port Talbot Wales
Saturday 26 May 2012 Briton Ferry Wales
Saturday 26 May 2012 Neath Wales
Saturday 26 May 2012 Swansea Wales
Sunday 27 May 2012 Swansea Wales
Sunday 27 May 2012 Llanelli Wales
Sunday 27 May 2012 Burry Port Wales
Sunday 27 May 2012 Kidwelly Wales
Sunday 27 May 2012 Carmarthen Wales
Sunday 27 May 2012 Haverfordwest Wales
Sunday 27 May 2012 Fishguard Wales
Sunday 27 May 2012 Newport Wales
Sunday 27 May 2012 Cardigan/Aberteifi Wales
Sunday 27 May 2012 Sarnau Wales
Sunday 27 May 2012 Brynhoffnant Wales
Sunday 27 May 2012 Llanarth Wales
Sunday 27 May 2012 Aberaeron Wales
Sunday 27 May 2012 Llanon Wales
Sunday 27 May 2012 Llanrhystud Wales
Sunday 27 May 2012 Aberystwyth Wales
Monday 28 May 2012 Aberystwyth Wales
Monday 28 May 2012 Bow Street Wales
Monday 28 May 2012 Tal-y-bont Wales
Monday 28 May 2012 Tre Taliesin Wales
Monday 28 May 2012 Machynlleth Wales
Monday 28 May 2012 Dolgellau Wales
Monday 28 May 2012 Llan Ffestiniog Wales
Monday 28 May 2012 Blaenau Ffestiniog Wales
Monday 28 May 2012 Porthmadog Wales
Monday 28 May 2012 Criccieth Wales
Monday 28 May 2012 Pwllheli Wales
Monday 28 May 2012 Bontnewydd Wales
Monday 28 May 2012 Caernarfon Wales
Monday 28 May 2012 Y Felinheli Wales
Monday 28 May 2012 Bangor Wales
Tuesday 29 May 2012 Beaumaris Wales
Tuesday 29 May 2012 Menai Bridge Wales
Tuesday 29 May 2012 Conwy Wales
Tuesday 29 May 2012 Deganwy Wales
Tuesday 29 May 2012 Llandudno Wales
Tuesday 29 May 2012 Penrhyn Bay Wales
Tuesday 29 May 2012 Rhos on Sea Wales
Tuesday 29 May 2012 Colwyn Bay Wales
Tuesday 29 May 2012 Old Colwyn Wales
Tuesday 29 May 2012 Abergele Wales
Tuesday 29 May 2012 Towyn Wales
Tuesday 29 May 2012 Kinmel Bay Wales
Tuesday 29 May 2012 Rhyl Wales
Tuesday 29 May 2012 Rhuddlan Wales
Tuesday 29 May 2012 Connah's Quay Wales
Tuesday 29 May 2012 Shotton Wales
Tuesday 29 May 2012 Queensferry Wales
Tuesday 29 May 2012 Harwarden Wales
Tuesday 29 May 2012 Saltney Wales
Tuesday 29 May 2012 Chester North West
Wednesday 30 May 2012 Chester North West
Wednesday 30 May 2012 Wrexham Wales
Wednesday 30 May 2012 Rhostyllen Wales
Wednesday 30 May 2012 Acrefair Wales
Wednesday 30 May 2012 Trevor Wales
Wednesday 30 May 2012 Oswestry West Midlands
Wednesday 30 May 2012 Pant West Midlands
Wednesday 30 May 2012 Llanymynech West Midlands
Wednesday 30 May 2012 Welshpool Wales
Wednesday 30 May 2012 Shrewsbury West Midlands
Wednesday 30 May 2012 Cressage West Midlands
Wednesday 30 May 2012 Much Wenlock West Midlands
Wednesday 30 May 2012 Benthall West Midlands
Wednesday 30 May 2012 Broseley West Midlands
Wednesday 30 May 2012 Ironbridge West Midlands
Wednesday 30 May 2012 Telford West Midlands
Wednesday 30 May 2012 Newport West Midlands
Wednesday 30 May 2012 Gnosall West Midlands
Wednesday 30 May 2012 Haughton West Midlands
Wednesday 30 May 2012 Stafford West Midlands
Wednesday 30 May 2012 Shelton West Midlands
Wednesday 30 May 2012 Stoke on Trent West Midlands
Thursday 31 May 2012 Stoke on Trent West Midlands
Thursday 31 May 2012 Cobridge West Midlands
Thursday 31 May 2012 Burslem West Midlands
Thursday 31 May 2012 Middleport West Midlands
Thursday 31 May 2012 Crewe North West
Thursday 31 May 2012 Congleton North West
Thursday 31 May 2012 Macclesfield North West
Thursday 31 May 2012 Knutsford North West
Thursday 31 May 2012 Runcorn North West
Thursday 31 May 2012 Widnes North West
Thursday 31 May 2012 Warrington North West
Thursday 31 May 2012 Lowton North West
Thursday 31 May 2012 Abram North West
Thursday 31 May 2012 Wigan North West
Thursday 31 May 2012 Scholes North West
Thursday 31 May 2012 Ince North West
Thursday 31 May 2012 Hindley North West
Thursday 31 May 2012 Westhoughton North West
Thursday 31 May 2012 Bolton North West
Friday 01 June 2012 Bolton North West
Friday 01 June 2012 Horwich North West
Friday 01 June 2012 Chorley North West
Friday 01 June 2012 Euxton North West
Friday 01 June 2012 Croston North West
Friday 01 June 2012 Burscough North West
Friday 01 June 2012 Ormskirk North West
Friday 01 June 2012 Southport North West
Friday 01 June 2012 Ainsdale North West
Friday 01 June 2012 Formby North West
Friday 01 June 2012 Crosby North West
Friday 01 June 2012 St Helen's North West
Friday 01 June 2012 Huyton North West
Friday 01 June 2012 Knotty Ash North West
Friday 01 June 2012 Old Swan North West
Friday 01 June 2012 Liverpool North West
Friday 01 June 2012 Birkenhead North West
Friday 01 June 2012 Liverpool North West
Saturday 02 June 2012 Liverpool North West
Saturday 02 June 2012 Douglas, Isle of Man North West
Saturday 02 June 2012 Laxey, Isle of Man North West
Saturday 02 June 2012 Onchan, Isle of Man North West
Saturday 02 June 2012 Ballasalla, Isle of Man North West
Saturday 02 June 2012 Castletown, Isle of Man North West
Sunday 03 June 2012 Belfast Northern Ireland
Sunday 03 June 2012 Holywood Northern Ireland
Sunday 03 June 2012 Bangor Northern Ireland
Sunday 03 June 2012 Newtownards Northern Ireland
Sunday 03 June 2012 Comber Northern Ireland
Sunday 03 June 2012 Dundonald Northern Ireland
Sunday 03 June 2012 Stormont Northern Ireland
Sunday 03 June 2012 Newtownabbey Northern Ireland
Sunday 03 June 2012 Carrickfergus Northern Ireland
Sunday 03 June 2012 Glynn Northern Ireland
Sunday 03 June 2012 Larne Northern Ireland
Sunday 03 June 2012 Drains Bay Northern Ireland
Sunday 03 June 2012 Ballygally Northern Ireland
Sunday 03 June 2012 Glenarm Northern Ireland
Sunday 03 June 2012 Carnlough Northern Ireland
Sunday 03 June 2012 Glenariff Northern Ireland
Sunday 03 June 2012 Cushendall Northern Ireland
Sunday 03 June 2012 Ballycastle Northern Ireland
Sunday 03 June 2012 Dervock Northern Ireland
Sunday 03 June 2012 Bushmills Northern Ireland
Sunday 03 June 2012 Portrush Northern Ireland
Monday 04 June 2012 River Bann Northern Ireland
Monday 04 June 2012 Coleraine Northern Ireland
Monday 04 June 2012 Articlave Northern Ireland
Monday 04 June 2012 Castlerock Northern Ireland
Monday 04 June 2012 Downhill Northern Ireland
Monday 04 June 2012 Bellarena Northern Ireland
Monday 04 June 2012 Limavady Northern Ireland
Monday 04 June 2012 Ballykelly Northern Ireland
Monday 04 June 2012 Greysteel Northern Ireland
Monday 04 June 2012 Derry~Londonderry Northern Ireland
Tuesday 05 June 2012 Derry~Londonderry Northern Ireland
Tuesday 05 June 2012 New Buildings Northern Ireland
Tuesday 05 June 2012 Magheramason Northern Ireland
Tuesday 05 June 2012 Bready Northern Ireland
Tuesday 05 June 2012 Ballymagorry Northern Ireland
Tuesday 05 June 2012 Strabane Northern Ireland
Tuesday 05 June 2012 Sion Mills Northern Ireland
Tuesday 05 June 2012 Omagh Northern Ireland
Tuesday 05 June 2012 Dromore Northern Ireland
Tuesday 05 June 2012 Irvinestown Northern Ireland
Tuesday 05 June 2012 Enniskillen Northern Ireland
Tuesday 05 June 2012 Fivemiletown Northern Ireland
Tuesday 05 June 2012 Clogher Northern Ireland
Tuesday 05 June 2012 Augher Northern Ireland
Tuesday 05 June 2012 Aughnacloy Northern Ireland
Tuesday 05 June 2012 Caledon Northern Ireland
Tuesday 05 June 2012 Armagh Northern Ireland
Tuesday 05 June 2012 Portadown Northern Ireland
Tuesday 05 June 2012 Gilford Northern Ireland
Tuesday 05 June 2012 Banbridge Northern Ireland
Tuesday 05 June 2012 Newry Northern Ireland
Wednesday 06 June 2012 Newry Northern Ireland
Wednesday 06 June 2012 Lisburn Northern Ireland
Wednesday 06 June 2012 Belfast Northern Ireland
Thursday 07 June 2012 Newcastle Northern Ireland
Thursday 07 June 2012 Dundrum Northern Ireland
Thursday 07 June 2012 Clough Northern Ireland
Thursday 07 June 2012 Downpatrick Northern Ireland
Thursday 07 June 2012 Crossgar Northern Ireland
Thursday 07 June 2012 Saintfield Northern Ireland
Thursday 07 June 2012 Ballynahinch Northern Ireland
Thursday 07 June 2012 Templepatrick Northern Ireland
Thursday 07 June 2012 Antrim Northern Ireland
Thursday 07 June 2012 Ballyronan Northern Ireland
Thursday 07 June 2012 Magherafelt Northern Ireland
Thursday 07 June 2012 Ballymena Northern Ireland
Thursday 07 June 2012 Moorfields Northern Ireland
Friday 08 June 2012 Stranraer Scotland
Friday 08 June 2012 Cairnryan Scotland
Friday 08 June 2012 Ballantrae Scotland
Friday 08 June 2012 Girvan Scotland
Friday 08 June 2012 Turnberry Scotland
Friday 08 June 2012 Maidens Scotland
Friday 08 June 2012 Kirkoswald Scotland
Friday 08 June 2012 Maybole Scotland
Friday 08 June 2012 Alloway Scotland
Friday 08 June 2012 Ayr Scotland
Friday 08 June 2012 Kilmarnock Scotland
Friday 08 June 2012 Kilmaurs Scotland
Friday 08 June 2012 Stewarton Scotland
Friday 08 June 2012 Dunlop Scotland
Friday 08 June 2012 Barrmill Scotland
Friday 08 June 2012 Beith Scotland
Friday 08 June 2012 Lochwinnoch Scotland
Friday 08 June 2012 Kilmacolm Scotland
Friday 08 June 2012 Port Glasgow Scotland
Friday 08 June 2012 Rutherglen Scotland
Friday 08 June 2012 Glasgow Scotland
Friday 08 June 2012 Giffnock Scotland
Friday 08 June 2012 Glasgow Scotland
Saturday 09 June 2012 Glasgow Scotland
Saturday 09 June 2012 Bearsden Scotland
Saturday 09 June 2012 Clydebank Scotland
Saturday 09 June 2012 Dumbarton Scotland
Saturday 09 June 2012 Luss Scotland
Saturday 09 June 2012 Tarbet Scotland
Saturday 09 June 2012 Crianlarich Scotland
Saturday 09 June 2012 Tyndrum Scotland
Saturday 09 June 2012 Glencoe Scotland
Saturday 09 June 2012 North Ballachullish Scotland
Saturday 09 June 2012 Fort William Scotland
Saturday 09 June 2012 Spean Bridge Scotland
Saturday 09 June 2012 Fort Augustus Scotland
Saturday 09 June 2012 Invermoriston Scotland
Saturday 09 June 2012 Lewiston Scotland
Saturday 09 June 2012 Drumnadrochit Scotland
Saturday 09 June 2012 Inverness Scotland
Sunday 10 June 2012 Kirkwall (Orkney Islands) Scotland
Sunday 10 June 2012 Lerwick (Shetland Islands) Scotland
Monday 11 June 2012 Stornoway Scotland
Monday 11 June 2012 Inverness Scotland
Monday 11 June 2012 Aviemore Scotland
Monday 11 June 2012 Carrbridge Scotland
Monday 11 June 2012 Grantown-on-Spey Scotland
Monday 11 June 2012 Tomintoul Scotland
Monday 11 June 2012 Crathie Scotland
Monday 11 June 2012 Ballater Scotland
Monday 11 June 2012 Dinnet Scotland
Monday 11 June 2012 Aboyne Scotland
Monday 11 June 2012 Kincardine O'Neil Scotland
Monday 11 June 2012 Banchory Scotland
Monday 11 June 2012 Drumoak Scotland
Monday 11 June 2012 Peterculter Scotland
Monday 11 June 2012 Bieldside Scotland
Monday 11 June 2012 Cults Scotland
Monday 11 June 2012 Aberdeen Scotland
Tuesday 12 June 2012 Aberdeen Scotland
Tuesday 12 June 2012 Stonehaven Scotland
Tuesday 12 June 2012 Marykirk Scotland
Tuesday 12 June 2012 Hillside Scotland
Tuesday 12 June 2012 Montrose Scotland
Tuesday 12 June 2012 Brechin Scotland
Tuesday 12 June 2012 Forfar Scotland
Tuesday 12 June 2012 Meigle Scotland
Tuesday 12 June 2012 Coupar Angus Scotland
Tuesday 12 June 2012 Woodside Scotland
Tuesday 12 June 2012 Burrelton Scotland
Tuesday 12 June 2012 Balbeggie Scotland
Tuesday 12 June 2012 Scone Scotland
Tuesday 12 June 2012 Scone Palace Scotland
Tuesday 12 June 2012 Perth Scotland
Tuesday 12 June 2012 Abernethy Scotland
Tuesday 12 June 2012 Newburgh Scotland
Tuesday 12 June 2012 Cupar Scotland
Tuesday 12 June 2012 Dairsie Scotland
Tuesday 12 June 2012 Guardbridge Scotland
Tuesday 12 June 2012 Leuchars Scotland
Tuesday 12 June 2012 Dundee Scotland
Wednesday 13 June 2012 St. Andrews Scotland
Wednesday 13 June 2012 Milnathort Scotland
Wednesday 13 June 2012 Kinross Scotland
Wednesday 13 June 2012 Crook of Devon Scotland
Wednesday 13 June 2012 Alloa Scotland
Wednesday 13 June 2012 Bridge of Allan Scotland
Wednesday 13 June 2012 Dunblane Scotland
Wednesday 13 June 2012 Stirling Scotland
Wednesday 13 June 2012 Cumbernauld Scotland
Wednesday 13 June 2012 Larbert Scotland
Wednesday 13 June 2012 Camelon Scotland
Wednesday 13 June 2012 Falkirk Scotland
Wednesday 13 June 2012 Skinflats Scotland
Wednesday 13 June 2012 Cairneyhill Scotland
Wednesday 13 June 2012 Crossford Scotland
Wednesday 13 June 2012 Dunfermline Scotland
Wednesday 13 June 2012 Hopetoun House Scotland
Wednesday 13 June 2012 Broxburn Scotland
Wednesday 13 June 2012 Edinburgh Scotland
Thursday 14 June 2012 Edinburgh Scotland
Thursday 14 June 2012 Duddingston Scotland
Thursday 14 June 2012 Musselburgh Scotland
Thursday 14 June 2012 Dalkeith Scotland
Thursday 14 June 2012 Lasswade Scotland
Thursday 14 June 2012 Loanhead Scotland
Thursday 14 June 2012 Bilston Scotland
Thursday 14 June 2012 Milton Bridge Scotland
Thursday 14 June 2012 Penicuik Scotland
Thursday 14 June 2012 Eddleston Scotland
Thursday 14 June 2012 Peebles Scotland
Thursday 14 June 2012 Innerleithen Scotland
Thursday 14 June 2012 Walkerburn Scotland
Thursday 14 June 2012 Selkirk Scotland
Thursday 14 June 2012 Galashiels Scotland
Thursday 14 June 2012 Earlston Scotland
Thursday 14 June 2012 Gordon Scotland
Thursday 14 June 2012 Greenlaw Scotland
Thursday 14 June 2012 Duns Scotland
Thursday 14 June 2012 Chirnside Scotland
Thursday 14 June 2012 Foulden Scotland
Thursday 14 June 2012 Berwick-Upon-Tweed North East
Thursday 14 June 2012 Bamburgh North East
Thursday 14 June 2012 Alnwick North East
Friday 15 June 2012 Alnwick North East
Friday 15 June 2012 Hipsburn North East
Friday 15 June 2012 Warkworth North East
Friday 15 June 2012 Amble North East
Friday 15 June 2012 Ashington North East
Friday 15 June 2012 Newbiggin-By-The-Sea North East
Friday 15 June 2012 Ashington North East
Friday 15 June 2012 Choppington North East
Friday 15 June 2012 Morpeth North East
Friday 15 June 2012 Hartford North East
Friday 15 June 2012 Bedlington North East
Friday 15 June 2012 Blyth North East
Friday 15 June 2012 Whitley Bay North East
Friday 15 June 2012 Cullercoats North East
Friday 15 June 2012 Tynemouth North East
Friday 15 June 2012 North Shields North East
Friday 15 June 2012 Howdon North East
Friday 15 June 2012 Wallsend North East
Friday 15 June 2012 Newcastle upon Tyne North East
Saturday 16 June 2012 Gateshead North East
Saturday 16 June 2012 South Shields North East
Saturday 16 June 2012 Whitburn North East
Saturday 16 June 2012 Sunderland North East
Saturday 16 June 2012 Low Fell & Chowdene North East
Saturday 16 June 2012 Blaydon North East
Saturday 16 June 2012 Prudhoe North East
Saturday 16 June 2012 Stocksfield North East
Saturday 16 June 2012 Hexham North East
Saturday 16 June 2012 Riding Mill North East
Saturday 16 June 2012 Consett North East
Saturday 16 June 2012 Moorside North East
Saturday 16 June 2012 Castleside North East
Saturday 16 June 2012 Tow Law North East
Saturday 16 June 2012 Esh North East
Saturday 16 June 2012 Langley Park North East
Saturday 16 June 2012 Durham North East
Sunday 17 June 2012 Durham North East
Sunday 17 June 2012 Sherburn North East
Sunday 17 June 2012 Sherburn Hill North East
Sunday 17 June 2012 Haswell Plough North East
Sunday 17 June 2012 Peterlee North East
Sunday 17 June 2012 Horden North East
Sunday 17 June 2012 Blackhall Colliery North East
Sunday 17 June 2012 Hartlepool North East
Sunday 17 June 2012 Billingham North East
Sunday 17 June 2012 Sedgefield North East
Sunday 17 June 2012 Bishop Auckland North East
Sunday 17 June 2012 Shildon North East
Sunday 17 June 2012 Middridge North East
Sunday 17 June 2012 Newton Aycliffe North East
Sunday 17 June 2012 High Beaumont Hill North East
Sunday 17 June 2012 Harrogate Hill North East
Sunday 17 June 2012 Darlington North East
Sunday 17 June 2012 Stockton-on-Tees North East
Sunday 17 June 2012 Middlesbrough North East
Monday 18 June 2012 Middlesbrough North East
Monday 18 June 2012 Redcar North East
Monday 18 June 2012 Marske-by-the-Sea North East
Monday 18 June 2012 Saltburn-by-the-Sea North East
Monday 18 June 2012 Brotton North East
Monday 18 June 2012 Carlin How North East
Monday 18 June 2012 Loftus North East
Monday 18 June 2012 Hinderwell Yorkshire and Humber
Monday 18 June 2012 Lythe Yorkshire and Humber
Monday 18 June 2012 Sandsend Yorkshire and Humber
Monday 18 June 2012 Whitby Yorkshire and Humber
Monday 18 June 2012 Pickering Yorkshire and Humber
Monday 18 June 2012 Scarborough Yorkshire and Humber
Monday 18 June 2012 Filey Yorkshire and Humber
Monday 18 June 2012 Bridlington Yorkshire and Humber
Monday 18 June 2012 Beverley Yorkshire and Humber
Monday 18 June 2012 Hull Yorkshire and Humber
Tuesday 19 June 2012 Hull Yorkshire and Humber
Tuesday 19 June 2012 Brough Yorkshire and Humber
Tuesday 19 June 2012 Goole Yorkshire and Humber
Tuesday 19 June 2012 Camblesforth Yorkshire and Humber
Tuesday 19 June 2012 Selby Yorkshire and Humber
Tuesday 19 June 2012 Monk Fryston Yorkshire and Humber
Tuesday 19 June 2012 Barkston Ash Yorkshire and Humber
Tuesday 19 June 2012 Tadcaster Yorkshire and Humber
Tuesday 19 June 2012 Boston Spa Yorkshire and Humber
Tuesday 19 June 2012 Wetherby Yorkshire and Humber
Tuesday 19 June 2012 Harewood Yorkshire and Humber
Tuesday 19 June 2012 Knaresborough Yorkshire and Humber
Tuesday 19 June 2012 Harrogate Yorkshire and Humber
Tuesday 19 June 2012 Ripon Yorkshire and Humber
Tuesday 19 June 2012 York Yorkshire and Humber
Wednesday 20 June 2012 York Yorkshire and Humber
Wednesday 20 June 2012 Thirsk Yorkshire and Humber
Wednesday 20 June 2012 Northallerton Yorkshire and Humber
Wednesday 20 June 2012 Aiskew Yorkshire and Humber
Wednesday 20 June 2012 Bedale Yorkshire and Humber
Wednesday 20 June 2012 Aysgarth Yorkshire and Humber
Wednesday 20 June 2012 Leyburn Yorkshire and Humber
Wednesday 20 June 2012 Richmond Yorkshire and Humber
Wednesday 20 June 2012 Barnard Castle North East
Wednesday 20 June 2012 Brough North West
Wednesday 20 June 2012 Appleby-in-Westmorland North West
Wednesday 20 June 2012 Penrith North West
Wednesday 20 June 2012 Carlisle North West
Thursday 21 June 2012 Dumfries in Galloway Scotland
Thursday 21 June 2012 Annan Scotland
Thursday 21 June 2012 Eastriggs Scotland
Thursday 21 June 2012 Gretna Scotland
Thursday 21 June 2012 Carlisle North West
Thursday 21 June 2012 Wigton North West
Thursday 21 June 2012 Aspatria North West
Thursday 21 June 2012 Maryport North West
Thursday 21 June 2012 Flimby North West
Thursday 21 June 2012 Workington North West
Thursday 21 June 2012 Whitehaven North West
Thursday 21 June 2012 Cockermouth North West
Thursday 21 June 2012 Keswick North West
Thursday 21 June 2012 Grasmere North West
Thursday 21 June 2012 Ambleside North West
Thursday 21 June 2012 Bowness-on-Windermere North West
Friday 22 June 2012 Kendal North West
Friday 22 June 2012 Milnthorpe North West
Friday 22 June 2012 Carnforth North West
Friday 22 June 2012 Bolton-le-Sands North West
Friday 22 June 2012 Hest Bank North West
Friday 22 June 2012 Morecambe North West
Friday 22 June 2012 Lancaster North West
Friday 22 June 2012 Garstang North West
Friday 22 June 2012 St Michael's On Wyre North West
Friday 22 June 2012 Fleetwood North West
Friday 22 June 2012 Cleveleys North West
Friday 22 June 2012 Blackpool North West
Saturday 23 June 2012 Lytham St Anne's North West
Saturday 23 June 2012 Warton North West
Saturday 23 June 2012 Preston North West
Saturday 23 June 2012 Blackburn North West
Saturday 23 June 2012 Accrington North West
Saturday 23 June 2012 Burnley North West
Saturday 23 June 2012 Crawshawbooth North West
Saturday 23 June 2012 Reedsholme North West
Saturday 23 June 2012 Rawtenstall North West
Saturday 23 June 2012 Rochdale North West
Saturday 23 June 2012 Heywood North West
Saturday 23 June 2012 Bury North West
Saturday 23 June 2012 Whitefield North West
Saturday 23 June 2012 Prestwich North West
Saturday 23 June 2012 Higher Broughton North West
Saturday 23 June 2012 Cheetham Hill North West
Saturday 23 June 2012 Manchester North West
Sunday 24 June 2012 Salford North West
Sunday 24 June 2012 Trafford North West
Sunday 24 June 2012 Moss Side North West
Sunday 24 June 2012 Rusholme North West
Sunday 24 June 2012 Longsight North West
Sunday 24 June 2012 Levenshulme North West
Sunday 24 June 2012 Stockport North West
Sunday 24 June 2012 Ashton-under-Lyne North West
Sunday 24 June 2012 Oldham North West
Sunday 24 June 2012 Marsh Yorkshire and Humber
Sunday 24 June 2012 Huddersfield Yorkshire and Humber
Sunday 24 June 2012 Brighouse Yorkshire and Humber
Sunday 24 June 2012 Halifax Yorkshire and Humber
Sunday 24 June 2012 Bradford Yorkshire and Humber
Sunday 24 June 2012 Keighley Yorkshire and Humber
Sunday 24 June 2012 Skipton Yorkshire and Humber
Sunday 24 June 2012 Ilkley Yorkshire and Humber
Sunday 24 June 2012 Headingley Yorkshire and Humber
Sunday 24 June 2012 Potternewton Yorkshire and Humber
Sunday 24 June 2012 Harehills Yorkshire and Humber
Sunday 24 June 2012 Richmond Hill Yorkshire and Humber
Sunday 24 June 2012 Leeds Yorkshire and Humber
Monday 25 June 2012 Leeds Yorkshire and Humber
Monday 25 June 2012 Hunslet Yorkshire and Humber
Monday 25 June 2012 Beeston Yorkshire and Humber
Monday 25 June 2012 Morley Yorkshire and Humber
Monday 25 June 2012 Batley Yorkshire and Humber
Monday 25 June 2012 Dewsbury Yorkshire and Humber
Monday 25 June 2012 Wakefield Yorkshire and Humber
Monday 25 June 2012 Castleford Yorkshire and Humber
Monday 25 June 2012 Pontefract Yorkshire and Humber
Monday 25 June 2012 Ackworth Yorkshire and Humber
Monday 25 June 2012 Lundwood Yorkshire and Humber
Monday 25 June 2012 Cundy Cross Yorkshire and Humber
Monday 25 June 2012 Barnsley Yorkshire and Humber
Monday 25 June 2012 Darton Yorkshire and Humber
Monday 25 June 2012 Kexbrough Yorkshire and Humber
Monday 25 June 2012 Chapeltown Yorkshire and Humber
Monday 25 June 2012 Ecclesfield Yorkshire and Humber
Monday 25 June 2012 Parson Cross Yorkshire and Humber
Monday 25 June 2012 Sheffield Yorkshire and Humber
Tuesday 26 June 2012 Sheffield Yorkshire and Humber
Tuesday 26 June 2012 Rotherham Yorkshire and Humber
Tuesday 26 June 2012 Templeborough Yorkshire and Humber
Tuesday 26 June 2012 Dalton Yorkshire and Humber
Tuesday 26 June 2012 Thrybergh Yorkshire and Humber
Tuesday 26 June 2012 Conisbrough Yorkshire and Humber
Tuesday 26 June 2012 Warmsworth Yorkshire and Humber
Tuesday 26 June 2012 Doncaster Yorkshire and Humber
Tuesday 26 June 2012 Armthorpe Yorkshire and Humber
Tuesday 26 June 2012 Dunsville Yorkshire and Humber
Tuesday 26 June 2012 Hatfield Yorkshire and Humber
Tuesday 26 June 2012 Scunthorpe Yorkshire and Humber
Tuesday 26 June 2012 Brigg Yorkshire and Humber
Tuesday 26 June 2012 Wrawby Yorkshire and Humber
Tuesday 26 June 2012 Immingham Yorkshire and Humber
Tuesday 26 June 2012 Grimsby Yorkshire and Humber
Tuesday 26 June 2012 Cleethorpes Yorkshire and Humber
Wednesday 27 June 2012 Grimsby Yorkshire and Humber
Wednesday 27 June 2012 Louth East Midlands
Wednesday 27 June 2012 Legbourne East Midlands
Wednesday 27 June 2012 Withern East Midlands
Wednesday 27 June 2012 Maltby Le Marsh East Midlands
Wednesday 27 June 2012 Mablethorpe East Midlands
Wednesday 27 June 2012 Trusthorpe East Midlands
Wednesday 27 June 2012 Sutton-on-Sea East Midlands
Wednesday 27 June 2012 Mumby East Midlands
Wednesday 27 June 2012 Hogsthorpe East Midlands
Wednesday 27 June 2012 Ingoldmells East Midlands
Wednesday 27 June 2012 Winthorpe East Midlands
Wednesday 27 June 2012 Skegness East Midlands
Wednesday 27 June 2012 Wainfleet All Saints East Midlands
Wednesday 27 June 2012 Wrangle East Midlands
Wednesday 27 June 2012 Boston East Midlands
Wednesday 27 June 2012 Sleaford East Midlands
Wednesday 27 June 2012 Bracebridge Heath East Midlands
Wednesday 27 June 2012 Lincoln East Midlands
Thursday 28 June 2012 Lincoln East Midlands
Thursday 28 June 2012 Saxilby East Midlands
Thursday 28 June 2012 Darlton East Midlands
Thursday 28 June 2012 East Markham East Midlands
Thursday 28 June 2012 Tuxford East Midlands
Thursday 28 June 2012 Kirton East Midlands
Thursday 28 June 2012 Boughton East Midlands
Thursday 28 June 2012 Edwinstowe East Midlands
Thursday 28 June 2012 Mansfield East Midlands
Thursday 28 June 2012 Kelham East Midlands
Thursday 28 June 2012 Newark-on-Trent East Midlands
Thursday 28 June 2012 Balderton East Midlands
Thursday 28 June 2012 Grantham East Midlands
Thursday 28 June 2012 Radcliffe-on-Trent East Midlands
Thursday 28 June 2012 Nottingham East Midlands
Friday 29 June 2012 Nottingham East Midlands
Friday 29 June 2012 Glapwell East Midlands
Friday 29 June 2012 Bolsover East Midlands
Friday 29 June 2012 Calow East Midlands
Friday 29 June 2012 Chesterfield East Midlands
Friday 29 June 2012 Matlock East Midlands
Friday 29 June 2012 Darley Dale East Midlands
Friday 29 June 2012 Bakewell East Midlands
Friday 29 June 2012 Buxton East Midlands
Friday 29 June 2012 Ashbourne East Midlands
Friday 29 June 2012 Derby East Midlands
Saturday 30 June 2012 Derby East Midlands
Saturday 30 June 2012 Burton upon Trent West Midlands
Saturday 30 June 2012 Streethay West Midlands
Saturday 30 June 2012 Lichfield West Midlands
Saturday 30 June 2012 Hopwas West Midlands
Saturday 30 June 2012 Tamworth West Midlands
Saturday 30 June 2012 Great Wyrley West Midlands
Saturday 30 June 2012 Newtown West Midlands
Saturday 30 June 2012 Bloxwich West Midlands
Saturday 30 June 2012 Leamore West Midlands
Saturday 30 June 2012 Birchills West Midlands
Saturday 30 June 2012 Walsall West Midlands
Saturday 30 June 2012 Willenhall West Midlands
Saturday 30 June 2012 Wolverhampton West Midlands
Saturday 30 June 2012 Dudley West Midlands
Saturday 30 June 2012 Oldbury West Midlands
Saturday 30 June 2012 West Bromwich West Midlands
Saturday 30 June 2012 Smethwick West Midlands
Saturday 30 June 2012 Birmingham West Midlands
Sunday 01 July 2012 Birmingham West Midlands
Sunday 01 July 2012 Solihull West Midlands
Sunday 01 July 2012 Earlswood West Midlands
Sunday 01 July 2012 Redditch West Midlands
Sunday 01 July 2012 Astwood Bank West Midlands
Sunday 01 July 2012 Alcester West Midlands
Sunday 01 July 2012 Evesham West Midlands
Sunday 01 July 2012 Wickhamford West Midlands
Sunday 01 July 2012 Broadway West Midlands
Sunday 01 July 2012 Chipping Campden South West
Sunday 01 July 2012 Newbold on Stour West Midlands
Sunday 01 July 2012 Alderminster West Midlands
Sunday 01 July 2012 Stratford-Upon-Avon West Midlands
Sunday 01 July 2012 Warwick West Midlands
Sunday 01 July 2012 Royal Leamington Spa West Midlands
Sunday 01 July 2012 Kenilworth West Midlands
Sunday 01 July 2012 Coventry West Midlands
Monday 02 July 2012 Coventry West Midlands
Monday 02 July 2012 Rugby West Midlands
Monday 02 July 2012 Dunchurch West Midlands
Monday 02 July 2012 Northampton East Midlands
Monday 02 July 2012 Wellingborough East Midlands
Monday 02 July 2012 Isham East Midlands
Monday 02 July 2012 Kettering East Midlands
Monday 02 July 2012 Geddington East Midlands
Monday 02 July 2012 Corby East Midlands
Monday 02 July 2012 Dingley East Midlands
Monday 02 July 2012 Market Harborough East Midlands
Monday 02 July 2012 Lubenham East Midlands
Monday 02 July 2012 Foxton East Midlands
Monday 02 July 2012 Kibworth Harcourt East Midlands
Monday 02 July 2012 Oadby East Midlands
Monday 02 July 2012 Leicester East Midlands
Tuesday 03 July 2012 Leicester East Midlands
Tuesday 03 July 2012 Quorn East Midlands
Tuesday 03 July 2012 Loughborough East Midlands
Tuesday 03 July 2012 Hoton East Midlands
Tuesday 03 July 2012 Wymeswold East Midlands
Tuesday 03 July 2012 Asfordby East Midlands
Tuesday 03 July 2012 Melton Mowbray East Midlands
Tuesday 03 July 2012 Langham East Midlands
Tuesday 03 July 2012 Oakham East Midlands
Tuesday 03 July 2012 Uppingham East Midlands
Tuesday 03 July 2012 Stamford East Midlands
Tuesday 03 July 2012 Peterborough East of England
Wednesday 04 July 2012 Peterborough East of England
Wednesday 04 July 2012 Market Deeping East Midlands
Wednesday 04 July 2012 Thurlby East Midlands
Wednesday 04 July 2012 Bourne East Midlands
Wednesday 04 July 2012 Spalding East Midlands
Wednesday 04 July 2012 Moulton East Midlands
Wednesday 04 July 2012 Whaplode East Midlands
Wednesday 04 July 2012 Holbeach East Midlands
Wednesday 04 July 2012 Long Sutton East Midlands
Wednesday 04 July 2012 King's Lynn East of England
Wednesday 04 July 2012 South Wootton East of England
Wednesday 04 July 2012 West Rudham East of England
Wednesday 04 July 2012 East Rudham East of England
Wednesday 04 July 2012 Fakenham East of England
Wednesday 04 July 2012 Holt East of England
Wednesday 04 July 2012 Cromer East of England
Wednesday 04 July 2012 Aylsham East of England
Wednesday 04 July 2012 Norwich East of England
Thursday 05 July 2012 Norwich East of England
Thursday 05 July 2012 Acle East of England
Thursday 05 July 2012 Filby East of England
Thursday 05 July 2012 Great Yarmouth East of England
Thursday 05 July 2012 Lowestoft East of England
Thursday 05 July 2012 Wrentham East of England
Thursday 05 July 2012 Reydon East of England
Thursday 05 July 2012 Southwold East of England
Thursday 05 July 2012 Kelsale East of England
Thursday 05 July 2012 Saxmundham East of England
Thursday 05 July 2012 Aldeburgh East of England
Thursday 05 July 2012 Wickham Market East of England
Thursday 05 July 2012 Ufford East of England
Thursday 05 July 2012 Melton East of England
Thursday 05 July 2012 Woodbridge East of England
Thursday 05 July 2012 Felixstowe East of England
Thursday 05 July 2012 Ipswich East of England
Friday 06 July 2012 Ipswich East of England
Friday 06 July 2012 Colchester East of England
Friday 06 July 2012 Hatfield Peverel East of England
Friday 06 July 2012 Heybridge East of England
Friday 06 July 2012 Maldon East of England
Friday 06 July 2012 Rayleigh East of England
Friday 06 July 2012 Southend-on-Sea East of England
Friday 06 July 2012 Hadleigh East of England
Friday 06 July 2012 Basildon East of England
Friday 06 July 2012 Grays East of England
Friday 06 July 2012 Herongate East of England
Friday 06 July 2012 Brentwood East of England
Friday 06 July 2012 Chelmsford East of England
Saturday 07 July 2012 Chelmsford East of England
Saturday 07 July 2012 Harlow East of England
Saturday 07 July 2012 Waltham Abbey East of England
Saturday 07 July 2012 Waltham Cross East of England
Saturday 07 July 2012 Hertford East of England
Saturday 07 July 2012 Ware East of England
Saturday 07 July 2012 Bishop's Stortford East of England
Saturday 07 July 2012 Stansted Mountfitchet East of England
Saturday 07 July 2012 Newport East of England
Saturday 07 July 2012 Saffron Walden East of England
Saturday 07 July 2012 Haverhill East of England
Saturday 07 July 2012 Bury St Edmunds East of England
Saturday 07 July 2012 Newmarket East of England
Saturday 07 July 2012 Cambridge East of England
Sunday 08 July 2012 Cambridge East of England
Sunday 08 July 2012 St Ives East of England
Sunday 08 July 2012 Huntingdon East of England
Sunday 08 July 2012 Bedford East of England
Sunday 08 July 2012 Cotton End East of England
Sunday 08 July 2012 Letchworth Garden City East of England
Sunday 08 July 2012 Stevenage East of England
Sunday 08 July 2012 Welwyn Garden City East of England
Sunday 08 July 2012 Hatfield East of England
Sunday 08 July 2012 St Albans East of England
Sunday 08 July 2012 Hemel Hempstead East of England
Sunday 08 July 2012 Luton East of England
Monday 09 July 2012 Luton East of England
Monday 09 July 2012 Dunstable East of England
Monday 09 July 2012 Milton Keynes South East
Monday 09 July 2012 Bletchley South East
Monday 09 July 2012 Buckingham South East
Monday 09 July 2012 Winslow South East
Monday 09 July 2012 Whitchurch South East
Monday 09 July 2012 Aylesbury South East
Monday 09 July 2012 Stoke Mandeville South East
Monday 09 July 2012 Aylesbury South East
Monday 09 July 2012 Waddesdon South East
Monday 09 July 2012 Bicester South East
Monday 09 July 2012 Kirtlington South East
Monday 09 July 2012 Woodstock South East
Monday 09 July 2012 Kidlington South East
Monday 09 July 2012 Oxford South East
Tuesday 10 July 2012 Oxford South East
Tuesday 10 July 2012 Abingdon South East
Tuesday 10 July 2012 Wallingford South East
Tuesday 10 July 2012 Crowmarsh Gifford South East
Tuesday 10 July 2012 Nettlebed South East
Tuesday 10 July 2012 Henley-on-Thames South East
Tuesday 10 July 2012 Bisham (Bisham Abbey) South East
Tuesday 10 July 2012 Maidenhead South East
Tuesday 10 July 2012 Slough South East
Tuesday 10 July 2012 Windsor South East
Tuesday 10 July 2012 Egham South East
Tuesday 10 July 2012 Ascot South East
Tuesday 10 July 2012 Bracknell South East
Tuesday 10 July 2012 Reading South East
Wednesday 11 July 2012 Reading South East
Wednesday 11 July 2012 Theale South East
Wednesday 11 July 2012 Thatcham South East
Wednesday 11 July 2012 Newbury South East
Wednesday 11 July 2012 Basingstoke South East
Wednesday 11 July 2012 Kings Worthy South East
Wednesday 11 July 2012 Winchester South East
Wednesday 11 July 2012 Andover South East
Wednesday 11 July 2012 Ludgershall South West
Wednesday 11 July 2012 Tidworth South West
Wednesday 11 July 2012 Amesbury South West
Wednesday 11 July 2012 The Winterbournes South West
Wednesday 11 July 2012 Salisbury South West
Thursday 12 July 2012 Salisbury South West
Thursday 12 July 2012 Wilton South West
Thursday 12 July 2012 Barford St Martin South West
Thursday 12 July 2012 Fovant South West
Thursday 12 July 2012 Ludwell South West
Thursday 12 July 2012 Shaftesbury South West
Thursday 12 July 2012 Fontmell Magna South West
Thursday 12 July 2012 Iwerne Minster South West
Thursday 12 July 2012 Stourpaine South West
Thursday 12 July 2012 Blandford Forum South West
Thursday 12 July 2012 Winterborne Whitechurch South West
Thursday 12 July 2012 Milborne St Andrew South West
Thursday 12 July 2012 Puddletown South West
Thursday 12 July 2012 Dorchester South West
Thursday 12 July 2012 Winterbourne Abbas South West
Thursday 12 July 2012 Bridport South West
Thursday 12 July 2012 Chideock South West
Thursday 12 July 2012 Lyme Regis South West
Thursday 12 July 2012 Burton Bradstock South West
Thursday 12 July 2012 Abbotsbury South West
Thursday 12 July 2012 Portesham South West
Thursday 12 July 2012 Chickerell South West
Thursday 12 July 2012 Wyke Regis South West
Thursday 12 July 2012 Osprey Quay, Portland South West
Thursday 12 July 2012 Weymouth South West
Friday 13 July 2012 Portland Bill South West
Friday 13 July 2012 Southwell South West
Friday 13 July 2012 Weston South West
Friday 13 July 2012 Easton South West
Friday 13 July 2012 Portland South West
Friday 13 July 2012 Fortuneswell South West
Friday 13 July 2012 Weymouth South West
Friday 13 July 2012 Preston South West
Friday 13 July 2012 Osmington South West
Friday 13 July 2012 Winfrith Newburgh South West
Friday 13 July 2012 Wool South West
Friday 13 July 2012 Corfe Castle South West
Friday 13 July 2012 Swanage South West
Friday 13 July 2012 Stoborough South West
Friday 13 July 2012 Wareham South West
Friday 13 July 2012 Sandford South West
Friday 13 July 2012 Lytchett Minster South West
Friday 13 July 2012 Upton South West
Friday 13 July 2012 Hamworthy South West
Friday 13 July 2012 Poole South West
Friday 13 July 2012 Ashley Cross South West
Friday 13 July 2012 Branksome South West
Friday 13 July 2012 Wallisdown South West
Friday 13 July 2012 Bournemouth South West
Saturday 14 July 2012 Bournemouth South West
Saturday 14 July 2012 Boscombe South West
Saturday 14 July 2012 Christchurch South West
Saturday 14 July 2012 Lyndhurst South East
Saturday 14 July 2012 Brockenhurst South East
Saturday 14 July 2012 Lymington South East
Saturday 14 July 2012 Totland South East
Saturday 14 July 2012 Yarmouth South East
Saturday 14 July 2012 Carisbrooke South East
Saturday 14 July 2012 Newport South East
Saturday 14 July 2012 East Cowes South East
Saturday 14 July 2012 Southampton South East
Sunday 15 July 2012 Southampton South East
Sunday 15 July 2012 St Peter Port Guernsey
Sunday 15 July 2012 St Helier Jersey
Sunday 15 July 2012 Fareham South East
Sunday 15 July 2012 Bridgemary South East
Sunday 15 July 2012 Gosport South East
Sunday 15 July 2012 Portsmouth South East
Monday 16 July 2012 Portsmouth South East
Monday 16 July 2012 Petersfield South East
Monday 16 July 2012 Rogate South East
Monday 16 July 2012 Midhurst South East
Monday 16 July 2012 Easebourne South East
Monday 16 July 2012 Tillington South East
Monday 16 July 2012 Petworth South East
Monday 16 July 2012 Duncton South East
Monday 16 July 2012 Chichester South East
Monday 16 July 2012 North Bersted South East
Monday 16 July 2012 South Bersted South East
Monday 16 July 2012 Bognor Regis South East
Monday 16 July 2012 Woodgate South East
Monday 16 July 2012 Westergate South East
Monday 16 July 2012 Arundel South East
Monday 16 July 2012 Worthing South East
Monday 16 July 2012 Lancing South East
Monday 16 July 2012 West Blatchington South East
Monday 16 July 2012 Brighton & Hove South East
Tuesday 17 July 2012 Brighton & Hove South East
Tuesday 17 July 2012 Crawley South East
Tuesday 17 July 2012 Copthorne South East
Tuesday 17 July 2012 Felbridge South East
Tuesday 17 July 2012 East Grinstead South East
Tuesday 17 July 2012 Royal Tunbridge Wells South East
Tuesday 17 July 2012 Crowborough South East
Tuesday 17 July 2012 Lewes South East
Tuesday 17 July 2012 Eastbourne South East
Tuesday 17 July 2012 Pevensey Bay South East
Tuesday 17 July 2012 Pevensey South East
Tuesday 17 July 2012 Bexhill-on-Sea South East
Tuesday 17 July 2012 St Leonards-on-Sea South East
Tuesday 17 July 2012 Hastings South East
Wednesday 18 July 2012 Hastings South East
Wednesday 18 July 2012 Rye South East
Wednesday 18 July 2012 Hamstreet South East
Wednesday 18 July 2012 Ashford South East
Wednesday 18 July 2012 Hythe South East
Wednesday 18 July 2012 Sandgate South East
Wednesday 18 July 2012 Folkestone South East
Wednesday 18 July 2012 Dover South East
Thursday 19 July 2012 Deal South East
Thursday 19 July 2012 Sholden South East
Thursday 19 July 2012 Sandwich South East
Thursday 19 July 2012 Great Stonar South East
Thursday 19 July 2012 Cliffsend South East
Thursday 19 July 2012 St Lawrence South East
Thursday 19 July 2012 Ramsgate South East
Thursday 19 July 2012 Broadstairs South East
Thursday 19 July 2012 St Peters South East
Thursday 19 July 2012 Cliftonville South East
Thursday 19 July 2012 Margate South East
Thursday 19 July 2012 Westgate-on-Sea South East
Thursday 19 July 2012 Birchington South East
Thursday 19 July 2012 Upstreet South East
Thursday 19 July 2012 Sturry South East
Thursday 19 July 2012 Canterbury South East
Thursday 19 July 2012 Thanington South East
Thursday 19 July 2012 Faversham South East
Thursday 19 July 2012 Challock South East
Thursday 19 July 2012 Harrietsham South East
Thursday 19 July 2012 Maidstone South East
Friday 20 July 2012 Maidstone South East
Friday 20 July 2012 Chatham South East
Friday 20 July 2012 Gillingham South East
Friday 20 July 2012 Rochester South East
Friday 20 July 2012 Higham South East
Friday 20 July 2012 Gravesend South East
Friday 20 July 2012 Borough Green South East
Friday 20 July 2012 Seal South East
Friday 20 July 2012 Sevenoaks South East
Friday 20 July 2012 Riverhead South East
Friday 20 July 2012 Godstone South East
Friday 20 July 2012 Bletchingley South East
Friday 20 July 2012 Redhill South East
Friday 20 July 2012 Reigate South East
Friday 20 July 2012 Dorking South East
Friday 20 July 2012 Westcott South East
Friday 20 July 2012 Shere South East
Friday 20 July 2012 Godalming South East
Friday 20 July 2012 Guildford South East
Saturday 21 July 2012 Greenwich London
Saturday 21 July 2012 Newham London
Saturday 21 July 2012 Tower Hamlets London
Saturday 21 July 2012 Hackney London
Saturday 21 July 2012 Waltham Forest London
Sunday 22 July 2012 Redbridge London
Sunday 22 July 2012 Barking & Dagenham London
Sunday 22 July 2012 Havering London
Sunday 22 July 2012 Bexley London
Monday 23 July 2012 Lewisham London
Monday 23 July 2012 Bromley London
Monday 23 July 2012 Croydon London
Monday 23 July 2012 Sutton London
Monday 23 July 2012 Merton London
Monday 23 July 2012 Wandsworth London
Tuesday 24 July 2012 Kingston London
Tuesday 24 July 2012 Richmond London
Tuesday 24 July 2012 Hounslow London
Tuesday 24 July 2012 Hillingdon London
Tuesday 24 July 2012 Ealing London
Wednesday 25 July 2012 Harrow London
Wednesday 25 July 2012 Brent London
Wednesday 25 July 2012 Barnet London
Wednesday 25 July 2012 Enfield London
Wednesday 25 July 2012 Haringey London
Thursday 26 July 2012 Camden London
Thursday 26 July 2012 Islington London
Thursday 26 July 2012 City London
Thursday 26 July 2012 Southwark London
Thursday 26 July 2012 Lambeth London
Thursday 26 July 2012 Kensington & Chelsea London
Thursday 26 July 2012 Hammersmith & Fulham London
Thursday 26 July 2012 Westminster London
Friday 27 July 2012 London London