Rihanna has sparked yet another media storm with her weekend appearance on X Factor.
At first, it all seemed to be going so well, with her demure, almost prim, tartan frock definitely passing the code set by show producers following the outrageous costumes of - you guessed it - Rihanna, and fellow songstress Christina Aguilera, during last year's series.
Following Rihanna's raunchy routine last year, X Factor executives had made it clear that a more demure routine was called for.
And it seemed the American superstar was following their instructions to the letter, from her neat white collar to her clumpy boots - oh, hold on - that's where it all seemed to go a bit off-message, with her shoes scrawled with Tippexed messages, including a clear F-word, transmitted into millions of viewers' homes.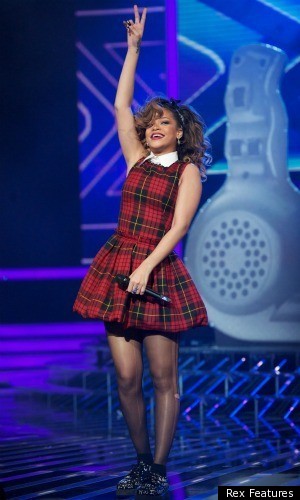 While fans in the front row of the live audience gasped and pointed, it seemed these boots were made for lurching around the stage, as Rihanna mimed her current hit We Found Love, and flashed the tops of her stockings.
The Sun reported this morning that X Factor bosses were happy that "there were no close-up shots of Rihanna's shoes. We believe the performance was suitable."
But it seems that, privately, they will be running back to their guide books, hopefully in time for next year.
Check out our slideshow of all the weekend's X Factor acts and click on who you think should be walking off with this year's title...
X Factor contestants voted off