Hannah Waterman took everyone by surprise in April this year when she announced that she was expecting a baby with her new love Huw Higginson, 47.
After splitting with her husband of three years, former EastEnders actor Ricky Groves (who played Garry Hobbs) in January 2010, Hannah went through some tough times - and she is reluctant to discuss her ex on Closer Magazine's exclusive photo shoot. But today, having given birth to a baby son, Jack, in June, she's glowing with happiness.
"I've been working hard at getting back in shape and I'm looking forward to our first Christmas as a family," smiles Hannah, 36.
Hannah got together with former The Bill actor Huw in June 2010 after a friendship of 10 years and the pregnancy took them both by surprise. "We knew we wanted a baby, we just didn't expect it to happen so quickly," she said at the time.
But 5ft 2 Hannah's pregnancy didn't go to plan.
"I dropped to 7stone and my ribs, backbone and collarbone stuck out. At first I thought I was just having a tough pregnancy - I was exhausted, always going to the loo and constantly thirsty," she recalls.
At 24 weeks pregnant, she felt so ill that she was rushed to hospital while on holiday in Sydney. Tests showed that Hannah had type 1 diabetes.
"It was triggered by the pregnancy hormones - very rare for type 1 diabetes. I hoped it would go once I had the baby, but the specialists told me that wasn't to be. I'm stuck with it!" she says.
Hannah's condition means she needs to inject insulin five times a day to regulate her blood sugar level, or her body would shut down and she could fall into a coma.
While she was pregnant, specialists warned Hannah that her baby might be born with hypoglycaemia - a condition where glucose levels are too low. It meant her baby could grow too big in the womb, which is why she was induced at 38 weeks. "The labour was pretty awful - it went on for three days before they decided to give me a Caesarean," she says.
Jack is now a healthy five month old. Hannah grins: "He has these gorgeous little fat legs and has just started eating solids.
"He didn't feed well at first. I had terrible problems with breastfeeding, because I had trouble making enough milk, which can happen after a Caesarean.
"When he was six days old, he'd lost 20 per cent of his body weight and we had to go back into hospital. I was in a terrible state and sobbing uncontrollably and Jack wouldn't stop crying because he was hungry. Women are under such pressure to do everything naturally and, if things don't go to plan, you feel a failure."
When Hannah and Huw returned home to Essex in September, after spending three months with her mum in Devon, she felt well enough to begin a fitness regime. "I was 8st when I got pregnant and, at six months, I was only 7st, but once the diabetes was diagnosed and I started eating correctly for my condition, the weight piled on! By the end, I weighed 10st 10lbs and felt huge, although it's only half a stone heavier than I was a few years ago when I started training for my DVD."
"I want to say, loud and clear, it is not easy losing weight after you've had a baby! All those celebs who say they lost weight 'running around after their kids' - it's a lie! Now I do a five-mile run once a week and three shorter runs, as well as working out with Gary Johnson, my trainer. I've hardly had any alcohol - being a new mum with a hangover is not great! I've also been visiting Lesley Reynolds Khan at Harley Street Skin for a series of facials, which has done wonders for my skin tone."
"I weigh 8st 7lbs now and I'm a size 8, but I'd still like to lose another half a stone. I know 8st is my ideal weight. I was 7st when I did my DVD, but I felt too skinny."
She says: "I'm still body-conscious, but I'm proud of what I've achieved. Life's changed so much - suddenly you have this little person who depends entirely on you.
"I feel I've reclaimed myself now. Women give up so much up to the baby when we're pregnant, which is how it should be, but I wanted my body back and now I've done it."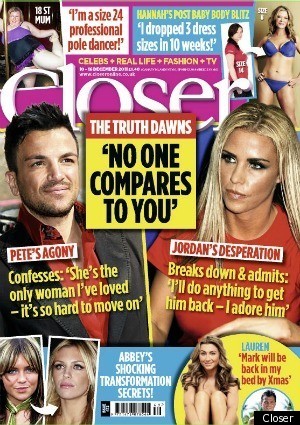 The full feature appears in this week's Closer magazine, on sale now (Tuesday). Check out our Slideshow of celebrities who've gone for the burn, with dramatic results below...