Anyone familiar with her music videos may feel they've as good as seen her naked already, but just to be sure, you can now buy a nude sketch of Lady Gaga for around £3,200 on eBay.
The pencil drawing below was created by crooner Tony Bennett who drew Gaga sans meat dress as part of a Vanity Fair photo shoot.
Talking during her Thanksgiving TV special, Gaga described the incident: "I walked in and said, 'Well Tony, here we are', and I dropped my robe and I got into position. I felt shy and thought, 'It's Tony Bennett, why am I naked?"
For his part the 85-year-old – who recorded a duet of Lady Is A Tramp with Gaga on a recent album – recognised there is "something special" about the singer, describing her as "the most beautiful person I ever met".
Profits for the sketch will be split between the Bennett's Exploring The Arts Foundation which promotes arts in high-school education and Gaga's anti-bullying foundation Born This Way.
But what about the drawing? Is it really worth that much of your hard-earned money?
We asked Nick Fox, Fine Art Lecturer at Newcastle University & John Moore's contemporary painting prizewinner 2010, what he made of it.
"While Tony Bennett is an amazing singer it is possible he might benefit from some observational drawing tuition," said Fox.
"On a brighter note it is clearly full of passion for the subject - there's a certain passion and sensitivity to her feminine charms. Yes, it is worth the asking price – it's Tony Bennett! It's about collectability at the end of the day."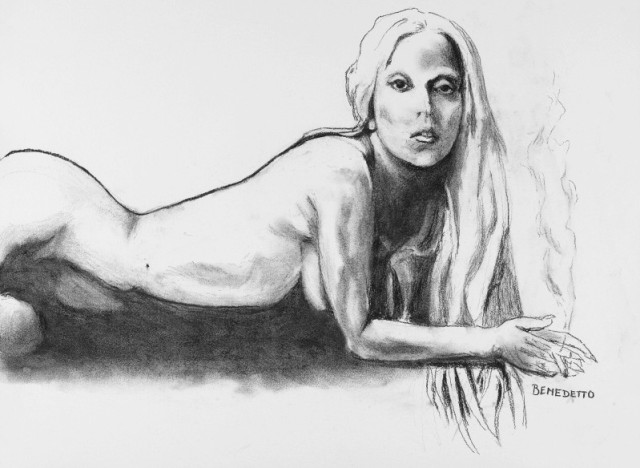 LADY GAGA, CHARCOAL ON PAPER, 18" X 24", © 2011 BENEDETTO/BENNETT