A £1,000 reward has been offered to anyone with information relating to the theft of a sculpture by artist Barbara Hepworth from a London public park.
The bronze work of art, called Two Forms (Divided Circle), was discovered missing by a gardener after it was pulled from its plinth in Dulwich Park in Southwark, south London on Monday night. The much-admired piece, which has stood for over 40 years, is the latest casualty of a growing spate of metal theft affecting the country.
The artwork is insured for £500,000 but if it is melted down for scrap could fetch as little as £750.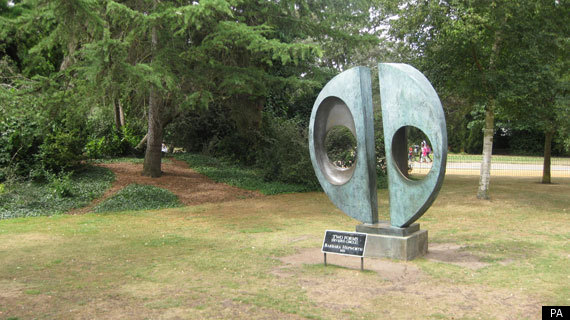 A leader from the local council Peter John told Press Association: "The theft of this important piece of 20th century public art from Dulwich Park is devastating. The theft of public art and metal is becoming a sickening epidemic. I would ask the Met Police and their metal theft task force to investigate this theft as a matter of urgency and would ask anyone with any information about the whereabouts of the sculpture to contact us or the police."
Only this month it was announced that Scotland Yard have launched a new unit tasked with stopping the growing problem of metal theft, after everything from railway lines, phone lines and even war memorials targeted by thieves.
The Waste and Metal Theft Taskforce were set up after it was discovered that metal theft is costing the economy around £700 million a year. South London was targeted a month ago when a statue of Dr Alfred Salter, a social reformer, worth £17,500 was stolen from a bench by the River Thames in Rotherhithe.
Dame Barbara Hepworth, who died in 1975, was one of Britain's most admired and successful sculptors whose work includes Winged Figure on Oxford Street in London and Single Form which stands in the United Nations Plaza in New York.