Dancing On Ice skated back onto our screens tonight for the start of a new series... and already one celebrity contestant is out.
Seven of the show's fifteen stars took to the ice, and although there were no falls on the rink, Blue Peter presenter Andy Akinwolere was forced to hang up his blades after losing the skate-off against Sugababe Heidi Range.
Having impressed the judges with his dance moves, Jayne Torvill said: "Andy's got a natural skating ability," but it wasn't enough to save him from being sent home.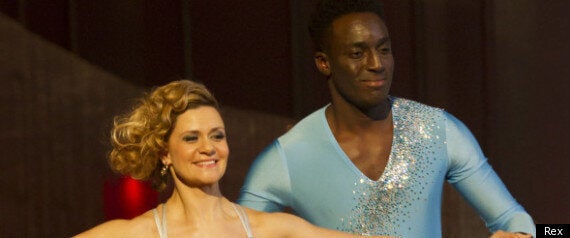 Meanwhile, Christine Bleakley stepped out from the shadows of Daybreak to replace Holly Willoughby as Dancing On Ice's co-host with Phillip Schofield.
The show opened with an acrobatic ice spectacle, far from anything the celebrity skaters are yet capable of achieving.
Heidi was first inside the rink, performing "floating horse lifts" and "lunges". Robin called it "a little clinical", while Katarina praised her for "going out there first". Louis called it "a good safe opening performance".
Also skating was children's TV presenter Mark Rhodes, who Louis requested a snog from, and Charlene Tilton, best known as the Lucy Ewing from Dallas, who said: "It's hard to learn to skate at 150-years-old."
Next up, Hollyoaks' actress Jorgie Porter claimed she was "most excited about wearing sparkly clothes", which did not bode well for her performance. However, her professional side-kick Matt called her "the perfect partner", while Robin said her performance was "exquisite… the strongest performance on any opening show ever".
Britain's number one skier Chemmy Alcott, who only recently recovered from a serious 80mph skiing accident, proved she's also adept at skating with a bold performance on the ice. Robin said: "You performed like you should be on stage everyday." Louis added: "You were like a powerhouse."
Finally Andy Whyment, best known as Kirk from Coronation Street, took to the ice, showing himself likely to be this year's comedy contestant. However, even he managed to stop himself from falling over on national TV.
Despite tonight's performances being free from trips and falls, Dancing On Ice still provided its share of footage of celebrities embarrassing themselves by way of clips from training. And although we didn't see former X Factor contestant Chico or Lost Boys star Corey Feldman on the the ice, we did see them lose their cool in practice.
They are to make their dancing debuts, along with Jennifer Ellison, Matthew Wolfendon, Rosemary Conley, Sebastien Foucan and Laila Morse, on next week's show.
Tonight, Jorgie gained the highest score, shooting to the top of the leaderboard with an impressive 18.5, while Mark scored the lowest with a score of only 8.0.