"I didn't know you could become legendary by getting the crabs."
Before you think the worst, David Hasselhoff is reflecting on the latest honour to be received by this most multi-faceted of our cultural heroes - having a newly-discovered crab named after him by scientists, by virtue of the crustacean's unlikely broad and fluffy chest. And The Hoff is loving it:
"I have a Guinness Book of World Records entry as the most watched person on television, now I have a new entry as the only man who has a crab named after him. My daughter sent me a photo of the Hoff Crab - I think it's very funny, very cool and endearing."
This is only the latest episode in the unique career of David Hasselhoff, with his enduring global success and celebrity. He's a massive pop star in his ancestral Germany, and has been taken truly to British hearts, too. As well as dating a Welsh lady - "I've been spending a lot of time in Wales, brilliant" - he's just finished a run in panto at Bristol Hippodrome (Hoff the Hook in Peter Pan, what else?). And he's already spent a season as a judge on Britain's Got Talent, a stint on which he now casts a curious perspective:
"When I was doing Britain's Got Talent, I really enjoyed it, but I found it very difficult to be in the audience. I like to be on stage, I feel safer on stage because I'm in control."
It seems he's more at home with his latest venture, into magic. He is the guest on this Saturday's The Magicians, assisting world champion Jason Latimer with a trick "of epic proportions", and it seems this has inspired him further:
"(Las Vegas legends) Siegfried and Roy gave me my first platinum record on a German TV show years ago, and I became good friends with them, always trying to figure out their illusions. I'm going on tour with my own show from late Feb and March, and wanted to put an illusion in the show. So when I got this call to assist Jason Latimer, I told him I was on board if he would help me, and that was the deal.
"I saw the rehearsal (for the trick in Saturday's show), and it's fricking Hoff The Hook. I've been inspired for my own show, as he can pretty much design whatever trick I want, whether it's bringing a girl on stage from a hen party to do a makeover, or making her lose her clothes, or making something disappear... "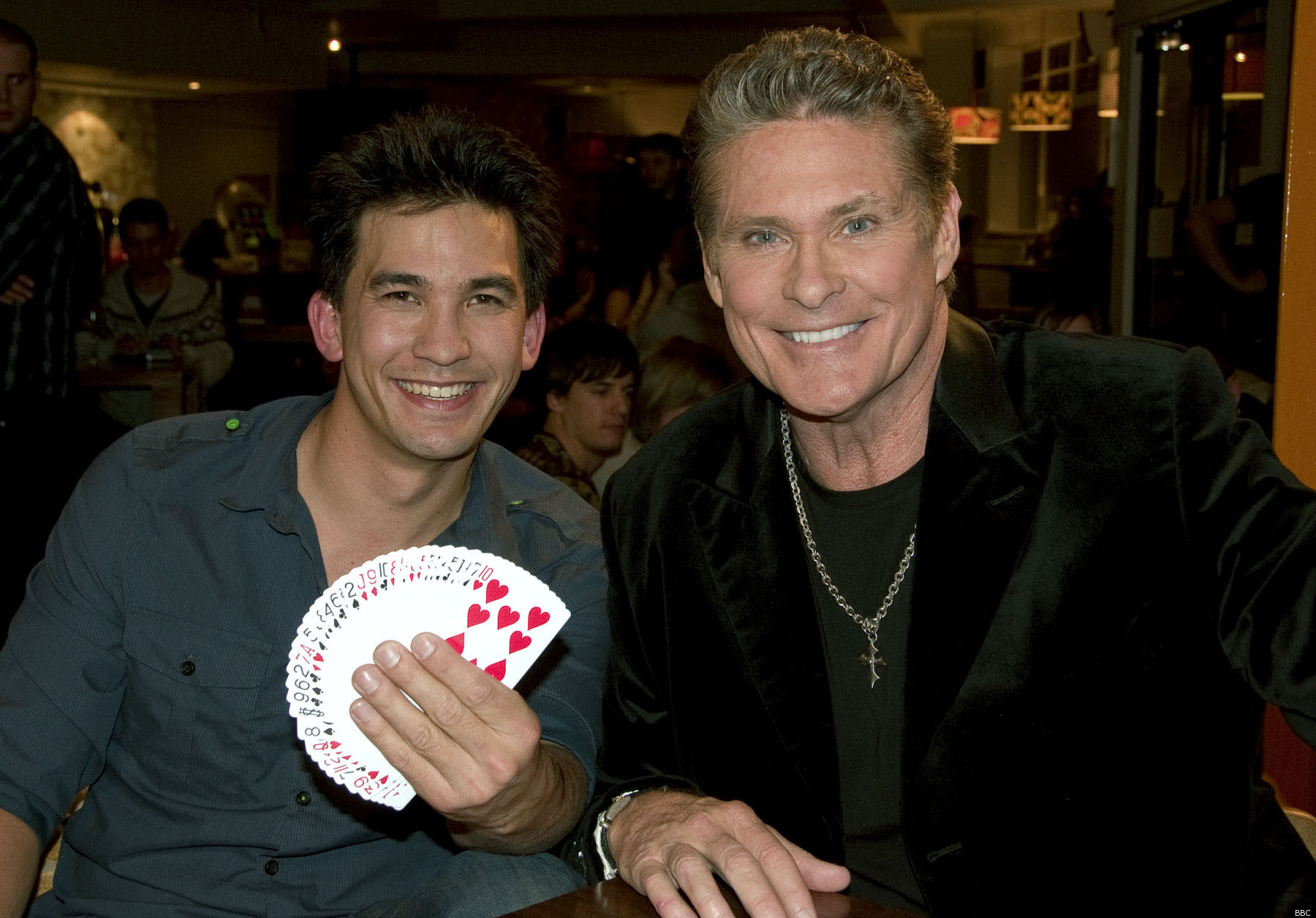 David Hasselhoff with his new friend, world magic champion Latimer
It seems Hasselhoff's imagination knows no bounds. He chuckles happily and agrees:
"The Hoff has become larger than life, so I can't do anything small any more. If I mess up, it becomes big no matter what it is, so if I do something positive, it has to be equally big."
If anyone has had to treat those two imposters triumph and disaster just the same, it's the Hoff. As well as becoming one of the most successful men in TV history, with not one worldwide hit series but two - Knight Rider and Baywatch - he's experienced humiliation too, when a video of him drunkenly eating a cheeseburger made its way onto the internet. Is Hasselhoff scared of public failure any more?
"Failure usually works for me in the end," he explains. "I look at failure, think 'oh my god'. Then, two days later, I find some way of turning it into a joke, doing a TV show about it, doing a commercial or something. So the only things I worry about are, Can I make it to the gym on time, can I work out?
"I'm just trying to figure out how to get eight hours sleep, because even when I'm sleeping, my brain is usually whirring away."
Hasselhoff is not a man to second-guess himself. He put his own money on the line when Baywatch was first axed, and was rewarded with riches beyond measure when it went global. So is there a plan?
"My plan is to be a good father, to make sure I represent my children as a good dad, as a role model, to learn from my mistakes, and try to remain innocent, young and appreciative. The generation of my parents had less and appreciated it more - that's about the best advice anyone ever gave me. I just look at life as an opportunity - I'm still amazed planes can get off the ground and in the air."
What's the secret to his infectious serenity?
"I feel like I'm on a train, we call it the Hoff Train, and the Hoff Train is smoking. The train is guided by nature, by opportunity, and we just go. I always say, we may fall off the Hoff train because we move too fast, but we get right back on it, and we keep going.
Relaxed?
"I'm just ridin' the train, baby."
I think that's a yes.
The Magicians is on BBC1 on Saturday at 6.35pm (UK). You can see The Hoff help Jason Latimer perform his magic in the BBC clip below: