Over a decade since their last cinema release, a whole new generation is waiting to be introduced to the campy, feel-good charm of the menagerie of puppets the rest of us already know and love as the Muppets.
From their classic 1970s TV series The Muppet Show, to their take on films like the Yuletide staple Muppet Christmas Carol and nautical romp Muppet Treasure Island, Kermit, Miss Piggy, Fozzie, Gonzo and the gang have been capturing the hearts and imagination of children for 40 years now.
So it was with dizzy boyhood glee that I went along to meet Kermit the Frog and Miss Piggy, and hear them chat about their return to the big screen, those brainwashing allegations and their fears of being typecast.
A lot has changed since we last saw the Muppets - CGI has brought about new heroes such as Shrek and Toy Story's Woody and Buzz.
So as they prepare to make their return to the big screen with new film The Muppets, why is there still such a thirst to see more from Jim Henson's creations?
"If we knew the secret to that we'd have been back before twelve years," Kermit jokes. "I think it has a lot to do with the fact we've stayed true to who we are but we try to evolve with the times.
"We've always tried to be real - if you were talking to Woody from Toy Story, this would be your interview," he says disappearing from view. "It is nice we can be here."
The Muppets have been given a new lease of life by writer and co-star of the new film, Jason Segel, along with British director James Bobin.
It has already earned itself an Academy Award nomination for Best Original Song for Man or Muppet?, but poor Piggy and Kermit aren't holding out any hope of taking own their own personal gongs any time soon.
Miss Piggy admits her dreams of awards are limited by being a Muppet: "For some reason the Academy does not recognise species other than human, as actors, as artists, as talent," she says.
"They're very species-ist," adds Kermit. But, despite his fame, even he admits his efforts to land other roles have proved unsuccessful.
"I've tried out for a couple of other roles over the years that I didn't get. One was Yoda - right body type, wrong ears; the Incredible Hulk - right colour, wrong body type. It's tough."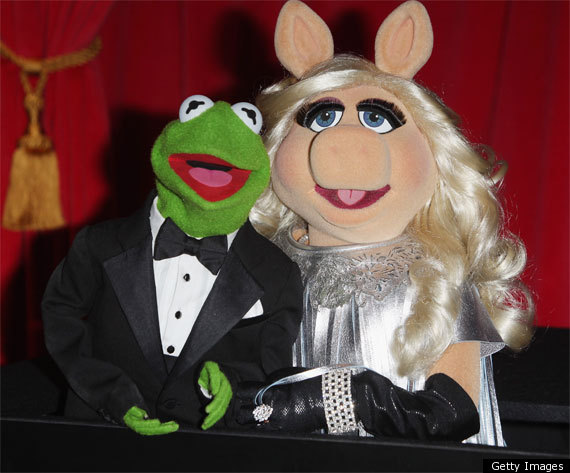 Returning to the role he knows best, playing himself, Kermit has helped The Muppets open across the globe to rave reviews (read our own here). But of course, any sort of comeback would not be without its critics.
As the plot of the film sees the old gang reform to try to rescue the dilapidated old Muppet studios from the clutches of an evil oil tycoon, some cynical spoilsports at Fox News took aim at the Muppets, accusing them of "pushing a dangerous liberal agenda" and "trying to brainwash children".
"It is almost as laughable as accusing Fox News as being, um, you know, news," snarls everyone's favourite piggy diva.
"We're so dangerous," says Kermit. "If we had such a problem with oil companies, why would we have spent have the entire film driving round in a gas-guzzling Rolls Royce?"
And If anyone knows about the importance of political unbias in journalism, it's Kermit, who famously cut his teeth as a reporter on Sesame Street News.
So, in the wake of the phone hacking scandal, does he fancy a return to the profession to restore the public's faith?
Well, Huw Edwards had better watch his back because there's a frog who wants his job.
"I still have my trench coat with moth balls all over it. I'd love to get back into that," he says. "I could cover the Olympics - the leap frog."
And it's exactly that kind of lovable humour that has endeared the Muppets to the millions.
Celebrities have long scrabbled for cameo appearances in their films, just to share a second of screen time with the legendary gang.
And with a whole host of famous faces - including Jack Black and Dave Grohl - joining them for their latest adventure, is there anyone left they want to work with?
That doesn't take much thought for Miss Piggy.
"Brad Pitt," she proclaims
And Kermit? "If we could get Reese Witherspon, I'd be quite happy."
We can only imagine the rollicking Piggy gave him for that one...
The Muppets hits UK cinema screens on February 10.