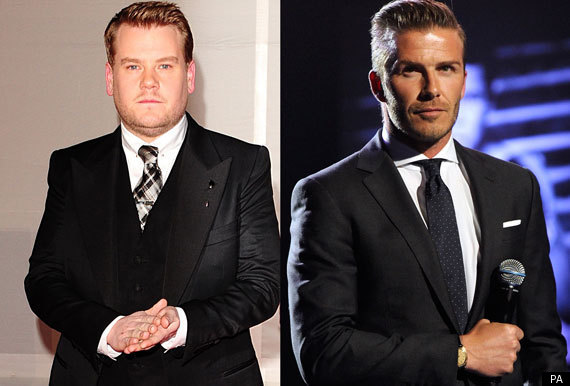 It seems hanging out with David Beckham is beginning to rub off on his mate James Corden by the looks of it.
The comedy star - who is hosting this year's Brit Awards - rocked up to the Brits red carpet at London's O2 in what looked like one of Beck's suits. And hairstyles.
Suits you sir!
The Gavin & Stacey star - who is currently having pain killing injections because of a knee injury - won't be doing a 'Ricky Gervais' at tonight's ceremony, instead he'll be playing it straight.
He told the Evening Standard: "There are so many amazing artists playing this year, my job is just to usher it from place to place. There's no jokes in the script."
Probably a good idea James, we don't want any repeat of the Sam Fox and Mick Fleetwood debacle of 1989 after all.
So for Brits controv, it looks like we'll have to rely on the boozed-up celebs to get up to some mischief then.
We're keeping everything crossed that One Direction have one too many shandies and carry out a Jarvis Cocker-style stage invasion. Come on lads - don't let us down!
BRIT AWARDS 2012 RED CARPET
Brit Awards 2012 Red Carpet