While we all try to take stock and recover from William "Cock" Roache's stunning admission that he has bedded nigh on 1000 women in his life, perhaps, in fact, we should not be that surprised - after all, Kinky Ken has for a long time been Corrie's resident Casanova.
In a candid interview during an episode of Piers Morgan's Life Stories, Roache admitted his out-of-control sex drive earned him the nickname 'C**k Roache' from his castmates.
He also came clean about the steamy fling he shared with former co-star Pat Phoenix, who played Corrie's Elsie Tanner. He told Morgan: "She invited me round to her flat and we had a few drinks, then one thing led to another. At that time, she had a reputation and I had a reputation, and she felt we should meet, as it were. It just happened."
The revelation that Roache, who turns 80 next month and is now in a relationship with a TV weathergirl nearly 40 years his junior, has slept with so many women makes his 27 'relationships' on the screen seem like a drop in the ocean.
Roache's alter ego, Coronation Street's resident intellectual Ken Barlow, has always had a surprisingly effective way with the ladies. In the half-century he's been running a one-man campaign to keep Weatherfield Library in business, he's always had to bat them off - often failing to dissuade, much to longtime love Deirdre's chagrin. So what is his secret?
Perhaps it's because he's the only man on the Street who appears to know his way around an iambic pentameter? Or maybe it's the way he peers over his reading glasses so seductively? Whatever it is, Ken has had women falling at his feet for decades.
Here we remember Ken's long list of lady loves:
Ken's first on-screen dalliance came in 1960 in the form of student Susan Cunningham, he then quickly moved on to Marion Lund - a librarian who turned out to be engaged - followed by Valerie Tatlock, his first wife and mother of son Peter. She died, famously, from an encounter with a faulty hairdryer. Ken cheated on Valerie with Pip Mistral, an exotic dancer and Jackie Marsh, a reporter,
Well, there was Yvonne Chappell, a receptionist who turned down his proposal, then Norma Ford who "used" him. These were followed by a fling with Rita Littlewood and a marriage to Janet Reid, who committed suicide. Then came Gaynor Burton, with whom he got physical at a party, and unionist Peggy Barton. Bringing up the rear were graduate Wendy Nightingale and two brief stints dating chiropodist Sally Robinson and Deidre Langton (remember that name).
Adventures in the eighties
Ken had a dalliance with yoga teacher Sonia Price. This was followed by a reunion with Deidre Langton whom he decided to marry on the same day as the Prince and Princess of Wales in 1981, but who broke his heart with her affair with Mike Baldwin. He soon followed suit with secretaries Sally Waterman and Wendy Crozier.
Then along came Alma Sedgewick, a cafe owner, followed by florist Maggie Redman and Denise Osbourne, who became the mother of his son Daniel. Then it was back to Deidre for a brief reunion, but after a row he turned to the arms of headmistress Sue Jeffers for a fling. Finally, in 1999, Ken and Deidre got it together for good in their fourth marriage. But that hasn't stopped naughty Ken straying twice more, once with Anita Scott and then with Martha Fraser, played by Stephanie Beacham, in 2009, with whom he bonded over their love of literature after meeting while out walking his dog, Eccles, near the canal.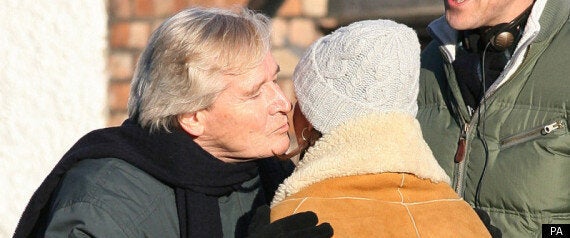 Recently Corrie's producers have laid off exploiting Ken's sex appeal. But if that list sounds exhausting, times it by 37 and then you might just come close to Bill Roache's off-screen antics... got to hand it to the man, there must be something in the Weatherfield water!