"I think I would have scrambled over everyone in sight to get off," says Celia Imrie, reflecting on the sinking of the Titanic in 1912, which killed more than 1500 people.
Imrie, a quintessentially English character actress with a slew of acclaimed film roles to her name, including Calendar Girls and Bridget Jones's Diary, has just finished filming a role in Downton Abbey creator Julian Fellowes' four-part ITV drama Titanic, which she says has given her a better sense of what it was really like to be on board the ill-fated ship.
Although the show was mainly filmed in a large water tank in Budapest - rather than the North Altantic Ocean - Imrie explains that the 86-strong lead cast and hundreds of extras meant she "got a sense of all these people scrambling for their lives" as they recreated the harrowing scenes where Titanic's 2201 passengers attempted to board 20 lifeboats, with their total capacity for just 1,178 people.
"It makes you think what, would you have done? What would I have done?" says the Olivier Award winner.
She adds: "We don't know what really happened and it's not our job to judge... people have got a great sense of survival and I think that's what makes the scenes very good because you've got this great mass of people fighting for their lives."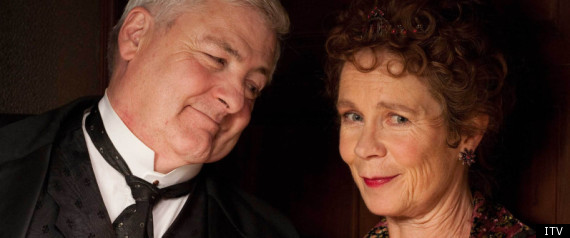 Imrie - whose last film role saw her star alongside Dame Maggie Smith and Judie Dench as a British retiree in The Best Exotic Marigold Hotel - plays first class passenger Grace Rushden in Fellowes' highly-anticipated TV adaptation of the Titanic story.
Talking about her character, she says: "She has the most appalling discovery [on board the ship] that, although she's in first class, that doesn't mean she gets first class treatment, particularly from the other passengers, which I think is terrible. So I totally sympathise with poor Grace, she's constantly reminded that actually she's in trade, how rude.
"It's shocking, I hope people wouldn't be quite so blatantly rude now, but the whole question of class and who goes where is very, very magnetised on the Titanic."
Imrie is clear on what attracted her to the role. Without hesitation, her piercing blue eyes sparkling, she states: "I loved the story and I love being aboard ships. I know if I had the chance of going aboard the Titanic in those days I would have gone, I know I would have, I adore going on the Queen Mary - I think it's the only way to travel from New York.
"I can absolutely understand the excitement and also the glamour of it all and it's thrilling to see it on the screen actually... it really was probably the most luxurious ship there's ever been... The first day I went on to the deck and walked my dog it was absolutely extraordinary, a brilliant piece of design."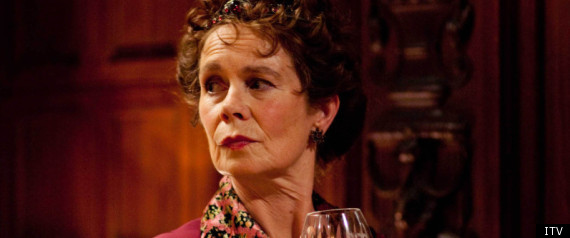 But was she worried about how the ITV show would match up to James Cameron's epic Titanic - winner of 14 Academy Awards - and a film that has taken an estimated $1.8 billion since its 1997 release and is making its way back to cinemas this month in 3D form?
"Not really, it is the same story, you'll know what the ending is. But actually I think you daren't think about that, you're best to see it as fresh from the beginning."
Imrie explains Julian Fellowes' talented period-drama pen has added something different to the story, setting it apart from the romantic tale of Jack and Rose engrained in millions of minds since Cameron's flick:
"He's very cleverly done it from different viewpoints and what's clever is the overlapping, so you might see something in episode one and then you'll see it in episode three and think 'oh yes I remember when she said that.' I think that's rather marvellous."
Imrie is also quick to point out another difference between Fellowes' Titanic and the 1997 film. Praising the "magnificent supporting artists from Budapest who probably didn't understand what was being said", she says: "They were really rather marvellous sitting in the life boats for hour after hour.
"I heard terrible stories about the way [extras] were treated on the film, which is apparently all true, I better not say too much, but hopefully we were kinder to our cast because it matters very much."
The St Trinian's star was happy to work with Academy Award-winning Fellowes, although she says: "We didn't see him very much, he was there at the read-through correcting any pronunciations - quite rightly - and then he came out and visited us one day but that was all." However, there was someone she was even more thrilled to be working with... her Pekinese pet pooch: "I won't leave without my dog, that's my loved one. He was in every scene."
SLIDESHOW: Titanic's cast in action...