Bolton Wanderers manager Owen Coyle said he hopes there will be "a happy outcome" for Fabrice Muamba as the player continued to fight for his life after collapsing yesterday.
Coyle was speaking outside the London Chest Hospital where the footballer is being treated after he collapsed as Bolton Wanderers played Tottenham Hotspur at White Hart Lane at 6.11pm.
It emerged today that paramedics could not get the 23-year-old's heart to start beating on its own for almost two hours after he suffered cardiac arrest and collapsed on the pitch during an FA Cup quarter final tie.
Coyle told reporters: "We certainly hope that he comes through." He said: "From our end, and on behalf of the family, we certainly want to say thanks to everybody. Everybody is praying for Fabrice which is very important and that has been a real source of strength to the family. We know it's such a difficult time for everybody involved, our thoughts are with Fabrice's family. We certainly hope he comes through this."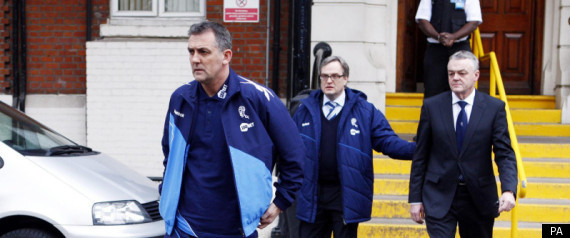 Coyle and Gartside outside the London Chest Hospital
"It's great to be talented at football but it is more important to be a genuinely nice man and Fabrice is that.
"Our concern is Fabrice and Fabrice only and that's what all our energy is going into - hopefully a happy outcome."
Chairman Phil Gartside added: "The support that we had yesterday from Tottenham and our own fans was fantastic - the staff, the fans, the players and the officials at the game - it was unbelievable
"We have had so many messages of support from around the world."
Earlier, South Wales Police arrested a man for allegedly posting racially offensive tweets about the critically ill footballer.