Blind auditions on The Voice continued on Saturday night's show with plenty of experienced singers trying their luck.
West End star Kerry Ellis, who's been performing in hit musicals for ten years, and eighties superstar Denise Pearson from Five Star, both auditioned on the show.
Pearson said: "I want to achieve the same success I had with Five Star, but I want to go bigger", before she belted out Christina Aguilera's Fighter.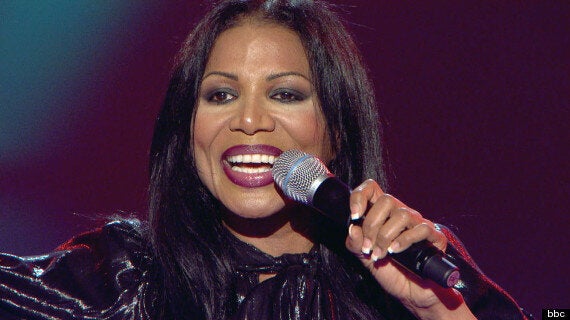 Tom pressed his button for Denise, but Kerry, who sang Son Of A Preacher Man, was rejected by all four coaches. Tom consoled her by saying: "You seem like you've already made it."
And as the coaches got closer to forming their teams of ten acts it became clear they were finding it much harder to choose when to press their red buttons.
Actor Heshima Thompson, who's previously appeared in EastEnders E20, Holby City and Spooks, opened the show with an attention grabbing version of Taio Cruz's Dynamite. He got all four judges to turn around quickly and Danny said: "I immediately thought man that guy's got something… you're one to watch in this competition." Wil.i.am won Heshima over by adding: "I think you're amazing."
Next Glasgow gran Barbara Bryceland sang a powerful rendition of Wild Horses and it was clear from the start Tom Jones would be the man for her. He pressed his buzzer and said: "We're going to destroy all these other people."
Barbara was followed by David Julien, who quit his job stacking shelves in a supermarket to sing the The Man Who Can't Be Moved to The Script's Danny - the man who wrote the song. Danny told him: "You've got some cojones coming on here singing my song." Will.i.am fought for him but David eventually chose Danny.
Standout performances of the night included Vince Kidd's soulful rendition of Like A Virgin. He said he wanted to make the song something new, and he did. Will.i.am exclaimed: "You flipped the hell out of it. I never thought someone could take Madonna's ultimate pop song and add so much soul sauce." All four judges turned round, but Vince chose Jessie J.
The vocal shock of the night came from Essex teenager Shansel Huseyin, who gave an impressive operatic performance. She said she discovered her talent while tacking the mickey out of Katherine Jenkins. The judges didn't turn around as they expected someone older. But Will.i.am said: "I've missed an opportunity."
Other acts that did make it through to the next round included Vince Freeman, who sung Sex On Fire with bare feet, Alex Josh, a 17-year-old life guard who sang I'm Yours, and 18-year-old Frances Wood, who performed Will.i.am's Black Eyed Peas hit Where Is The Love.
The blind auditions continue next week and as it stands Tom now has six acts, Will.i.am three, Jessie five and Danny four.
Who was your favourite act of the night? Let us know below...