Like many artists and writers before her, award-winning poet Allison McVety has drawn inspiration from the story of the Titanic for a poem that is currently helping to mark the 100th anniversary of the tragedy.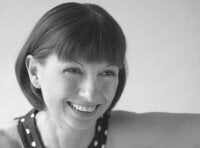 McVety told HuffPost Culture: "I have long been fascinated by a photograph of Ned Parfett selling newspapers outside the White Star line on the day after the Titanic sank."
"The poster he holds says "Great Loss of Life" but what perhaps interests me most is Parfett's almost oracular expression as he looks across Cockspur to a future where titanic is not so much a noun but an adjective for the losses to come in the First World War, where he was to die on 29 October 1918, at Valenciennes."
Crossings is part of Derek Adams' exhibition Traced in the Shadows showing at London's Poetry Cafe, which also includes a portrait of McVety. But you can read it below, too.
Crossings

Not in the photograph but later, the newsboy

will put down the iceberg; the ship

and all the lost souls will rivet the sea.

The strings of the orchestra will slip their tunes,

the wind section will loosen its last breaths

on the slide of the deck. Not in the photograph

but later, he'll rise from a chill bed, wet with sleep,

shave his newly-conscripted growth, cross

Cockspur – the no-man's-land of six short years –

toward the broad kerb of armistice. Not

in the photograph, but later and two weeks

shy of peace, he'll stumble in the gutter of a shell.

And in the photograph, there's something

in his look-out stare that says he sees what's coming:

the crossing to France, the read-all-about-it headlines –

titanic numbers looming in the night.
Related