The FA Cup was lucky to have four esteemed clubs in its semi-final this year, and now it has Liverpool and Chelsea contesting Saturday's final.
Given how both clubs are prone to riling supporters of other teams, others have replaced the "cup" in cup final day with another word beginning with "C", but ending in "T".
But that isn't the reason for the turn-off. The FA Cup is a competition which has slowly, painfully, negligently died over the last dozen years.
Irrespective of what the idealists and romanticists will tell you, it cannot be denied. And here's 11 reasons why:
1. KICK-OFF TIME
When "Abide With Me" played at 14:45, stirring the emotions and making grown men cry, the day meant something. Now it will be sung close to tea-time as the sun sets rather than the possibility of glorious sunshine.
How apt that darkness should descend. Traditionally, the cup final has kicked off at 15:00pm, but hey, to to hell with tradition. Because those across the pond need an extra two hours sleep so they can be fresh to switch on their TVs and tune in to the occa$ion.
2. FIXTURE SLOT
The final is being played on the weekend of the penultimate round of Premier League fixtures. If it is a showpiece event, it is deserving of its own weekend, isn't it?
Inevitably, the FA will trot out some rubbish about it helping England ahead of a major tournament when we all know it won't. Furthermore, it just cannot compete with...
3. THE CHAMPIONS LEAGUE
Nowadays, teams would rather finish fourth than win the FA Cup, even if it only guarantees a qualifying round berth for club football's premier cup competition. Yesteryear, the biggest cup final on the calendar was the FA Cup final, but in the 21st century Champions League final day beats it like Han Solo does Jar Jar Binks in Star Wars Top Trumps.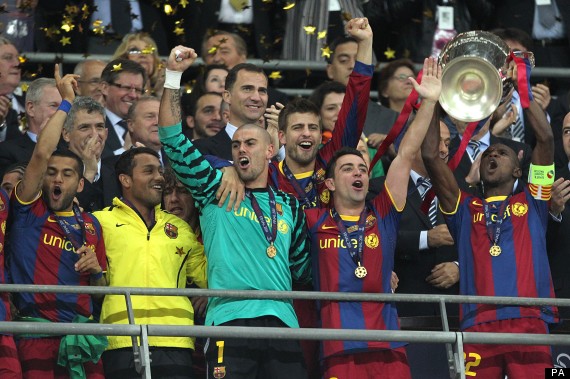 Woe is the FA Cup
4. LITTLE INCENTIVE
Whoever wins the FA Cup cannot mask their shortcomings. Whereas winning the trophy once signified umpteen qualities required to succeed in knockout football, now it is blemished by the vast majority of sides being simply unarsed over their elimination.
5. WEMBLEY
Not so much a football stadium as a shopping mall. A plasticised, soulless and extortionate arena which dilutes any atmosphere and caters for VIPs ahead of FANs, it has none of the charm of its older incarnation and never will. Instead of the twin towers, a superfluous arc is its insignia. They still call it Wembley Way outside but it doesn't feel like it.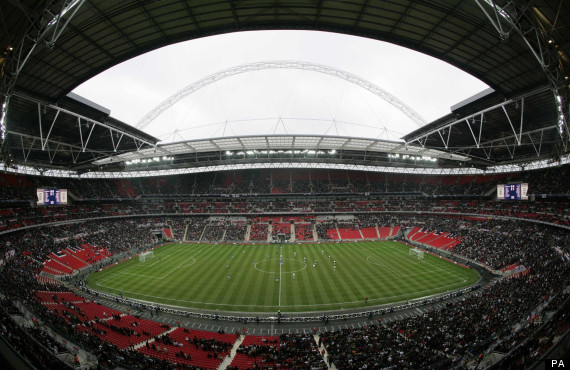 Muzak music?
7. LACK OF TICKETS
In a 90,000-seater stadium, each club has been given 25,000 tickets each for the final. The maths isn't difficult, but combined, that's just over half of the entire stadium allocated to supporters. A staggering 40,000 briefs will go to sponsors, hospitality attendants and bureaucrats when six decades ago the 100,000 capacity was made up almost entirely of real supporters.
6. COST
On Thursday, the FA's official Twitter account tweeted: "The FA will donate £1 for every #FACup Final match programme sold to the charity Cardiac Risk in the Young." A terrific cause, but will anyone want/be able to afford a £10 programme after forking out for a ticket? Programmes are obsolete at football grounds now, chock full with advertisements and mundane musings. Whereas they were once essential, they now embody the crass commercialism football exudes.
8. SEMI-FINALS AT WEMBLEY
This is staged in order to recoup the finances on the behind-scheduled and pricey cost of the shopping mall. So last month saw the daft scenario of two Merseyside clubs travelling over 200 miles south for a 12:30 kick-off, when a better stadium and more suitable venue was just 40 miles away down the East Lancs Road (Old Trafford).
9. MANCHESTER UNITED'S WITHDRAWAL IN 1999
Although not the first knife plunged into the FA Cup, this did undermine the competition's importance. Under pressure from the FA, United played in the Fifa World Club Championship in Brazil in January rather than defend the cup starting in the third round. Their disastrous three-game group phase and subsequent elimination only augmented the nationwide anger.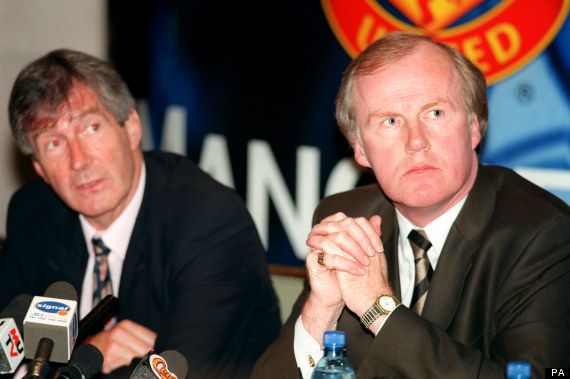 United chairman Martin Edwards and FA press officer David Davies field questions on the club's withdrawal
10. HARD-FI
On 23 April, The FA tweeted: "This season's FA Cup with Budweiser Final headline music act has been confirmed by The Football Association as Hard-Fi."
Not only is this the worst sentence ever (Budweiser, grammar), it informs us The Greatest Cup Competition In The World™ can only entice a band who make us live for the next weekend when they ain't playing.
11. ITV1 AND/OR ESPN
Your choice on Saturday is either Adrian Chiles presenting with Clive Tyldesley and Andy Townsend commentating, or ESPN's pitchside desk complemented by Chris Waddle's unintelligible idiocy in the gantry. It's like choosing between Ken Livingstone and Boris Johnson, with the best choice arguably to opt for neither.
If you tune in to ITV, be prepared for transmission to be lost for a few seconds, as has happened in three games across four seasons. In two matches, goals were scored during the sudden loss of picture. Leeds fans chanted "ITV is f*****g s**t" at the Emirates during the corporation's live coverage of their cup tie at Arsenal, and now it's the hashtag of choice on Twitter whenever they air football.
Where once it was Sky's peerless coverage or the BBC's classy build-up, now we have US-style bonanzas which are as much a turn-off as The Voice.