Will.i.am may have run into trouble for spending more time looking at this phone than at the contestants during last weekend's instalment of The Voice, but he's got plenty to say about his tweets, and why he does it...
"I like to give the fans who are responsible for me doing what I'm doing a deeper look at what's actually happening," he told HuffPostUK on Wednesday night. "So I make an effort to keep them connected.
"When I'm getting ready to do The Voice, I'm saying, 'I'm about to go up there... I hope my team does well today... I'm really nervous for them... Oh, shucks, Jaz did a really good job, go Jaz'... team, Will'... these are things I'm talking about."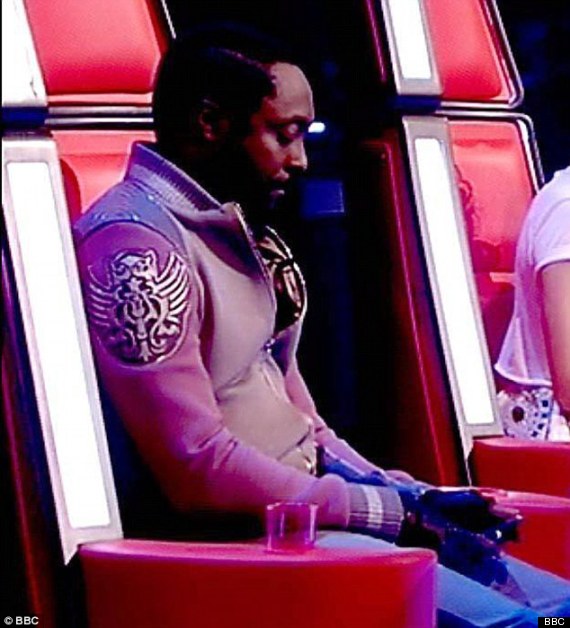 Will.i.am came under fire for tweeting on last week's The Voice
The uber-rapper, producer, philanthropist and star of Black Eyed Peas was talking at the Royal College of Arts' Innovation Night in London, and was happy to continue the theme of innovation, while talking about his role on TV:
"In 2000, there was only one screen, and that was a television. You had to be on, looking at the camera all the time, you're a hero.
"But this isn't how people watch TV now - they're tweeting, they're on their Facebook, watching the show and searching for information to see if it's accurate. What you haven't seen is interaction, what people on TV do while they're on TV, you're not just supposed to be on TV while you're on TV today, that's old school, you're supposed to be tweeting, socialising, especially if it's social TV.
"Now, if I was scripted, if I was given words, of course I'm not going to tweet, I'd be too busy remembering my lines, but if I'm there being social, then I'm going to socialise. It's a new thing."
William Speaks On:

Where Technology's Going, And Why We Don't Need Another Musician Any Time Soon
How His Mother Has Influenced Everything He's Done
Why He Concentrates His Charity Efforts On The Ghetto Where He Was Raised
... And How The Voice Has Fundamentally Changed Him In Ways He Couldn't Have Guessed

Read the full piece on HuffPostUK tomorrow
His tweets from The Voice aren't the first time the musician has decided to share his thoughts with the masses, it's "whenever there's something massive" - even when he's DJ-ing, and even performing himself to a global audience:
"I was at the Superbowl, and I was tweeting, 'I'm coming down right now,' and I told Oprah and everyone to follow me on Twitter so they could have a different perspective of what I'm surrounded by right now. I'm there, taking pictures backstage of everybody – don't you think fans of the Black Eyed Peas want to see what we're doing, how we're getting dressed, deciding what shoes to wear?"
MORE: All the latest news, pictures, videos and gossip from The Voice
What of the people who thought he wasn't paying attention to the acts? Dismissed with a wave of the perfectly-styled eyebrow.
"It's a new thing, of course they're not going to understand."
So does this rule of 'don't be late, communicate' apply to everyone in Will.i.am's world - his own Voice contestants included, while they're singing?
"If they managed to tweet while they were singing, they should." (Wow!)
What about his speed dial friend, Mr Barack Obama if, as Will.i.am undoubtedly hopes, he appears at another presidential inauguration - do we want him to share the experience with his nearly 15 million followers?
Will.i.am actually hesitates at this, but it seems to be a technical challenge that's concerning him...
"I'm not sure the President can - not sure he tweets himself" ... the brow clears... "but he should."
Oh, and in a teeny aside, his verdict on friend Cheryl Cole's GQ cover? One word. "Smoking."
Ruth Brown stole the show on last week's The Voice - wonder who'll raise the roof this week and, who knows, perhaps cause even the communicative Mr W to raise his head from his phone...