Looks like Lady Gaga has been taking inspiration from McFly songs of late, as she became the girl with Five Colours In Her Hair. The singer was sporting multicoloured highlights in her tumbling locks as she jetted into Japan earlier today, ahead of the latest leg of her Born This Way Ball tour.
And of course she was greeted by hundreds of fanatical little monsters as she touched down at Tokyo's Narita International Airport dressed in spiked leather and ultra high platform shoes - how she walks in them is still a mystery to us. Last night she told fans of how excited she was to take her tour to Japan, tweeting: "On my way to TOKYO!!! I'm so excited I'm gonna sit by the pilot on the planes and ask him to go faster!! *are we there yet* :))"
Gaga looked rested up after her last gig in Hong Kong, when the poor mite showed how tired she was, tweeting a picture of herself asleep in her dressing room.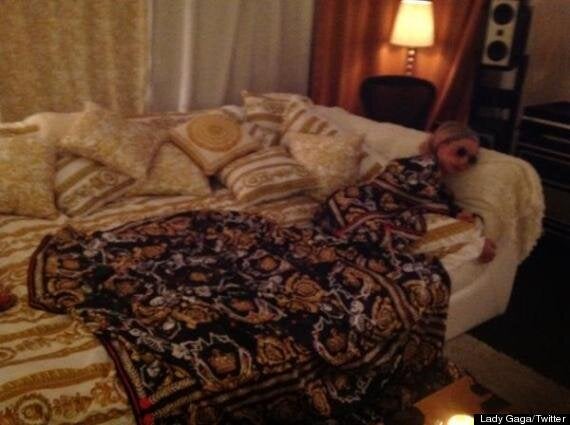 Posting the snap on Twitter, she wrote: "Drop dead after last Hong Kong. You Chinese kids are fucking crazy, in my dressing room recovering. Thanks Donatella X"
Gaga has also been helping young Japanese wannabes out ahead of her arrival in the country, selling off a teacup of hers.
The cup and saucer she used during a Tokyo press conference in 2011 has sold for £46,000 (over six million Yen) at a Japanese auction.
The money raised will help young Japanese artists who want to study in America.
> IN PICS: GAGA'S MOST OUTRAGEOUS LOOKS