A primary school pupil has raised eyebrows - and lurched stomachs - by posting pictures of their 'shocking' school dinners online and rating them out of 10.
The schoolchild, who has now been identified as Martha Payne, has so far only posted two pictures on the blog - NeverSeconds - due to her camera "eating batteries" on day one.
"My best laid plans to take a photo of my school lunch everyday was ruined by a battery eating camera," she explains. "So no pic of my Shepherd's pie. Tomorrow I hope normal service will resume and I will begin my blog properly, no more false starts!"
Every post will include an image of the meal and a ratings list and dinner will be judged by the following categories:
Food-o-meter - "Out of 10 a rank of how great my lunch was"
Number of mouthfuls - "How else can we judge portion size"
Number of courses
Health rating
Price "Currently £2 I think, its all done on a cashless catering card"
Pieces of hair - "It wont [sic] happen, will it?"
After the first camera debacle, the author says her father lent them a camera. "I think he's quite shocked at the pictures though," they wrote online.
The first picture shows an "alright" slice of pizza, a smattering of sweetcorn and a lonely potato croquette. "I'd have enjoyed more than 1 croquet," the child bemoans. "I'm a growing kid and I need to concentrate all afternoon and I cant do it on 1 croquette. Do any of you think you could?"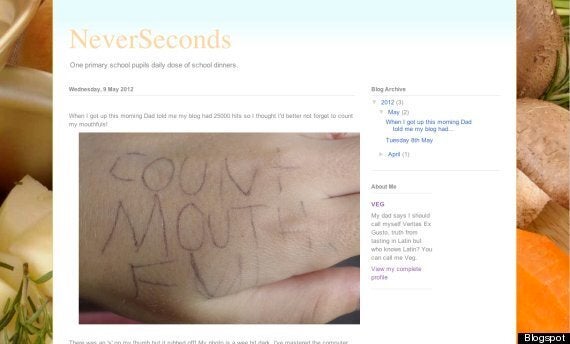 Payne's blog has become an internet sensation
The next day's offering consists of a very generous two croquettes, a shrivelled-up cheeseburger, one ice lolly and three pieces of cucumber.
"Today's meal was on the menu as Cheeseburger and ice cream/biscuit but as you can see I got an ice lolly. I prefer ice cream. I wish they had stuck to the menu. I did get 2 croquettes though only 3 pieces of cucumber when I said no thanks to the peas."
At the end of Tuesday's post, the pupil adds: "The good thing about this blog is Dad understands why I am hungry when I get home. Today he made a Banana Loaf, shame I don't like bananas, see I am not perfect!"
The post, which has already had 64 comments, has riled its readers who have condemned the school for the pitiful lunches.
"Vile and inadequate," one reader says. "Do keep it up - you can change the world!"
A man who says he is the child's father has now tweeted:
The pupil's father seems to think the blame should not fall on the school, saying he asked permission for his daughter to take pictures and the school agreed.
He speculates: "Wonder if school unhappy so allowed pupil to make blog to publish issue?"
Related