The Voice coach Will.i.am's best friend and fellow Black Eyes Peas member Apl.de.Ap has revealed his plans to follow in Will's footsteps and become a TV talent show judge.
Speaking at a fundraiser for his We Can Be Anything campaign, the Filipino-American rapper told The Huffington Post UK of his plans to launch a talent contest in the Philippines.
"I've been working myself up to do it because I'm not used to being on TV everyday... I've been offered a show for next year," he revealed.
Talking about the judging line-up he said: "It's probably going to be other Fillipino artists - definitely Arnel Pineda the lead singer of Journey, Cherise and Bruno Mars. It will be funny if Will does it with me, right? He won't understand a bunch of the songs."
However, Apl's inspiration for launching a show is by no means superficial, it's all part of his vision to bring hope, opportunity and aspiration to the children of the Phillipines who are - as he once was - living in poverty.
Apl was adopted at the age of 14 by an American sponsor named Joe Ben Hudgens who he met through a dollar-a-day programme and was brought to LA, which is where he met his best friend - Will.
"We're like best friends, brothers. When I was a adopted from the Philippines and brought to the US it felt like God had an angel waiting for me and that was him," said Apl.
Despite not being able to speak English, Apl formed an instand bond with Will over their mutual love of dancing and rapping: "He was from LA in a poor neighbourhood but when we met we had that same dream, we stuck together."
The pair went on to form the Grammy Award-winning group The Black Eyes Peas, who have now sold over 56 million records worldwide.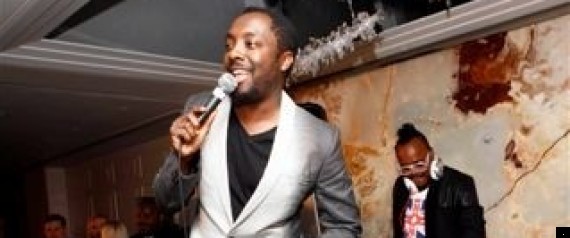 Will, who rushed over from filming Saturday night's episode of The Voice to support his best friend and give a surprise performance at the fundraiser, held at The Westbury hotel in Mayfair, told us: "I come from a very bad neighbourhood and Apl saved my life.
"If I'd never met Apl, I probably would still be in that same ghetto and who knows what life would be like. I know there would be no Black Eyed Peas if I hadn't met Apl... it all started the day Apl landed in LA."
And he added: "I went to his graduation, not mine, because I wanted to see him walk the stage. Because when he came he didn't speak English and then he graduated with flying colours."
Apl's We Can Be Anything campaign - complete with a music video (below) - aims to build 10,000 new classrooms in Philippines in the next two years, so more schoolchildren will one day reach graduation.