Cannes Film Festival used to be all about Hollywood's A-list, but one person who is single handedly trying to change all of that is Kelly Brook. The model has sure been trying her best to get in front of any cameras as possible since arriving at the festival earlier this week, and one sure fire way to detract from the likes of Brad Pitt et al is to ditch the clothes. Fresh from stripping down for a phone booth bikini shoot yesterday afternoon, the model got them out again for another shoot in front of a baying crowd of paparazzi.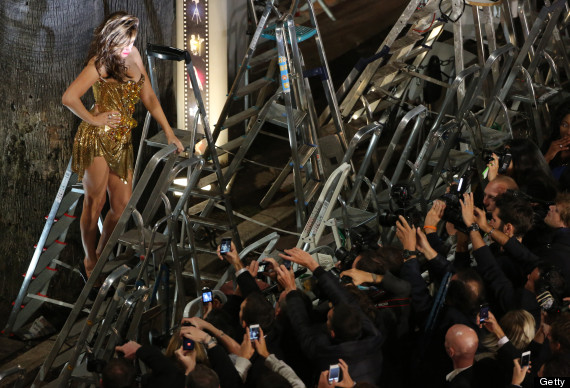 All eyes were on Kelly as she donned a sparkly gold number which showed off her famous assets.
After her modelling duties were over, Kelly partied late into the night as she boarded P. Diddy's private yacht for a boat party. On board, Kelly was seen deep in conversation with a mystery man. Also partying with Kelly on the yacht was Kim Kardashian, who was bonding with her brother's girlfriend Rita Ora.
Kelly has been in Cannes to promote Keith Lemon's new film Keith Lemon: The Movie, where she also suffered an indecent proposal during a photocall.
A French millionaire offered the model a cheque for £800,000 to spend the night with her.
According to The Mirror he began screeching, "Just one night! Please, one night! I have money!""
A bodyguard then came to her rescue and ejected the man from the lavish Majestic Barriere hotel.
Kelly assumed the stunt was organised by notorious prankster Keith, but he insisted he had nothing to do with it.