We have to say that when it was announced Rita Ora would be a guest judge on The X Factor, we were a little flummoxed.
Yeah yeah, she is pretty cool and does have a number one single to her name, but she's not even released an album yet so what advice she'll have to give to the contestants is anyone's guess.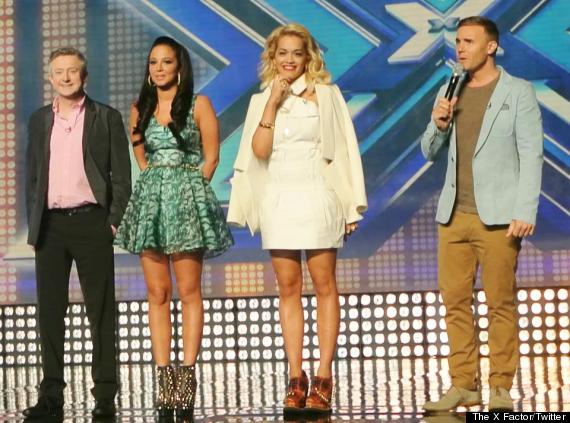 And remember it wasn't long ago there were rumours that Katy Perry would be joining Tuilsa, Gary and Louis for a stint behind the desk, while producers still scrabble to find a replacement for Kelly Rowland.
Is that the sound of a barrel being scraped?
Anyway, despite our reservations, Rita joined the gang as auditions continued in London today. Arriving at London's O2 Arena this afternoon, Rita - who is rumoured to be dating Kim Kardashian's brother Rob - posed for the cameras in a white collared dress and blazer combo, teamed with statement sunnies. Tulisa also put in her best look so far this year (in our humble opinion) wearing a turquoise summer dress and fierce heels. So it's that time again folks, it's The X Factor Fash-Off!
Just before she took her seat, Rita couldn't contain her excitement at joining the show, tweeting: "IM HERE...... I CANT BREATHE! X-FACTOR..... IM JUST LIKE YOU REMEMBER THAT. IVE JUST STARTED TOO IM HERE TO HELP!"
Alright love, no need to shout.
Mel B is set to join the panel as auditions hit Manchester later this week, following in the footsteps of fellow Spice Girl Geri Halliwell and Leona Lewis, who've both already had their turn in the hot seat.
> ENTER OUR COMPETITION TO WIN ONE DIRECTION GOODIES
> CELEB PICS OF THE DAY