Former Number 10 communications chief Andy Coulson has been detained on suspicion of perjury during the Tommy Sheridan trial at the High Court in Glasgow.
A Strathclyde Police spokesperson said on Wednesday the ex-News of the World editor had been detained by their officers at 6:30am. He arrived at a Glasgow police station on Wednesday afternoon.
Officers now have 12 hours to question Coulson.
"Officers from the Strathclyde police Operation Rubicon team detained a 44-year-old male in London this morning under section 14 of the criminal procedures Scotland Act on suspicion of committing perjury before the High Court in Glasgow. It's inappropriate to comment further at this point in time," police said in a statement this morning.
Operation Rubicon is the Scottish investigation into phone hacking.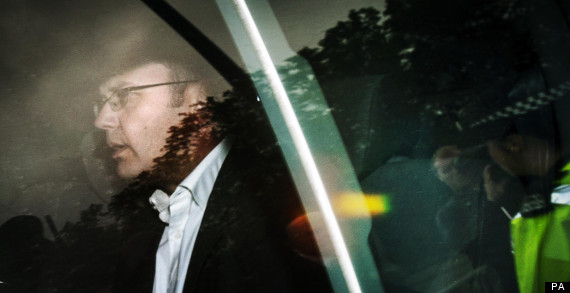 Coulson arrives at Govan Police Station in Glasgow
Sheridan has claimed the detainment of Coulson is the first step in the "journey towards the quashing of my conviction."
The development relates to evidence Coulson gave to the Tommy Sheridan trial in December 2010, STV news reported. Sheridan was found guilty of lying under oath during his successful defamation action against the News of the World
Former Scottish Socialist Party leader Tommy Sheridan was convicted of committing perjury in December 2010, following the politician suing the News of the World for defamation in 2006.
Operation Rubicon detectives have been looking at whether certain witnesses lied to the court during Sheridan's trial as part of a "full" investigation into phone hacking in Scotland.
Coulson, then employed by Downing Street as director of communications, told the trial in December 2010 he had no knowledge of illegal activities by reporters while he was editor of the News of the World. He also claimed: "I don't accept there was a culture of phone hacking at the News of the World."
Coulson was arrested last year in relation to Scotland Yard's long-running investigation into phone-hacking at the News of the World.
He was held in July on suspicion of conspiring to intercept communications and corruption and had his bail extended earlier this month.
Coulson resigned as editor of the News of the World in 2007 after the paper's former royal editor Clive Goodman and private investigator Glenn Mulcaire were jailed for phone hacking.
Only months later, in May that year, he was unveiled as director of communications and planning with the Conservative Party.
He quit his role as Downing Street communications chief in January last year after admitting the News of the World phone-hacking row was making his job impossible.
Sheridan's trial, which lasted almost 12 weeks, was one of the longest of its kind in Scottish legal history.
The former Scottish Socialist Party (SSP) leader represented himself after parting company with QC Maggie Scott.
He was convicted of five out of six allegations in a single charge of perjury relating to his evidence during the civil action at the Court of Session in Edinburgh.
Reacting to the news in a statement on Wednesday Sheridan said: "I am limited in what I can say given that we now have a very live investigation.
"We were led to believe by Mr Coulson and his acolytes at News International during my trial and the initial phone-hacking investigations that the problem was a rogue reporter. It's the equivalent of a bad apple in the barrel.
"Well, I think we all know now that there is no bad apple in the barrel, what there is is a rotten orchard full of bad apples.
"Fortunately, given the hard work of Operation Rubicon, we now have a start to what will hopefully become criminal charges and hopefully Mr Coulson won't be lonely but he will be joined by colleagues in the future.
"I firmly believe that today marks the first in the journey towards the quashing of my conviction, which was unsafe and unsound."
Calling for an urgent review of the Sheridan conviction, MP Tom Watson said: "Tommy Sheridan was convicted on an 8-6 verdict of a jury in a Scottish court.
"Mr Sheridan lost his liberty and is still the subject of restrictions on his movement.
"The detention of Andy Coulson further highlights why Mr Sheridan's conviction was unsound.
"It is now abundantly clear that members of the jury were not in full possession of the facts.
"If they knew what the police now know, it seems impossible not to conclude that Mr Sheridan would be a free man.
"His conviction should be urgently reviewed.
"If the First Minister had any honour, he would launch an immediate inquiry into illicit information techniques practised by News International's employees in Scotland."
The maximum sentence for perjury in Scotland is life however it is normally between 3-5 years.
Comments on this entry have been closed for legal reasons.