What do you get when you put together three aging members of 90s pop group S Club 7, some questionable dad dancing, one Dannii Minogue, and an Australian breakfast TV show?
This very odd viewing experience, that's what.
S Club's Jo, Bradley and Paul were performing on The Morning Show in Australia to promote the tour they are currently doing as a three piece.
But despite having four backing dancers that filled the slots of the absent Tina, Hannah, Rachel and Jon rather nicely, they were after a high profile name to join them on stage, and found it in the shape of a former X Factor judge.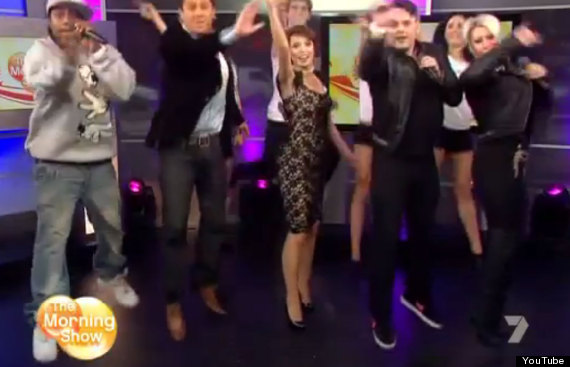 Dannii - who was turning her hand to presenting for the day on the breakfast show - got involved with with some of the famous moves to Reach.
On her new telly role, Dannii said: "Stepping into the co-hosting role with Larry on The Morning Show was so much fun.
"Larry and I know lots of daggy dance moves, so we put them to the test while S Club performed their hit song, Reach."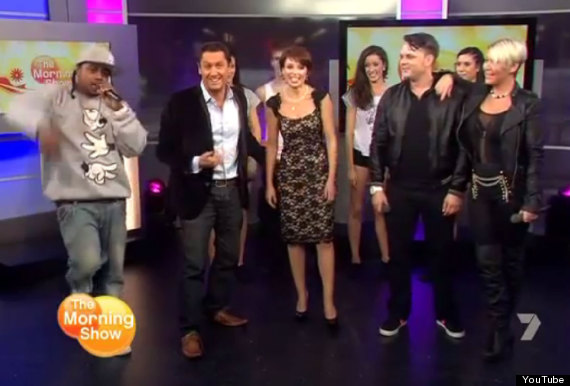 We know you turned down Simon's £1m offer to return to X Factor, but seriously love, have things got this bad already?
> ENTER OUR COMPETITION TO WIN ONE DIRECTION GOODIES
> IN PICS: DANNII'S SISTER KYLIE AT THE 'GLAMOUR WOMEN OF THE YEAR' AWARDS