"I found myself trying to explain cricket to a Masai elder... that was an interesting conversation.
"I ended up with a stick trying to show him."
This meeting in Tanzania was just one of the unusual encounters of Freddie Flintoff as he filmed his new series, Freddie Flintoff Goes Wild, which took the former sportsman to four off-the-beaten-track spots where he had to immerse himself in the environment and living conditions of those around him.
The other places were the Canadian wilderness, the Borneo jungle and the Australian bush.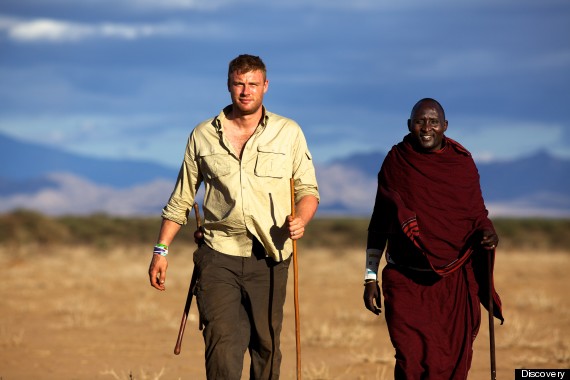 Flintoff's travels took him to Africa, where he had a hard time trying to explain cricket to a Masai elder
Flintoff got the travel bug last year when, for his first series, he spent a week on his own in Botswana and got hooked on searching for wildlife, but he admits presenting doesn't come easily to him.
"Cricket came a lot more naturally, and I knew I could do it. But in some respects it's like turning professional again (which he did in cricket at 16), having to learn new skills and prove myself. And at least in cricket, the score tells you if you're doing it right. It's a lot more clear-cut."
But it's paying off, with experiences like his recent trip to Borneo providing rewards and challenges in equal measure.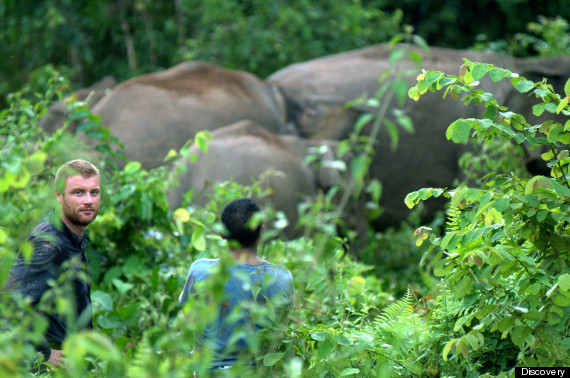 Freddie finally reaches his pygmy elephants in Borneo
"Looking for pygmy elephants in Borneo was incredibly hard-going, that was a tough week. The jungle's hot, wet and dirty, with plants that can kill you everywhere, and all the rain, but after a week, standing among the elephants, it was just amazing, knowing we'd earned the right to be there.
"And it made it all worthwhile, the time sitting in my hammock, watching the rain, thinking, 'What am I doing here?'"
Realising winning the Ashes for his country doesn't mean winning the battle against the weather?
Freddie laughs. "I'm not the boss in my own house, let alone against the elements."
Freddie Flintoff Goes Wild continues tonight at 9pm, on Discovery.