"Sorry to disappoint you, but I haven't understood a word you've said."
Ricky Martin's day at the office didn't start well, as he faced Lord Sugar with his business plan in the final of The Apprentice.
But his competitive instincts paid off, as the final four faced the intimidating interview process in the last stage of the competition, and Lord Sugar named him as his new business partner, with a £250,000 investment to boot.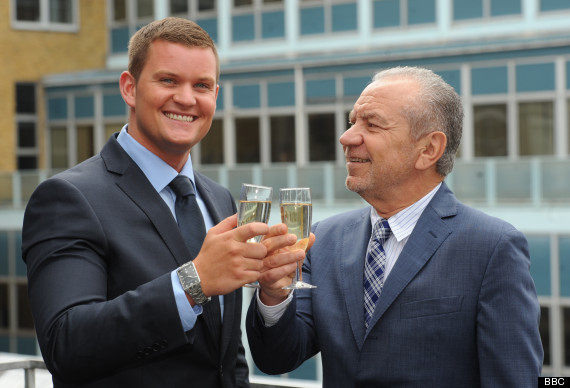 Lord Sugar welcomes his new business partner, Ricky Martin, on board
All four – Ricky Martin, Jade Nash, Tom Gearing and Nick Holzherr – came under fire as their business plans were torn to smithereens by Lord Sugar's team of four entrepreneurial Rottweilers – Matthew Riley, Mike Soutar, Claude Littner and the inimitable Margaret Mountford.
WINNING CANDIDATE PROFILE: Ricky Martin - 'I Truly Am The Reflection Of Perfection'
In his personal statement, Ricky likened himself to the god Thor, and claimed to be able to teach the old dog – aka Lord Sugar – new tricks. This didn't go down well with the expert panel, but they were more impressed with his simple, sensible business plan of a pharmaceutical drugs recruitment agency, and he seemed to be the most unflappable when pinned down in what rival contestant Nick described as "a war zone" and "being on fire".
He also kept his cool when he was questioned on his choice of various names - Ricky Hype, The Fitness - which guest entrepeneur Matthew Riley commented sounded a bit more showbusiness than real business.
And he admitted that some of the comments in his personal statement were full of bravado in an attempt to get himself noticed, and he wouldn't be saying things that like that now, such a wiser soul after... all of 11 weeks.
By the end of the show, as all four candidates tried to recover after their wall of fire, he admitted, "Much as I would have said 11 weeks ago that I was perfect… nobody's perfect."
And in the boardroom, the pundits agreed: "He's the one who's changed the most," reflected Karren Brady.
Less than an hour later, Ricky was surprisingly, lost for words: "Knowing that I've won, I can't formulate or articulate what it means, that everything I've done is worthwhile, that's there more to me than meets the eye, and Lord Sugar and I are going to be a force to be reckoned with."
The Apprentice finalists in action...