Russell Brand may have blotted his copybook with the BBC, but he's obviously done his time in the cultural wilderness (for that, read... Arthur remake) and been allowed back on the British box.
The strapping comedian is making his first extended appearance on our TV, since he disappeared off our screens (and national radios) after 'Sachsgate' in 2008 and disappeared to the warmer climes of California, and the non-judgemental embrace of his yoga classmates.
His new show, Brand X, promises to be the star's "unfiltered take on current events, politics and popular culture" and will air on Sky Atlantic from next month.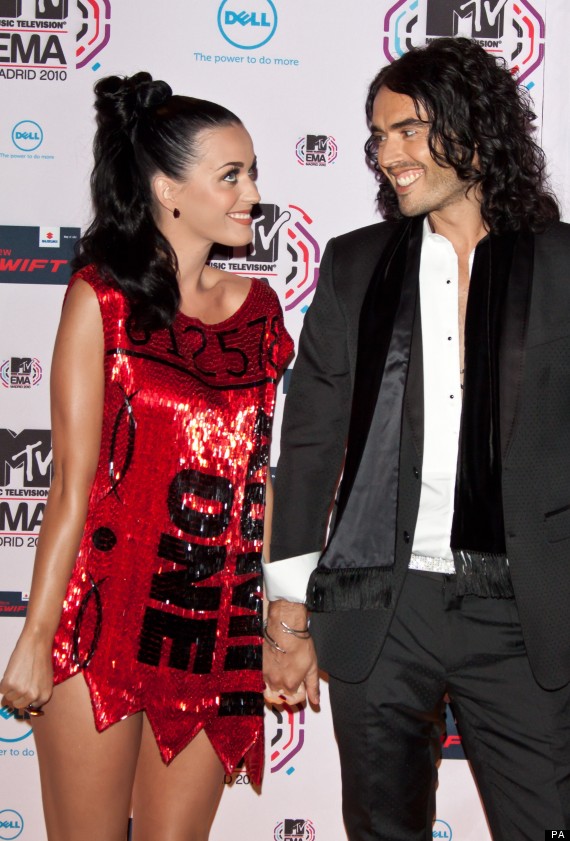 Russell Brand with Katy Perry
This will be a relief for fans missing the Essex eternal teenager's unique combination of Dickensian vocabulary, Jungian ideology and Jagger-esque hip-swivelling shamelessness, although he appears to have toned down the last since his 13-month foray into marriage to popster Katy Perry.
Is It Good To Have Mr Brand Back On The Box? Let Us Know What You Think Below...
His time away from British shores has not been creatively fruitless.
As well as the inexplicable remake of brilliant rom-'com' Arthur, he's taken the lead role in Get Him to the Greek, feeding off his scene-stealing antics as Aldous Snow in Forgetting Sarah Marshall, and joined a star cast including Dame Helen Mirren for The Tempest.
More recently, he's been busy hosting the MTV Movie Awards (his ebullience ensuring his return to the American podium, despite the death threats following his Bush-bashing a few years ago), appearing in a music video for his friend Noel Gallagher's Flying Birds, and co-starring with Tom Cruise in Rock of Ages.
Add to this his two best-selling memoirs - and a brush with the law in New Orleans after liberating a mobile phone through a window - and it becomes clear that British telly perhaps needs the talents of Brand more than he needs it. Welcome back, sir - and dare you to invite Jonathan Ross on as a guest!